I love summer for many reasons, but number one on my list has to be all the farmers' markets! This past weekend I was strolling through my neighborhood market and came across The Inti Group, a New York based company that imports organic, ethically-sourced quinoa from Peru.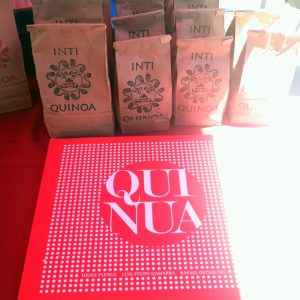 In addition to white, black and red quinoa, they sell puffed quinoa- which isn't always found in stores so I was super excited to take some home.
Today I'm very excited to share a dessert/snack bar recipe featuring puffed quinoa- Quinoa-Chia Freezer Bars. I really love this recipe because the bars have a melt-in-your-mouth quality while still being light, fluffy and a little crunchy. I used almond butter in the recipe, but you can easily swap it out for any nut butter of your choice. Unfortunately these are not the best travel snack since they start to fall apart a little when left out of the refrigerator for more than 30 minutes, but I still have more than half a bag of puffed quinoa left so expect another travel-friendly quinoa creation soon!
Quinoa-Chia Freezer Bars
Recipe type:
dessert, snack
Cuisine:
vegan, gluten free
Ingredients
1 cup puffed quinoa
2 tbs coconut oil, liquified
1 tbs agave
2 tbs almond butter (or peanut, cashew or sunflower butter)
¼ tsp vanilla extract
1 tbs chia seeds
dash of salt
Instructions
Stir all ingredients together in a large bowl.
Spread mixture out on baking sheet lined with parchment paper. Use your hands to form a rectangular shape, about ½" thick.
Place in freezer for 40 minutes, until completely firm. Remove from freezer and slice into bars. Store in refrigerator. Be careful-bars will melt a little if left out too long!