Let's get real. We all LOVE to enjoy fresh, homemade juice but there are two things that make juicing at home less-than-amazing. #1. Clean-up. #2. What do I do with all the pulp??  Unfortunately I can't help you with #1 but today I'm excited to share the first in an ongoing series of recipes utilizing juice pulp! I hate feeling wasteful in the kitchen so lately I've been trying to find creative ways to use the pulp after making fruit and veggie juice. One of my favorite juice combinations is carrot-beet-ginger, so for today's recipe I simply juiced the carrots first and reserved their pulp separately.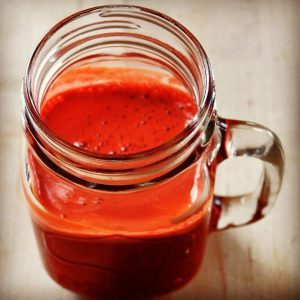 Today's Cinnamon Raisin Carrot Bread features carrot pulp but if you don't have a juicer you can feel free to simply use grated carrots. I love the way this bread turned out because it's hearty without feeling heavy. Topped with a little coconut butter, I would go as far as to describe it as heavenly. Seriously, I'm all about this bread!
What's your favorite juice recipe using carrots?
Cinnamon Raisin Carrot Bread
Cuisine:
vegan, gluten-free
Ingredients
1 tbs ground flax
½ cup quick-cooking oats
½ cup all purpose gluten-free flour
¼ tsp baking soda
¼ tsp baking powder
1 tsp ground cinnamon
⅛ tsp salt
1 tbs agave
¼ cup coconut oil
1 cup carrot juice pulp (or shredded carrot)
¼ cup sunflower seeds
¼ cup raisins
Instructions
Preheat oven to 350°. Grease baking sheet or line it with parchment paper.
Prepare flax "egg" by stirring together 3 tbs warm water in a small cup. Let sit for at least 10 minutes before adding to dough.
In a large bowl, whisk together oats, flour, baking soda, baking powder, cinnamon and salt. Add in agave and coconut oil and stir until thoroughly mixed. Stir in carrot pulp, sunflower seeds, and raisins.
Form dough into ball. Place on baking sheet and use hands to form into into log shape, about 2" tall.
Bake for about 50 minutes, until edges are golden. Remove from oven and let cool completely before serving.