Last week I made
Chickpea Strawberry-Rhubarb Bars
from a big bundle of fresh rhubarb and I had an idea to roast the leftover rhubarb. I imagined it would get nice and crispy and I could slice it up and serve it over greens topped with strawberries. Sounds like a tasty idea, right? Things didn't go exactly as planned…it turns out that baking rhubarb pretty much turns it to mush (does everyone else already know that??) but when life gives you mushy rhubarb, I say make
Vegan Coconut Rhubarb Pudding
!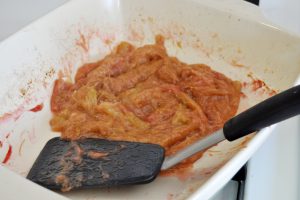 Initially I blended the rhubarb with a couple of ingredients without the Coconut Cashew Cream but the pudding was super tart. I decided to fold in a little coconut cream and the pudding was magically transformed- suddenly light, fluffy, sweet and even more richly coconut flavored. I probably used about 1/2 cup of coconut cream, but I would recommend starting with 1/4 cup and adding up to a whole cup depending on how sweet you like it. Seriously, how cute is the color of this pudding?
Vegan Coconut Rhubarb Pudding
Cuisine:
vegan, glutenfree
Ingredients
2 cups rhubarb, chopped
1 tbs coconut oil
1 tsp vanilla extract
1tbs coconut butter
2 tbs agave
dash of salt
Coconut Cashew Cream (see link above)
optional- chopped strawberries and shredded coconut
Instructions
Preheat oven to 375°.
Toss rhubarb with coconut oil and spread out on baking dish. Bake for 30 minutes, flipping halfway.
Remove from oven and let dish cool completely. Transfer rhubarb to blender and blend with coconut vanilla extract, coconut butter, agave and salt until completely smooth (about 3-4 minutes).
Transfer to bowl and fold in Coconut Cashew Cream. Start with ¼ cup and add until desired sweetness is reached.
Serve topped chopped strawberries and shredded coconut.