So, I had this idea to make cookies that were rolled up with a coconut, peanut butter filling…sounds yummy, right? Unfortunately things didn't quite work out in the oven the way that I had hoped. The filling melted out and the cookies turned out looking pretty sad (although still tasty!).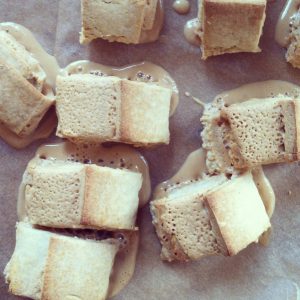 Luckily I still had some dough left so I switched gears and ended up rolling the dough in cacao nibs and using the filling as icing on top. I was so happy when the second round, today's Vegan Almond Cacao Roll-Up Cookies, came out of the oven looking nice and pretty, and tasting yummy too! I love almond flour based cookies because they pack a little extra protein and these cookies are super satisfying because they are bite-size and crunchy.
Vegan Almond Cacao Roll-Up Cookies
Cuisine:
vegan, gluten-free
Ingredients
1.5 cups almond flour
1 tsp baking powder
1 tsp baking soda
¼ tsp salt
1 tbs vanilla extract
⅓ cup coconut oil, softened
¼ cup agave
2-3 tbs non-dairy milk (ads as need)
½ cup cacao nibs
2 tbs coconut butter, liquified
2 tbs peanut butter
Instructions
Preheat oven to 350°. Line a baking sheet with parchment paper.
Whisk together all dry ingredients (except cacao nibs) in a medium bowl. Combine wet ingredients (except coconut butter and peanut butter) in a small bowl. Stir wet into dry until thoroughly mixed.
Use hands to form dough into two rolls, about 1" thick. Add milk if dough begins to feel too dry.
Sprinkle cacao nibs on clean surface. Roll dough rolls in cacao until coated. Use a sharp knife to slice the rolls into pieces (think sushi!) about ½" thick.
Place on baking sheet. Bake for 9-11 minutes, until edges are slightly golden.
While cookies are baking, prepare icing by stirring together coconut butter and peanut butter in a small bowl or cup.
Remove cookies from oven and let cool completely. Spread icing on top of cookies. Sprinkle with cacao nibs then place in freezer for 10 minutes before enjoying so icing hardens.
Store in refrigerator.