Last week was my friend Mariana's birthday- just a couple of days before she left for a cross-country road trip (read more about her amazing trip on her blog Vegan Koala). We decided to go all out for her birthday, starting the day at her favorite brunch spot Champs Diner then making Venezuelan arepas for lunch.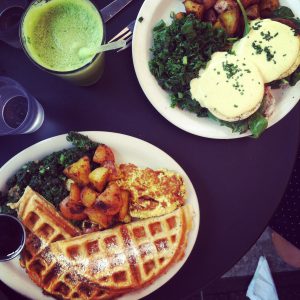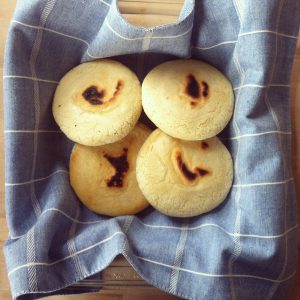 It was seriously an amazing food day and I wanted to finish it off with a special dessert. I decided to make a cake version of my favorite Chickpea Chocolate Chunk Cookies and today's Chickpea Cookie Cake with Coconut Frosting was born! In my recipe for Raspberry Cookie Crust Cheesecake I mentioned my new 6″ mini pie dish which ended up being the perfect size for today's cookie cake. This cake serves eight people but you could easily double the recipe and use a regular sized pie dish. I love this recipe because it's naturally gluten-free and full of protein from the chickpeas, but you would never know it!
The icing is super simple, made from just two ingredients- full fat coconut milk and agave. Just make sure to remember to refrigerate your can of coconut milk overnight, otherwise it won't have the right consistency. For extra visual appeal I topped the cake with a little chocolate sauce (just 1 tbs agave+ 1 tbs cocoa powder) and sprinkled shredded coconut on top.
Vegan+Gluten-Free Chickpea Cookie Cake with Coconut Frosting
Cuisine:
vegan, gluten-free
Ingredients
1.5 cups cooked chickpeas or 1 15oz can
½ cup peanut butter (I always look for unsweetened)
2 tsp vanilla extract
¼ cup agave
1 tsp baking powder
pinch of salt
¼ cup rolled oats
2 tbs cocoa powder
½ cup chocolate chunks or chips (can substitute carob chips)
for the icing- 1 can full fat coconut milk (chilled overnight) and 1 tbs agave
Instructions
Preheat oven to 350°. Grease 6" pie dish.
Combine chickpeas, peanut butter, vanilla extract, agave, baking powder and salt in blender until mostly smooth. The batter will be a little thick so you may need to scrape the sides down a couple of times.
Transfer batter to a medium bowl and mix in oats.
Transfer ⅓ of batter into separate bowl and mix in cocoa powder. Use hands to press batter into bottom of pie dish for crust.
Stir chocolate chips into remainder of batter. Press on top of crust.
Bake for 18-20 minutes, until the top is slightly browned. Remove from oven and allow to completely before adding icing.
Prepare icing by removing can of chilled coconut milk from refrigerator. Open and pour out liquid, thick coconut cream should be left on the bottom of the can. Use a hand mixer or blender to whip coconut cream and agave. Spread over cookie cake.
  Ω