Every year when the air begins to feel crisp and I start to pull out my long sleeve shirts I always start to crave one of my favorite macrobiotic meals- the macro plate. A macro plate (or bowl) is typical macrobiotic meal that usually consists of at least one grain, one legume, one fermented food and an assortment of cooked vegetables.
I love a good macro plate because they are so colorful! Plus I always feel energized and warmed up from the inside afterwards. Having 5-6 different items on one plate can seem like a daunting dish to prepare but today I'm going to share my super easy method for preparing a Vegan, Gluten-Free Baked Vegetable Macro Plate.
There are endless combinations so feel free to get creative with your macro bowl! Below are some of the ingredients I used and what you can substitute with to keep your macro plate balanced:
Quinoa- can also use brown rice, millet, amaranth or buckwheat noodles
Chickpeas- can also use adzuki, kidney or black beans
Kabocha squash- can use any kind of squash or sweet potato
Kale- can also use chard, collard greens or spinach
To save time I usually prepare a big batch of one kind of grain and one kind of bean every 4-5 day in the colder months. That way I can simply heat them up and add fresh vegetables for a quick meal.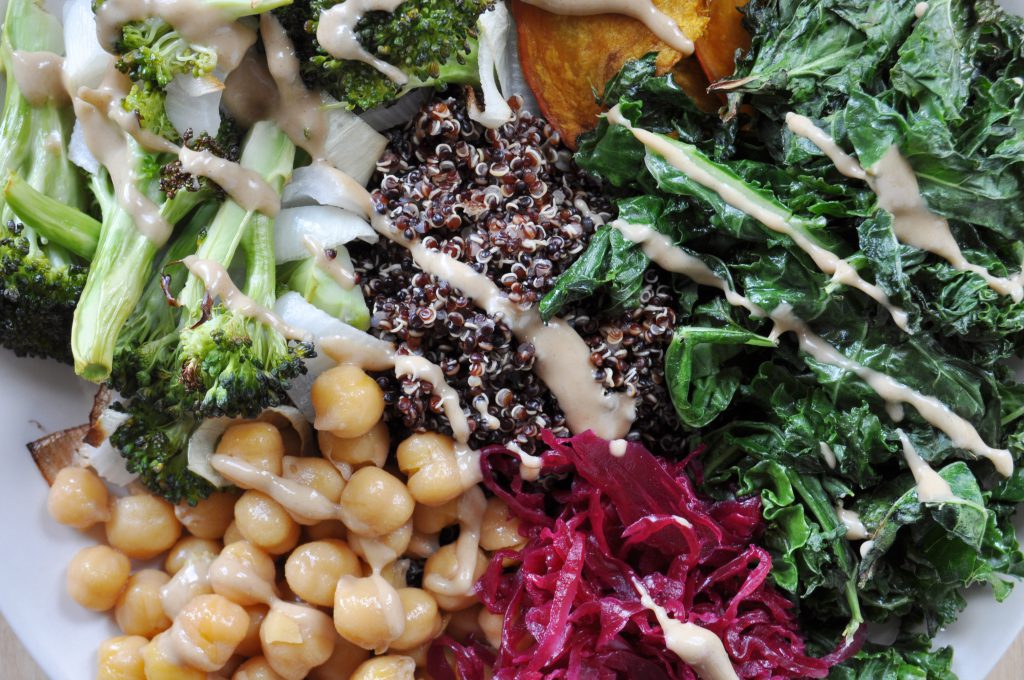 Baked Vegetable Macro Plate (Vegan + Gluten-Free)
Cuisine:
vegan, gluten-free
Ingredients
3 tbs olive oil
1 small kabocha squash
1 medium onion, sliced
1 head of broccoli, broken into florets
1 bunch kale, broken into 2" pieces.
2 cups cooked quinoa
2 cups cooked chickpeas
½ cup sauerkraut
¼ cup tahini
salt and pepper to taste
Instructions
Preheat oven to 400°. Grease 3 baking sheets with olive oil.
Cut squash in half and scoop out seeds. Slice squash haves into pieces ½"- 1" thick. Place in large bowl and toss with 1 tbs olive oil. Spread over baking sheet and place in oven (for a total of 45 mins).
Place broccoli and onion in bowl and toss with 1 tbs olive oil. Spread over baking sheet.
After squash has been in the oven for 20 minutes use spatula to flip pieces. Place baking sheet with broccoli and onion in oven (for a total of 25 minutes).
Place kale in bowl and toss with 1 tbs olive oil. Spread over baking sheet.
After broccoli has been in the oven for 10 minutes, place kale in oven.
After 10 minutes remove everything from oven.
Serve everything over warm quinoa and chickpeas. Add a scoop of sauerkraut to each plate. Sprinkle with salt and pepper. Drizzle everything in tahini.