I was so excited to see carving pumpkins starting to be sold in our neighborhood a few weeks ago and was totally ready to do some pumpkin shopping until Ross made it very clear he is morally opposed to buying/carving pumpkins until October 1st (anyone else??). I figured that's actually pretty fair but I did decide to get a jump-start on my Halloween recipes. Last year I got a slightly late start with my Halloween cooking and only ended up sharing one recipe, Crunchy Chocolate Coconut Cups.
Today I'm excited to share a recipe that feels very Halloween to me because of its' black and white aesthetic. These Vegan, Gluten-Free Cookie Cream Cups are perfect for your Halloween party (or everyday dessert-ing) because they are easily handheld yet a little more visually appealing than your average cookie. You can see my first attempt at using the muffin tin right side up didn't pan out so well, so in order to create the cookie cups I ended up using the bottom side of the mini muffin tin.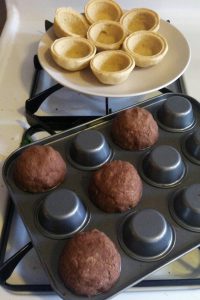 One last thing to note is that in order to keep the cookie cups from sticking to each other I left every other muffin cup empty and baked them in two batches. Let's get to the recipe!
Vegan, Gluten-Free Cookie Cream Cups
Cuisine:
vegan, gluten-free
Ingredients
1 cup all purpose gluten-free flour
¼ tsp baking soda
⅛ tsp salt
¼ cup coconut oil, softened
3 tbs maple syrup
2 tsp vanilla extract
2 tbs cocoa powder, divided
2 batches Cashew Cream (see link to recipe above)
optional topping- 1 tbs agave, 1 tbs cocoa powder
Instructions
Preheat oven to 350. Grease the bottom side of a mini muffin tin.
In a large bowl, whisk flour, baking soda and salt together. Add coconut oil, maple syrup and vanilla extract and stir until thoroughly mixed.
Transfer half of batter to separate bowl and mix in 1 tbs cocoa powder.
Use your fingers to press about 1-1.5 tbs of batter over greased side of muffin tin. Batter should be no more than ¼" thick (see photo above).
Bake for 7 minutes. Allow cookie cups to fully cool before gently removing from muffin tin.
Divide cashew cream in two separate bowls, stirring 1 tbs into one half. Spoon chocolate cashew cream into vanilla cookies cups and vanilla cashew cream in to chocolate cookie cups.
Create chocolate sauce by stirring agave and cocoa powder together. Drizzle over cookie cream cups. Store in refrigerator.