The best afternoon snacks should be filled with protein, fiber and healthy fat to keep you energized and help you avoid that 3 pm sleepy feeling. Today I'm excited to share a seasonal snack bar that's filled with all that goodness and is so tasty you'll think that you're snacking on a dessert.
These Vegan, Gluten-Free Sweet Potato Snack Bars with Cream Cheese Frosting are a MUCH healthier alternative to the standard filled-with-sugar granola bars and baked goods from the coffee shop that start to look pretty good around 3:00. The bars are secretly made with chickpeas and oats which provide and protein and  fiber plus a nice soft texture. I used leftover sweet potato puree from making Bread Pudding so feel free to follow the recipe for making puree there or use substitute with pumpkin.
The bars are the perfect accompaniment for your afternoon cup of tea, coffee or healthy pumpkin spice latte!
Sweet Potato Protein Bars with Cream Cheese Frosting (Vegan, Gluten-Free)
Recipe type:
snack, breakfast
Cuisine:
vegan, gluten-free
Ingredients
coconut oil for greasing
½ cup sweet potato puree
1.5 cups cooked chickpeas (or 1 can)
3 tbs maple syrup
2 tbs coconut oil
2 tsp vanilla extract
1 tsp cinnamon
⅛ tsp salt
½ cup rolled oats
1 tbs vegan cream cheese (I used Daiya)
2 tbs maple syrup
Instructions
Preheat oven to 350°. Grease a 8"x 8" baking dish with coconut oil
Combine all ingredients (except oats, cream cheese and 2 tbs maple syrup) in blender until smooth.
Transfer to bowl and stir in oats. Spread mixture evenly in baking dish.
Bake for 25-30 minutes until edges are firm and lightly golden. Let cool completely before slicing into bars.
Stir cream cheese and maple syrup together in small cup. Drizzle over bars. Store in refrigerator.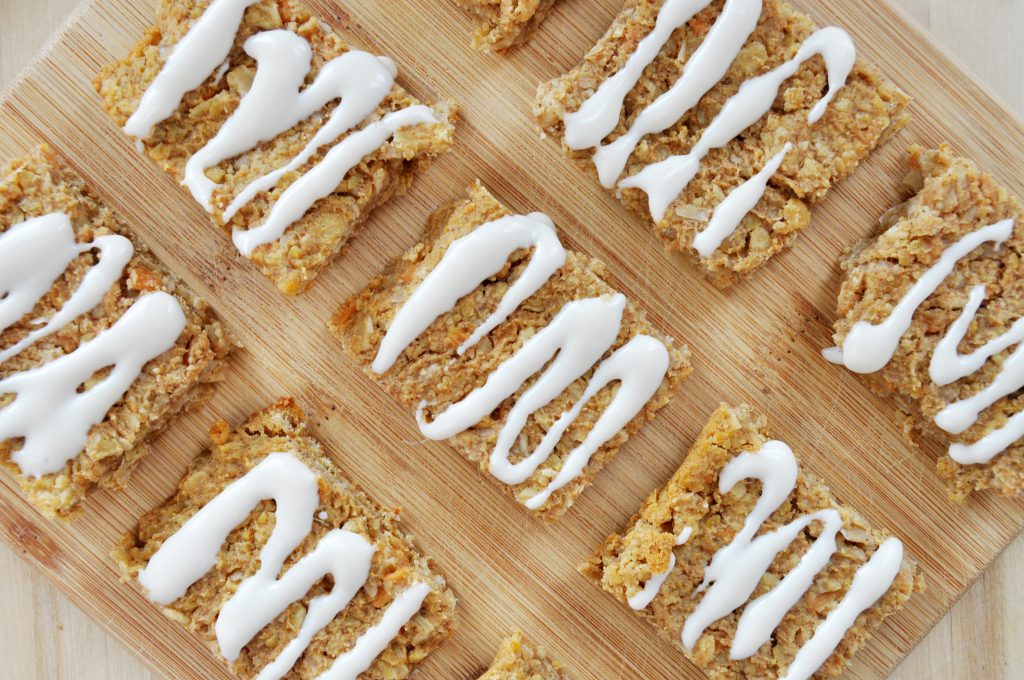 Hey New Yorkers! I'm so excited to announce that I've recently joined  Fit + Flow Yoga (off the L train in Williamsburg) as their new health coach! Next weekend, October 18-19th, Fit + Flow will be hosting an open house where you can take free classes (yoga, barre, pilates) all weekend long and try mini acupuncture, massage and thai yoga sessions.

I'll be there from 10:45-1:30 both days offering free 15 minute consultations and chatting about the 3 brand new programs I'll be offering at the studio! It's filling up so contact the studio to reserve your spot! I hope I get to see you there!