Is there anything better than the smell of cookies baking in the oven? It's pretty much my dream to have my apartment smell like freshly baked cookies at all times- especially around the holidays.
On a cold and  rainy day here in New York City I decided to warm up my house with today's recipe, Vegan, Gluten-Free Soft and Chewy Gingerbread Cookies. Nicely sweet and a tiny bit spicy, these cookies practically scream holiday cheer.
Their soft and chewy secret ingredient is sweet potato puree, which makes their texture cake-like instead of crunchy like a typical gingersnap. The recipe calls for an egg replacer. I used a Neat Egg (which I highly recommend!) but if you don't have any on hand you can make a simple egg replacer by combining 1 tbs ground flax seed with 3 tbs warm water.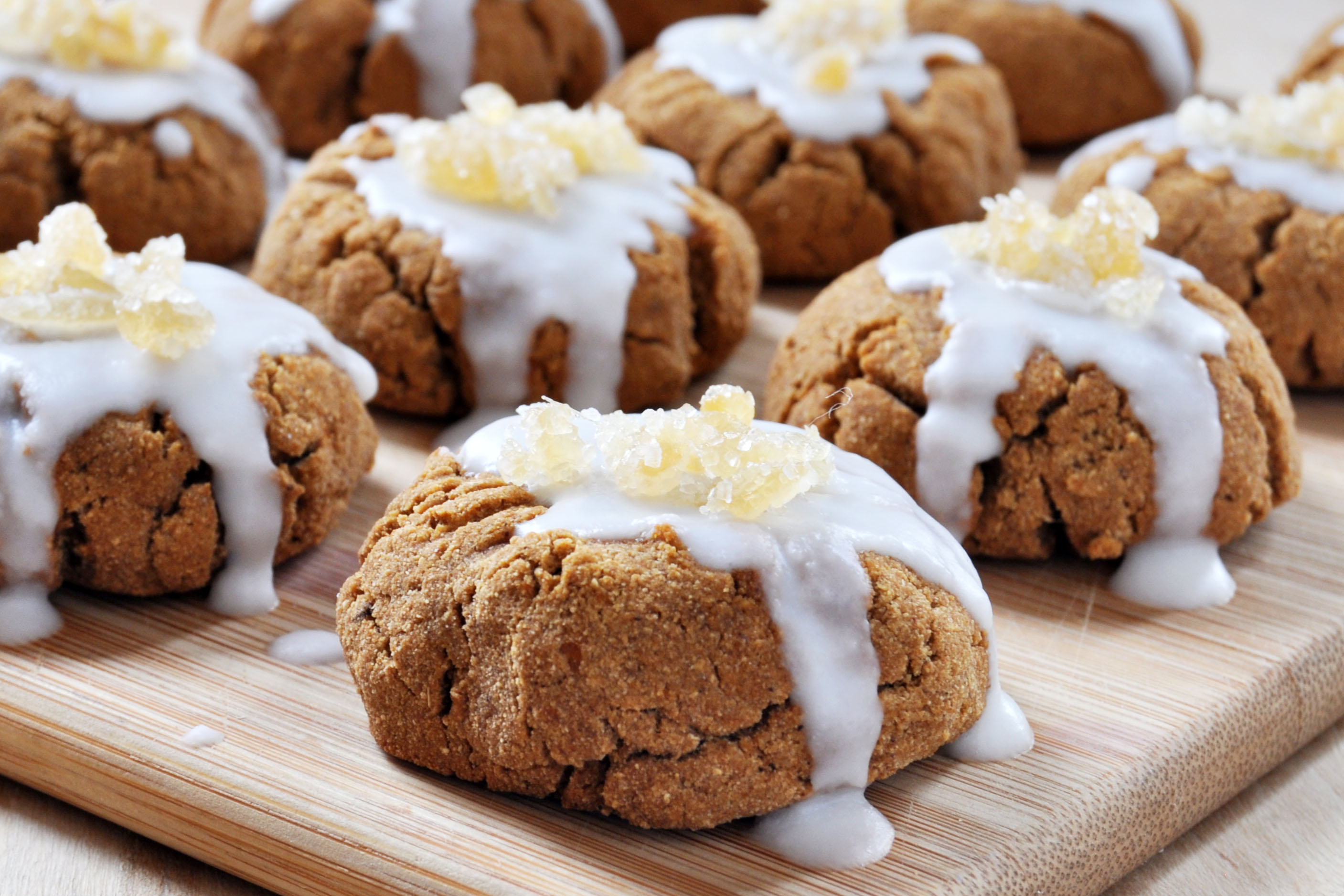 Soft and Chewy Gingerbread Cookies, Vegan + Gluten-Free
Cuisine:
vegan, gluten-free
Ingredients
1 cup all purpose gluten-free flour
¼ tsp baking soda
¼ tsp baking powder
2 tsp ground ginger
½ tsp cinnamon
½ tsp nutmeg
dash of salt
½ cup sweet potato puree (1 small sweet potato)
1 egg replacer (see above)
1 tsp vanilla extract
2 tbs coconut oil, softened
¼ cup molasses
2 tbs agave
3 tbs non-dairy milk
optional toppings- coconut butter and candied ginger
Instructions
Preheat oven to 350°. Grease a baking sheet or line it with parchment paper.
In a large bowl, combine flour, baking soda, baking powder, ginger, cinnamon, nutmeg and salt.
In a small bowl, stir together sweet potato, egg replacer, vanilla, coconut oil, molasses, agave and milk. Add contents of small bowl to large and stir until thoroughly combined (you may want to use your hands to knead the batter together).
Form batter into balls about 1.5" thick. Place balls on baking sheet and use a fork to press down, creating a criss-cross shape.
Bake for about 18 minutes (until edges are firm). Drizzle coconut butter over cookies and top with candied ginger.