What's better than biscuits?
How about biscuits secretly stuffed with kale and vegan cream cheese??
Today's recipe is perfect for breakfast, brunch or generally impressing guests. These Vegan, Gluten-Free Cream Cheese and Kale Stuffed Biscuits feel rather decadent even thought the recipe is super simple to make.
I recommend enjoying them when they are fresh out of the oven. They'll stay soft and fluffy while warm but tend to harden slightly at room temperature. Leftovers still taste delicious when popped in the oven for a few minutes to warm up.
Love biscuits as much as I do? Try my cheddar biscuits too!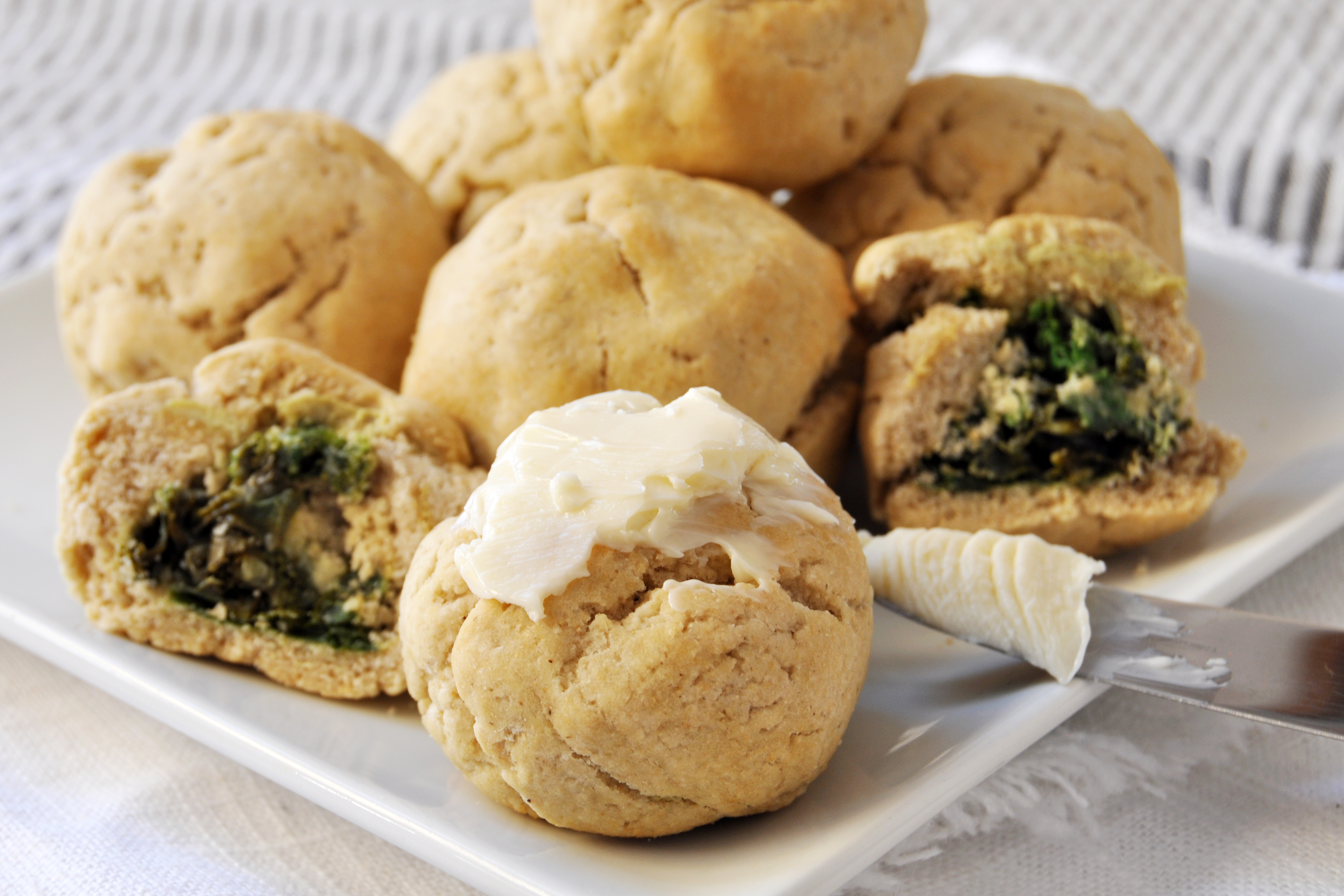 Cream Cheese and Kale Stuffed Biscuits, Vegan + Gluten-Free
Cuisine:
vegan, gluten-free
Ingredients
2 cups kale, shredded
¼ cup vegan cream cheese (I use Daiya)
2 tsp agave
¾ cup non-dairy milk
1 tbs apple cider vinegar
2 cups all purpose gluten-free flour+ extra for sprinkling
1 tbs baking powder
½ tsp baking soda
½ tsp xanthan gum
¼ tsp salt
¼ cup vegan butter (I use Earth Balance) or coconut oil, melted
Instructions
To prepare filling, heat 1 tbs water in pan on stove at medium heat. Add kale and sauté until wilted (3-4 minutes). Add cream cheese and agave and stir until thoroughly combined. Set aside.
Preheat oven to 450°. Grease baking sheet or line it with parchment paper.
In a small bowl, stir apple cider vinegar into milk and let sit at least 5 minutes before using.
In a large bowl, whisk together flour, baking powder, baking soda, xanthan gum and salt. Stir in earth balance (or oil) then slowly add milk as you stir.
Sprinkle a clean surface with extra flour. Form dough into ball and use a rolling pin to flatten to about ½". Use a circular cookie cutter or jar lid to cut circles about 3" wide.
Spoon a tablespoon of kale mixture into the center of each circle. Fold the edges in and roll into ball. Place on baking sheet.
Bake for 13-15 minutes, until edges are firm. Remove from oven and let cool for at least 15 minutes before serving.