Hey friends!
When people first find out that I'm vegan and avoid gluten, the next words out of their mouth are usually "but what do you eat??"
I actually love getting that question because the answer truly is so many delicious things!  Today I'm super excited to do my first installment of What I Ate Wednesday and share what a typical day of eating looks life for me! The photos are from an especially chilly day last week so my meals were warming and hearty. Let's get to it!
In the summer I usually start my day off with a smoothie but in the winter I'm all about oatmeal. For breakfast I made one of my favorite combos- rolled oats with flax seeds, peanut butter, cacao nibs and banana slices.
For  lunch I didn't really have a plan but I had cooked quinoa and leftover roasted sweet potato slices in the fridge so I added sautéed chard, avocado and tahini. The lovely folks at Cultured and Saucy just sent me a couple of their totally delicious fermented sauces to try so I added a big dollop of their lemon garlic dill mustard on top and it was just perfection.
Usually I'm the household chef but my fiancé Ross decided to pull out the crock pot and make chili for dinner! He threw in red beans, celery, carrots, quinoa, onions, garlic, tomatoes, vegetable broth and a bunch of spices. It turned out totally delicious! I made this amazing cornbread and we topped everything with cashew sour cream, avocado (yep, for the second time today!) and green onion.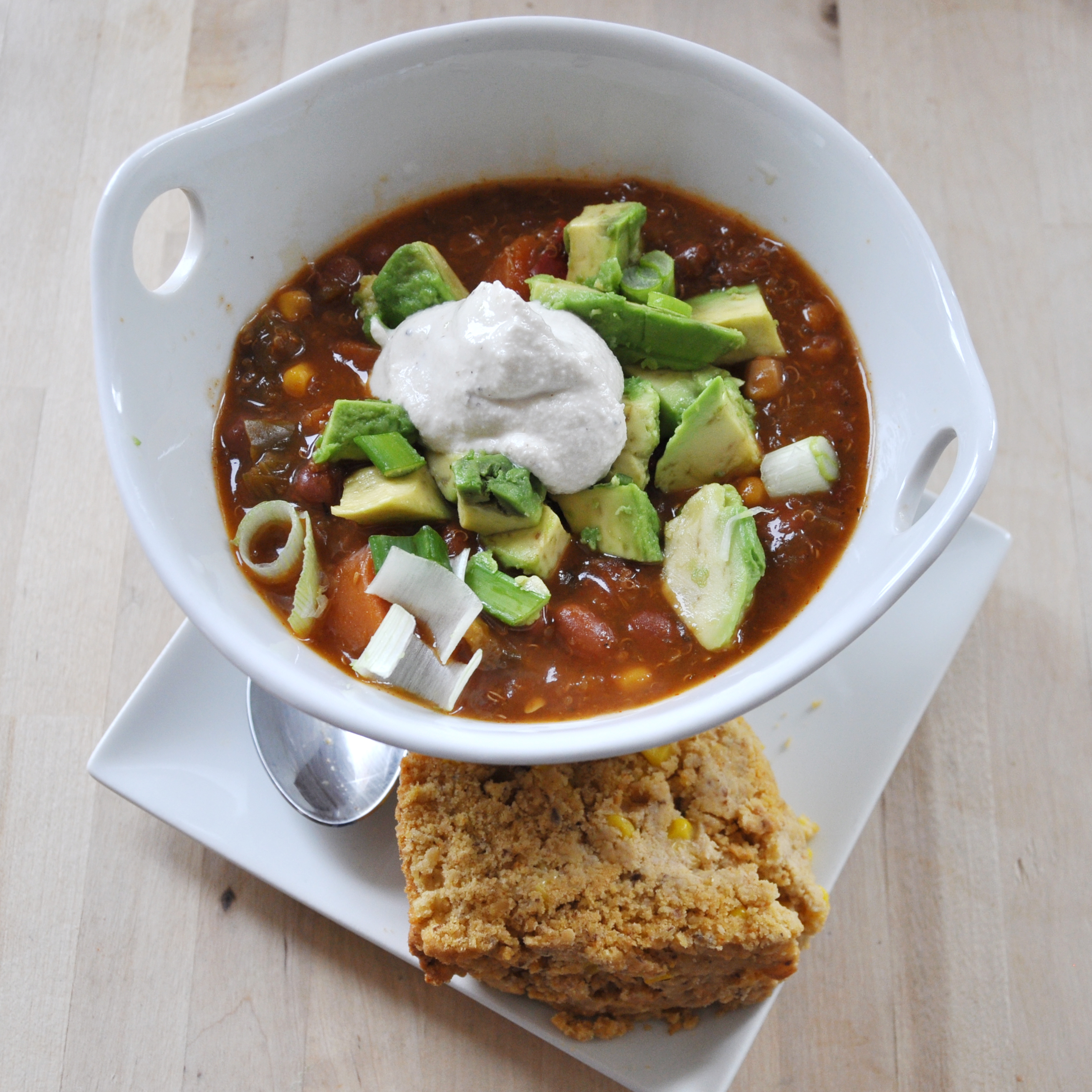 After dinner I wanted a little something sweet so I had a couple of squares of dark quinoa chocolate then ended the day with hot peppermint tea.
Did you enjoy eating with me today? I'm hoping to make the "what I ate" posts a regular thing!