This coming Sunday is the Academy Awards, aka Oscar party night where we eat lots of popcorn!
Usually my favorite way to enjoy popcorn (always non-gmo) is simply topped with a little salt and nutritional yeast. This year I've actually seen most of the Oscar nominated movies (The Theory of Everything was so good!) so I'm a little more invested in watching the Academy Awards. This lead me to come up with today's recipe, Vegan, Gluten-Free Oscar Party Popcorn Cake!
This no-bake cake has the perfect sweet and salty flavor. I made two versions, one chocolate cake with vanilla icing and one the other way around. Simply throw a couple of tablespoons of cocoa powder in to make everything chocolatey! While the actual process to put it all together is super simple, it does require a little bit of planning ahead so make sure you have time to for the cashews to soak and for things to set in the fridge.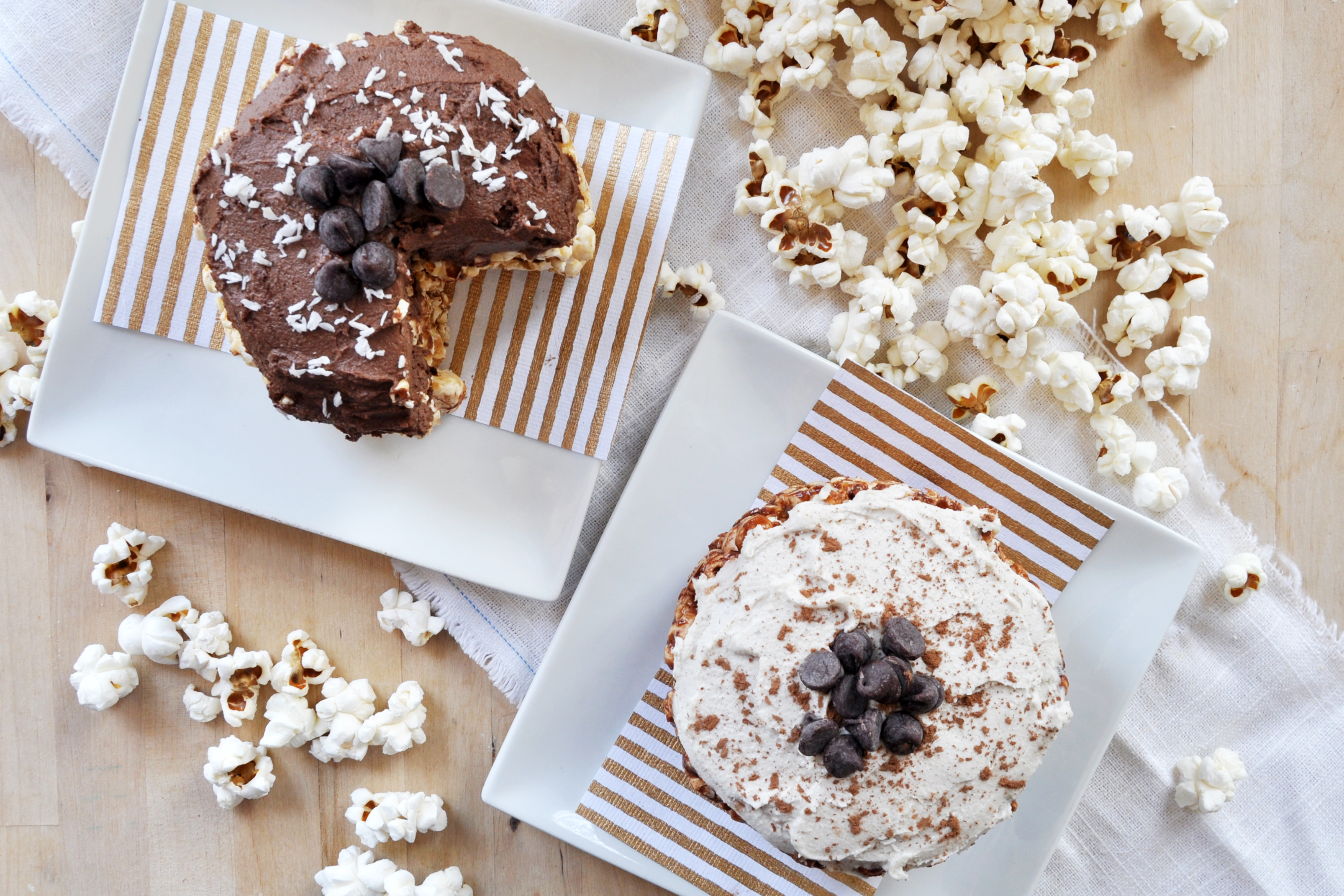 Oscar Party Popcorn Cake, Vegan + Gluten-Free
Cuisine:
vegan, gluten-free
Ingredients
1 cup raw cashews, soaked in water 4 hours
2-3 tbs maple syrup
2 tbs coconut butter, softened
1 tsp vanilla extract
4 cups popped popcorn
2 tbs vegan butter (I used Earth Balance)
3 tbs maple syrup
2 tbs peanut butter
dash of salt
cocoa powder
Instructions
To prepare frosting, drain and rinse cashews. Blend with maple syrup, coconut butter and vanilla extract until smooth. For chocolate frosting, add 2 tbs cocoa powder. Refrigerate for at least 1 hour before using.
Grease 2 small (or 1 large) springform pans. Place popcorn in a large bowl.
In a small saucepan, heat butter, maple syrup, peanut butter and salt. Stir until smooth (4-5 mins). Pour mixture over popcorn and site until thoroughly coated.
Use your hands to firmly press popcorn into pans. Place in refrigerator for at least 1 hour before removing cakes from pans. Top with frosting.