I've been on a serious carrot cake kick for the past month or so. If you follow me on Instagram you may know that I've recently brought back one of my favorite breakfasts Carrot Cake Oatmeal, which inspired me to whip up a batch of carrot cake oatmeal cookies (recipe soon).
Today I'm SUPER excited to share another carrot cake hybrid recipe…(drumroll please)… Vegan, Gluten-Free Carrot Cake Cinnamon Rolls!
To make this sweet treat, I started with my Spelt Cinnamon Rolls  recipe and added shredded carrot to the dough along with a walnut-raisin cinnamon filling. I topped the whole thing off with cream cheese frosting (YUM) and sprinkled shredded carrot and coconut on top.
The cream cheese frosting is super easy to make. Simply blend together 1/4 cup vegan cream cheese, 2 tbs maple syrup and 2 tbs coconut butter. Depending on how big of a frosting fan you are, you may want to double the recipe.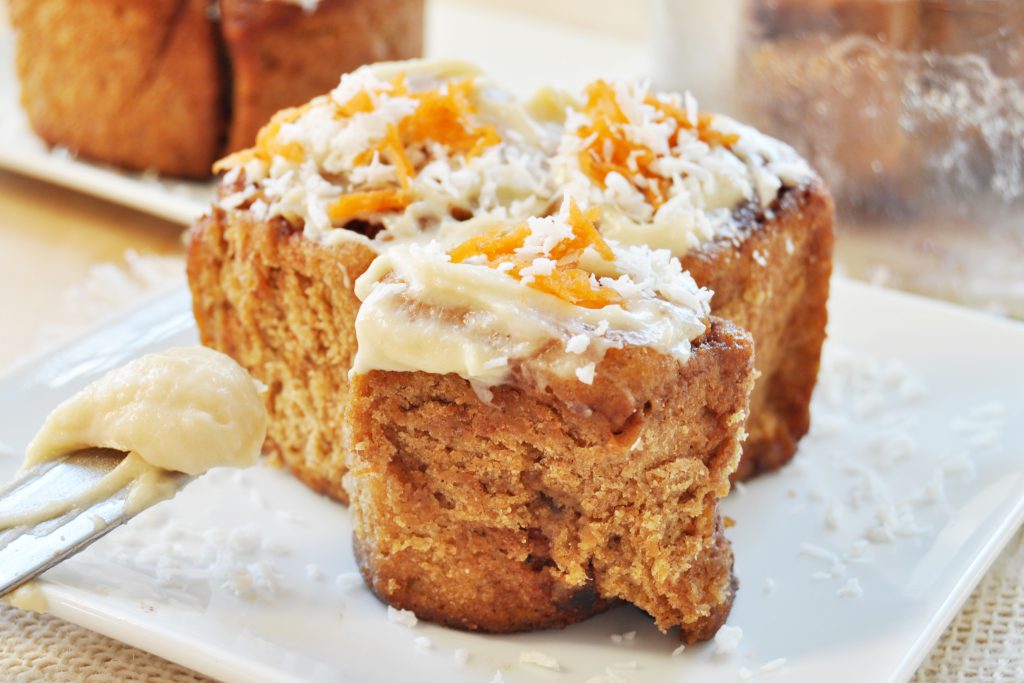 Carrot Cake Cinnamon Rolls, Vegan + Gluten-Free
Cuisine:
vegan, gluten-free
Ingredients
1 cup non-dairy milk (I used unsweetened almond)
1 package (2¼ tsp) of yeast
2 tsp coconut palm sugar
1 tbs ground flax seeds
3 tbs warm water
3 cups spelt flour + extra for sprinkling
2 tbs coconut palm sugar
1 tsp baking powder
⅛ tsp salt
¼ cup coconut oil, melted
1 tbs vanilla extract
¾ cup shredded carrot
filling- ½ cup melted vegan butter (I used Earth Balance), ½ cup coconut palm sugar, 2 tbs maple syrup, 1 tbs ground cinnamon, 1 tsp nutmeg, ¼ cup chopped raisins, ½ cup chopped walnuts
Instructions
Pour milk into a small bowl and add yeast and sugar. Let sit for 10 minutes, until bubbles form.
Prepare flax "egg" by stirring flax seeds together with 3 tbs warm water. Let sit for 10 minutes before using.
In a large bowl, whisk together flour, coconut palm sugar, baking powder and salt.
Add flax "egg", coconut oil and vanilla extract to bowl of milk and stir. Add contents to large bowl of flour and stir throughly. Fold in shredded carrot.
Use your hands to knead dough for a minute or two. Form dough into ball, place back in bowl, cover with a towel and let rise for 1 hour.
Prepare filling by string together vegan butter, ½ cup coconut sugar, maple syrup, cinnamon, nutmeg, raisins and walnuts.
Grease a 9" x 12" (or equivalent size) baking dish. Sprinkle extra flour on a clean surface.
Punch dough down, then use a rolling pin to roll it out to rectangle ¼" - ½" thick.
Spread filling evenly over dough. Start on one end, gently rolling dough into log. Spread a little vegan butter over a knife and slice the roll into 1"-2" pieces.
Place pieces in baking dish. Cover with a towel, place in a warm spot and let rise for 1 hour.
Bake rolls at 375° for 22-25 minutes. Serve warm.