Back in the day, one of the only way I would get greens into my diet was by eating caeser salad. You know the kind of salad kit from the grocery store that comes with a bag of romaine lettuce and highly processed dressing and croutons? Yep, that was as far as I got with greens!
Luckily my love of green vegetables has grown and now I'm all about kale, chard, spinach- you name it. For many people (like myself) green veggies can be an acquired taste. Today I'm excited to share a salad recipe that will appeal to both veggie-veterans and those who are just starting to incorporate greens into their diet.
This Easy Vegan Kale Caeser Salad is full of totally nutritious ingredients and is just as creamy, tangy and tasty as a traditional caesar. I replaced the lettuce with kale because I prefer the texture but you can also easily use lettuce as your base. The dressing calls for vegan mayonnaise (I use homemade or Veganaise) but sometimes I swap that out for mashed avocado which also adds a creamy texture. I sprinkle a little nutritional yeast  on top to add a slightly cheesy texture but you can skip that step if you don't have any on hand.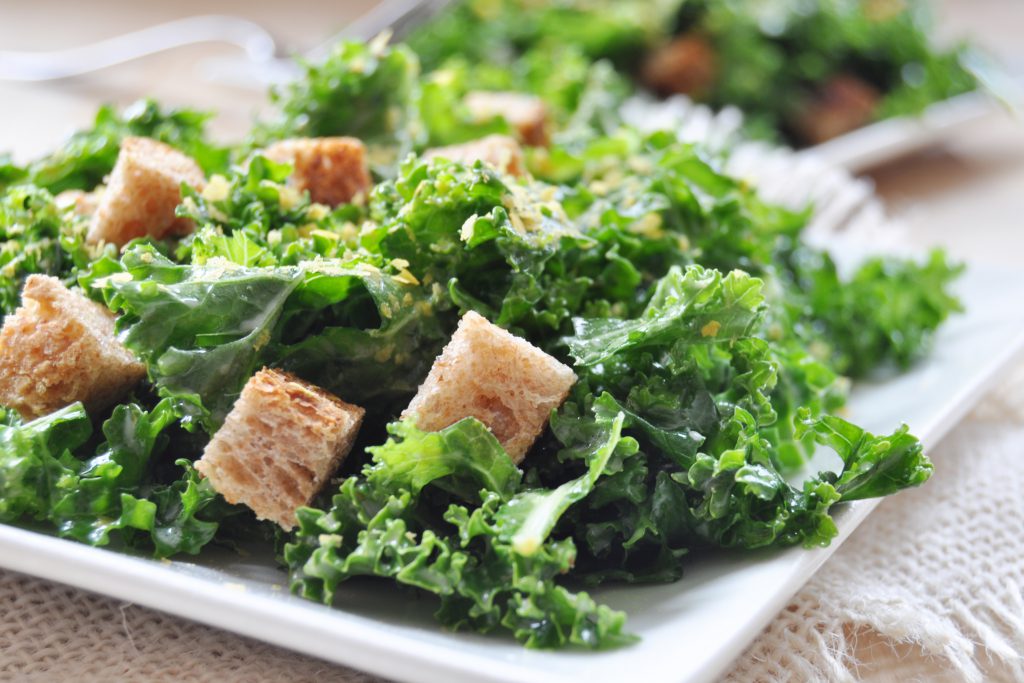 Vegan Kale Caeser Salad
Ingredients
2 slices of bread, cubed
juice of half a lemon
2 tsp dijon mustard
3 tbs olive oil
2 tbs vegan mayonaise (or mashed avocado)
1 clove garlic, minced
salt and pepper to taste
1 bunch kale, shredded
¼ cup nutritional yeast
Instructions
To prepare croutons, place bread cubes in toaster over or broil until crisp.
Place kale in a large bowl.
In a small bowl, prepare dressing by stirring together lemon juice, mustard, olive oil, mayo, garlic, salt and pepper. Pour dressing over kale massage into kale for 1-2 minutes.
Transfer to plates. Top with croutons and nutritional yeast.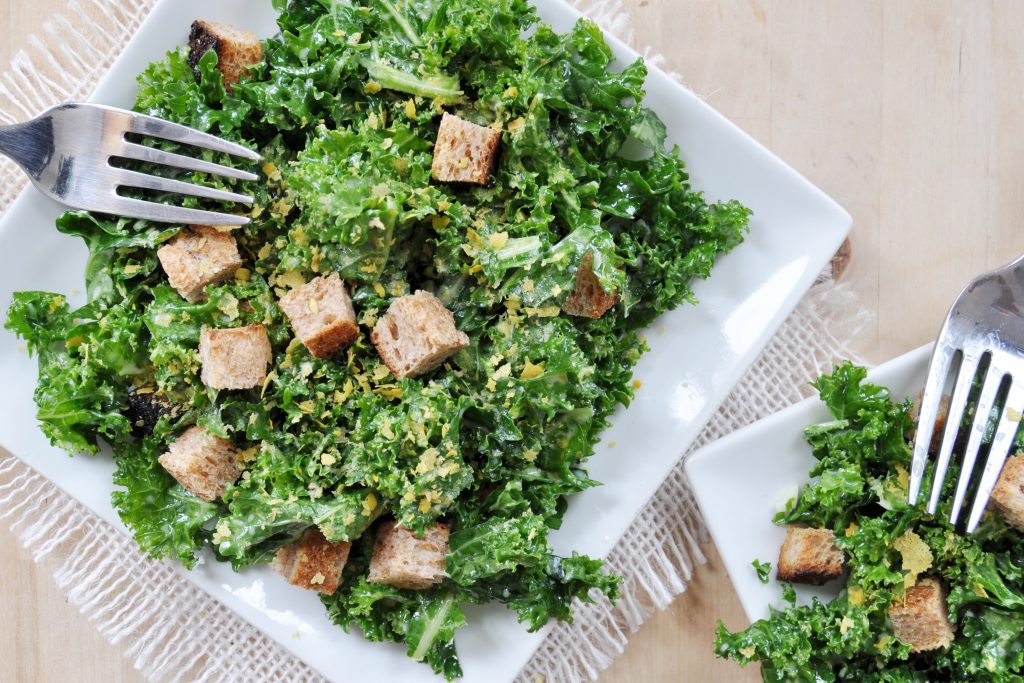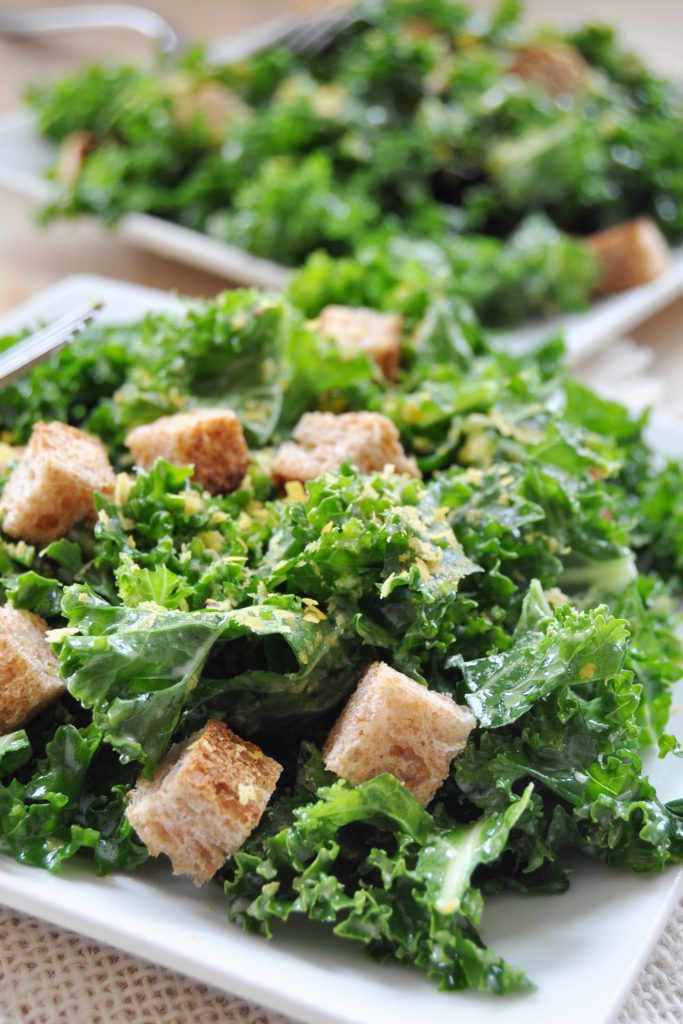 Caeser salad is definitely one of my comfort foods and I love that I can enjoy it and still feel wonderful afterwards. Looking to make other healthy swaps to your diet? Join me for my upcoming spring Happy, Healthy You program and enjoy 21 days of delicious nutritious, easy-to-make recipes!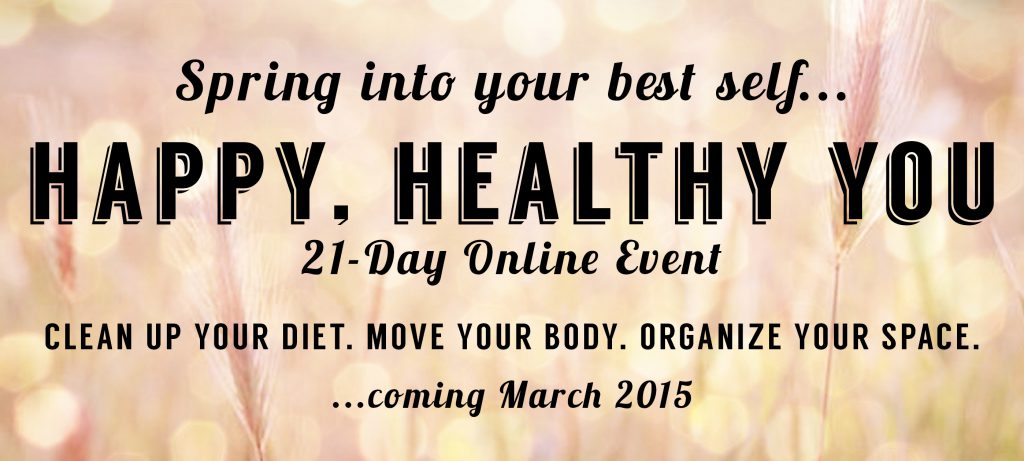 Ps- grab the 15% early bird discount until next week!