Can we talk about the magic that is salted caramel? You know I'm all about desserts that are both sweet and salty so basically anything with salted caramel is dream come true for me.
Speaking of dreams, a couple of weeks ago when I found myself house-bound once again during a snowstorm, I decided to dream up the most richly decadent dessert I possibly could. The result: today's Vegan, Gluten-Free Salted Caramel Cheesecake Brownies!
This dessert is a serious treat- perfect for birthday parties, potlucks and snowstorms! The rich salted caramel flavor comes from dates which is then combined with vegan cream cheese to make a decadent top layer. You'll notice the baking time is 28-30 minutes. I like to bake my brownies for the minimal amount of time so they have a more fudge-like texture. If you prefer your brownies to be more cake-like, bake them for the full 30 minutes. It's a challenge, but make sure to let them cool completely so they don't crumble when you cut them!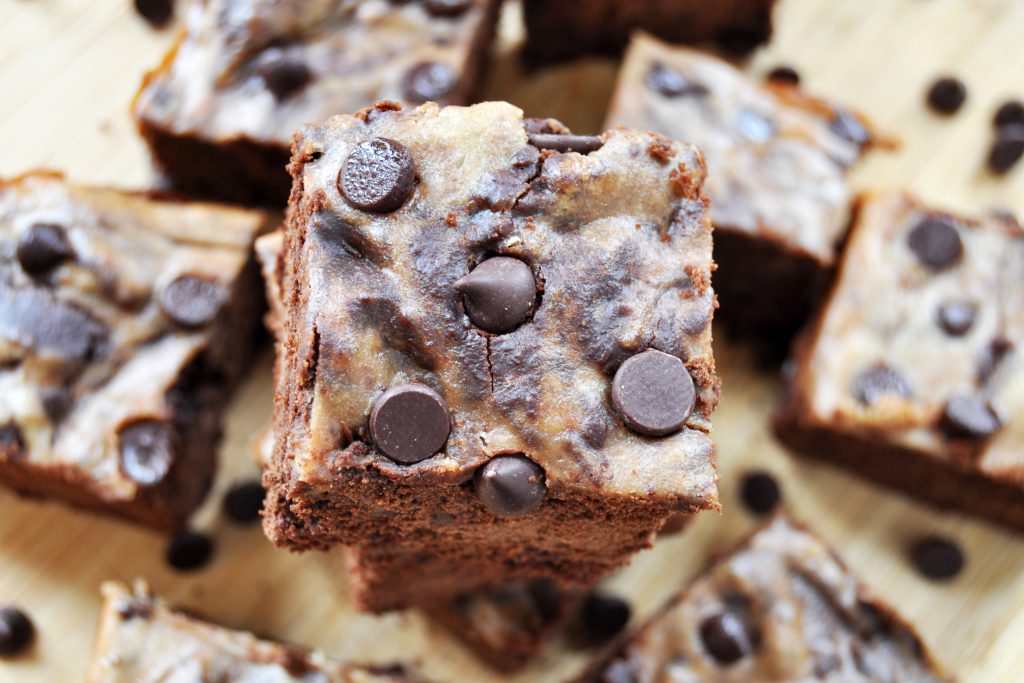 Salted Caramel Cheesecake Brownies, Vegan + Gluten-Free
Cuisine:
vegan, gluten-free
Ingredients
½ cup cashews, soaked at least 4 hours
8 dates, soaked at least 30 minutes
¼ cup vegan cream cheese
¼ cup + 2 tbs non-dairy milk
1 tsp vanilla extract
1½ cup all purpose gluten-free flour
½ cup cocoa
¼ tsp baking soda
⅛ tsp salt
1 tbs ground flax
½ cup chocolate chips
⅓ cup vegan butter
¾ cup coconut palm sugar
½ cup non-dairy milk
1 tsp vanilla extract
optional- extra chocolate chips
Instructions
Preheat oven to 350°. Grease a 9" x 9" baking dish.
Prepare cream cheese layer by draining cashews and dates, then blending them together with cream cheese, ¼ cup + 2 tbs milk and 1 tsp vanilla extract until smooth. Set aside.
To prepare brownie layer,whisk together flour, cocoa powder, salt and baking soda in a large bowl.
Prepare flax "egg" by stirring ground flax seed with 3 tbs water. Let sit for 10 minutes.
Heat a small saucepan on stove at low heat. Add ½ cup chocolate chips and butter. Stir until completely melted. Transfer to medium bowl. Add coconut sugar, ½ cup milk, 1 tsp vanilla extract and flax "egg". Stir everything together.
Transfer contents of small bowl into large and stir until everything is thoroughly mixed (you may choose to use a hand mixer). Fold in extra chocolate chips (if using).
Spread brownie batter out evenly in baking dish. Pour cheesecake layer over top and use a knife to swirl. Sprinkle extra chocolate chips on top.
Bake for 28-30 minutes, until edges are crisp. Let brownies cool completely before slicing.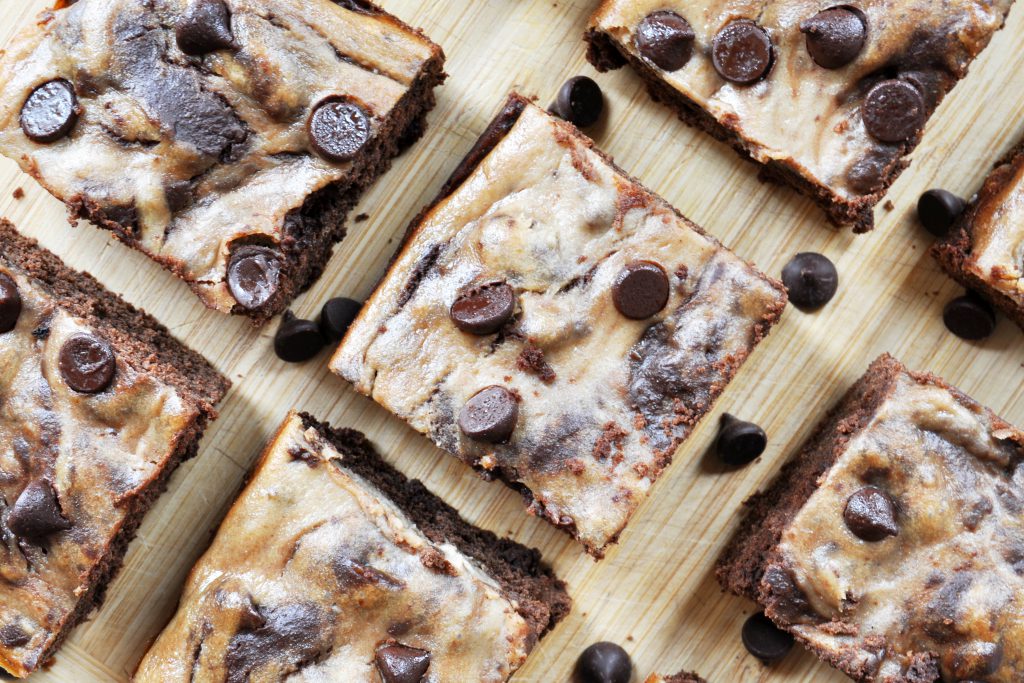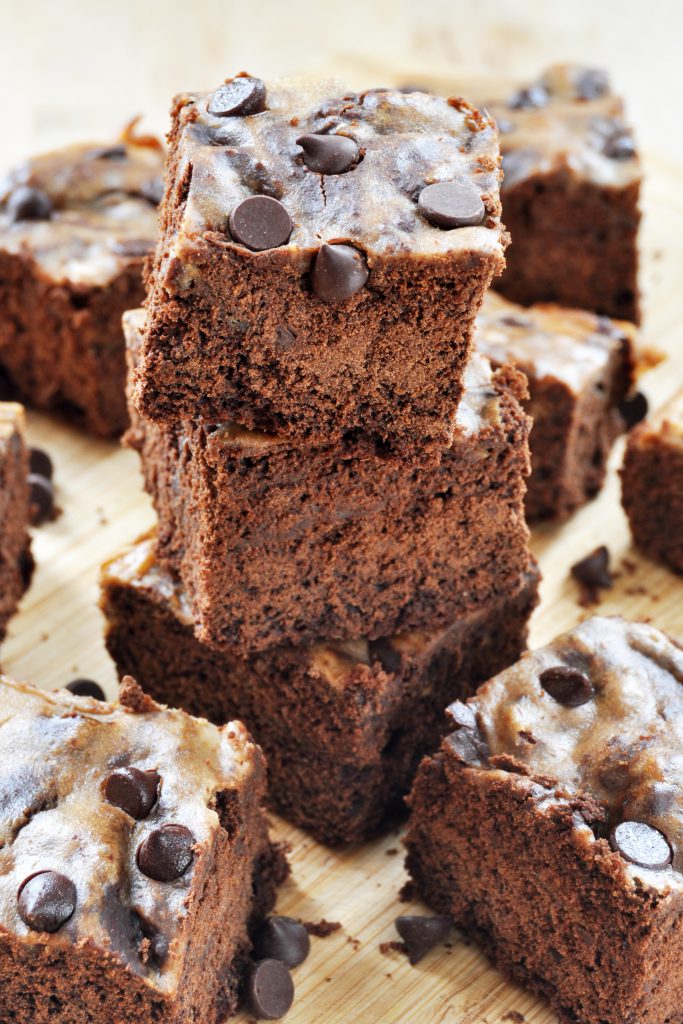 Now that the weather is warming up I'm starting to crave lighter desserts like these Raw Salted Caramel Chocolate Squares (so good!).
Feel like you've been indulging a little too much this winter (I sure have!)? Let's get back on track and start spring off right together! Join me for 21 days of deliciously healthy eating, exercising and organizing in Happy, Happy You. It's like spring cleaning but 1000 times more fun!