Is there something about the spring time and carrot cake or is it just me?
I recently shared these carrot cake cinnamon rolls and went on and on about how I've been in the mood for carrot cake lately so it shouldn't come as a surprise that I'm back with another carrot cake inspired treat!
Today's Vegan, Gluten-Free Carrot Cake Oatmeal Cookies will seriously hit the spot. I love textured cookies and these little guys are crunchy, chewy and crispy all at once. I topped them with cream cheese frosting which also one of my favorite things ever.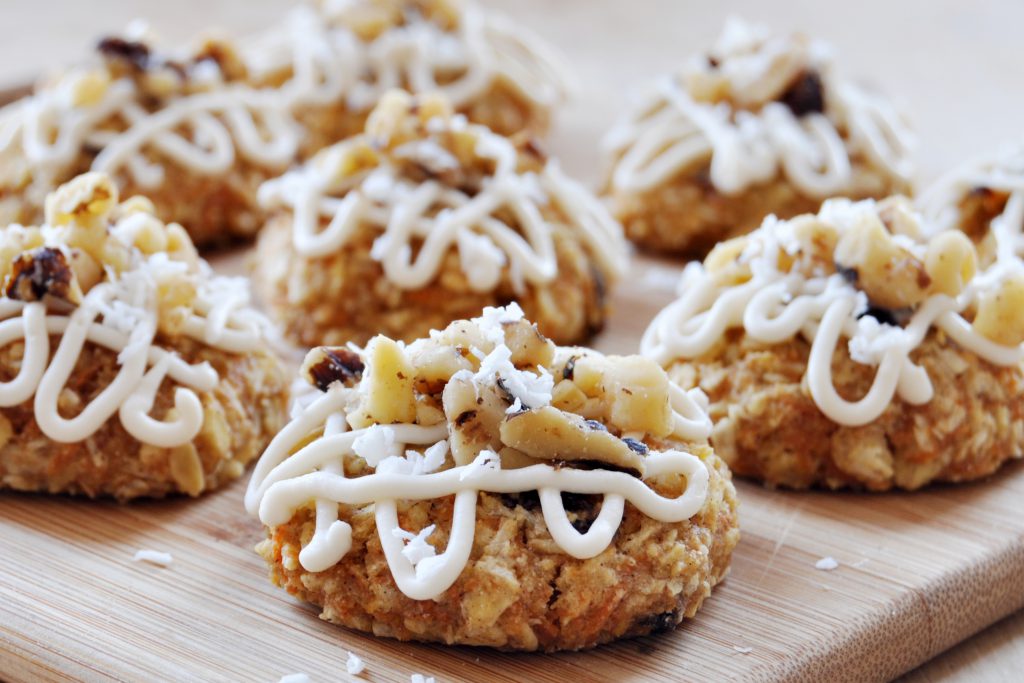 Carrot Cake Oatmeal Cookies, Vegan + Gluten-Free
Cuisine:
vegan, gluten-free
Ingredients
½ cup rolled oats
¼ cup almond meal (or other flour)
¼ cup shredded coconut
½ tsp baking powder
⅛ tsp salt
3 tbs applesauce
3 tbs maple syrup
2 tbs coconut oil, melted
1 tsp vanilla extract
⅓ cup shredded carrot
¼ cup raisins
¼ cup chopped walnuts
3 tbs vegan cream cheese
2 tbs maple syrup
1 tbs vegan butter butter
Instructions
Preheat oven to 350°. Grease a baking sheet or line it with parchment paper.
In a large bowl, stir together oats, almond meal, shredded coconut, baking powder and salt.
In a small bowl combine applesauce, maple syrup, coconut oil, and vanilla extract. Add contents of small bowl to large and stir thoroughly.
Fold in shredded carrot, raisins and walnuts. Scoop 1-2 tbs of batter to form each cookie.
Bake for 12-14 minutes.
To prepare frosting, stir together cream cheese, maple syrup and vegan butter. Spread or drizzle over cookies and top with extra chopped walnuts and shredded coconut.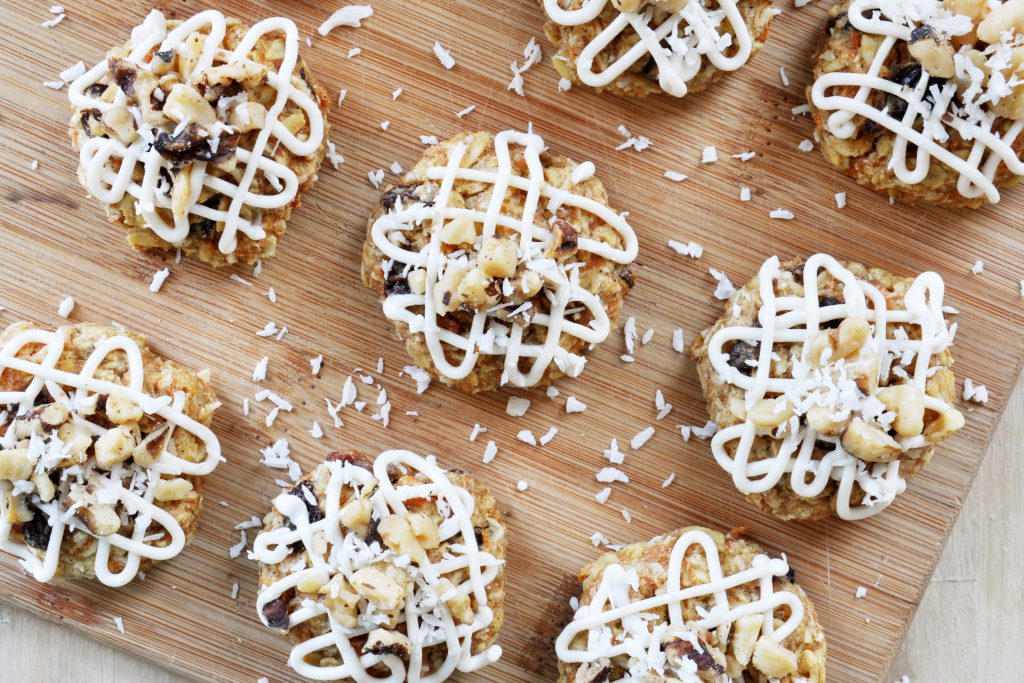 My favorite thing about these cookies (aside from their taste) is that the are healthy and wholesome enough to enjoy for breakfast! What's your favorite breakfast/dessert crossover recipe?