Hey friends, happy Monday!! Now that it's officially Spring (even though it's still a little chilly in NYC) I'm starting to crave lighter foods like salads and raw dishes.
Today I'm excited to share a lighter, healthier version of your favorite take-out noodles. These Easy Spiralized Zucchini Peanut Noodles are like a vegan, gluten-free and raw version of pad thai. I love the contrast of textures between the zucchini noodles, carrot noodles, bean sprouts and nuts. It's such a satisfying dish!
If you don't have a sprializer the recipe will still taste great if you dice the veggies and enjoy it like a salad. The peanut sauce is super simple but so tasty and I could seriously eat it on anything.
Ps- The spring session of Happy, Healthy You begins one week from today! Join me for 21 days of deliciously healthy eating, exercising and organizing!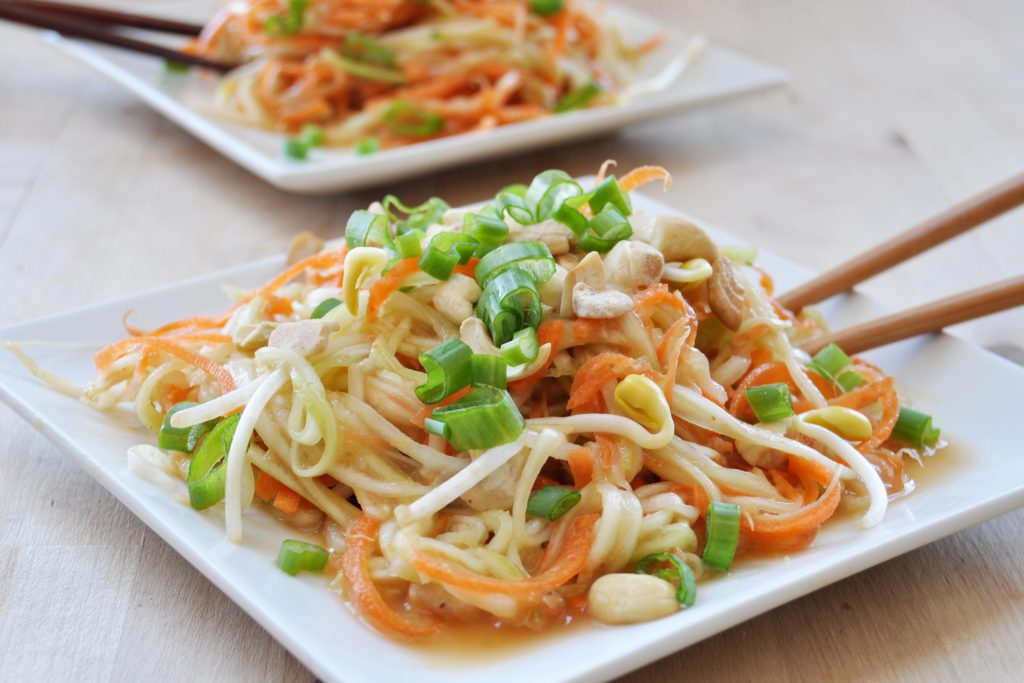 Easy Spiralized Raw Zucchini Peanut Noodles, Vegan + Gluten-Free
Ingredients
juice of 1 lime
2 tbs creamy peanut butter (can substitute almond or cashew butter)
1 tbs sesame oil
1 tbs gluten-free tamari (or soy sauce if not gluten-free)
1 tbs maple syrup
3 medium zucchini
4 medium carrots
1 cup bean sprouts
2 green onions, diced
handful of chopped peanuts, cashews or almonds
Instructions
Prepare peanut sauce by stirring together lime, peanut butter, sesame oil, tamari and maple syrup.
Use a vegetable spiralizer to create "noodles" out of zucchini and carrots. Place in a large bowl with bean sprouts.
Add sauce to large bowl and stir thoroughly. Transfer to plates and garnish with green onion and chopped nuts.