As a kid, I used to go crazy for Oreos.
These days I've been too busy snacking on treats like raw brownies and cheesecake bites to think about my childhood favorite, until recently when I heard that Oreos are in fact vegan.
This didn't mean much to me because the ingredient list is still way too scary to be enticing, but I casually mentioned this to my mom and she got very excited. I decided to come up with my own version of Oreos for her that are filled with goodness, not unpronounceable ingredients.
Today's Vegan, Gluten-Free Raw Oreos seriously do the trick.  They are rich, chocolatey, creamy and oh-so-satisfying. I dipped a few in almond milk and it was downright heavenly.
Do you have a childhood favorite that you would like to see a better healthier version on? Leave it in the comments and I'll see what I can do!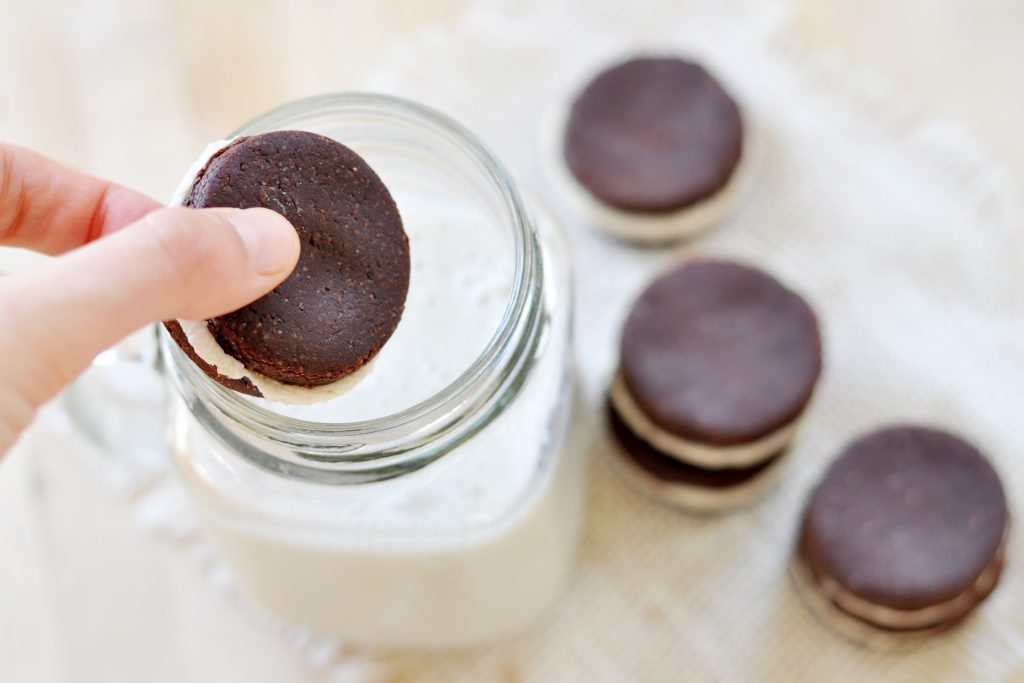 Raw Oreos, Vegan + Gluten-Free
Cuisine:
vegan, gluten-free
Ingredients
1 cup oat flour
8 pitted dates, soaked at least 30 minutes
¼ cup cacao or cocoa powder
2 tbs coconut oil
2 tbs maple syrup
dash of salt
1 cup cashews, soaked at least 4 hours
¼ cup coconut butter
2 tbs maple syrup
1 tsp vanilla extract
Instructions
Prepare cookies by placing oat flour, dates, cacao powder, 2 tbs coconut oil, 2 tbs maple syrup and salt in blender or food processor. Blend until mostly smooth.
On a clean surface (I use a piece of parchment paper) roll mixture out until it's about ¼" thick. Use a circular cookie cutter to cut out cookies. Transfer cookies to a plate and place in freezer to set.
Prepare filling by draining cashews and blending with coconut butter, 2 tbs maple syrup and vanilla until smooth.
Remove cookies from freezer. Spread icing over cookies to create sandwiches. You may want to set them back in freezer for 15 minutes to set before enjoying. Store in refrigerator.