Two of my favorite comfort-style foods are pad thai and pizza. I've had "pad thai pizza?" written on my recipe brainstorming list for a while now (also on the list- macaroni stuffed biscuits and trail mix pancakes) and honestly I can't believe it's taken me this long to finally make it!
Today's Vegan Pad Thai Pizza is seriously satisfying and just perfect for movie night. The peanut sauce is tangy and a little sweet and I love the contrast in texture between the crispy crust, veggies and crunchy bean sprouts. In the photos I used a simple spelt crust but for a gluten-free version try my chickpea pizza crust.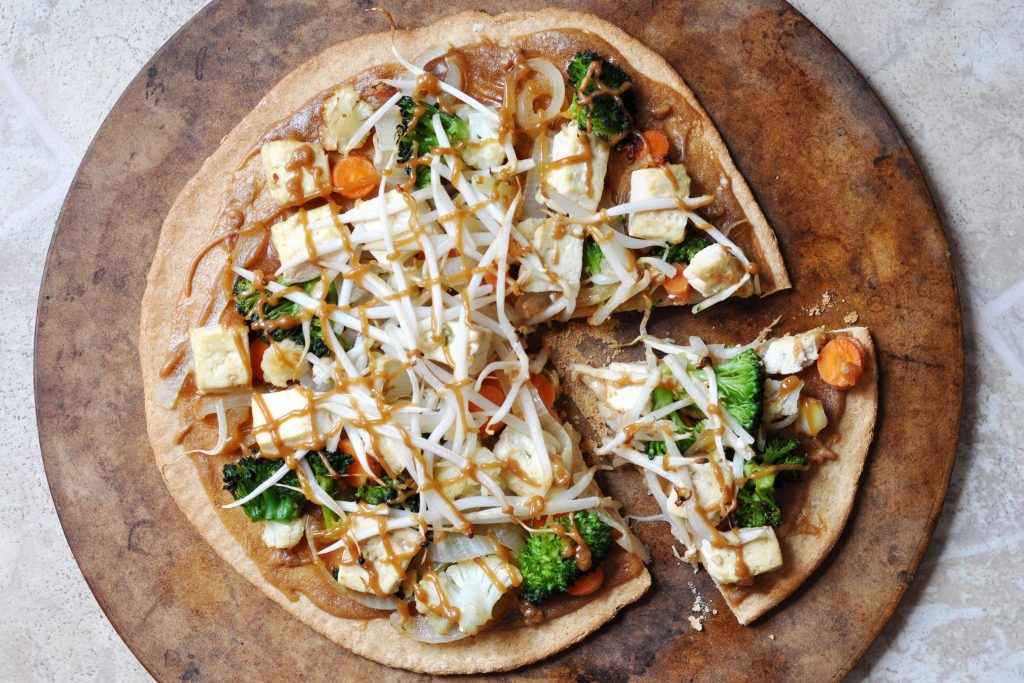 Vegan Pad Thai Pizza
Ingredients
1 package firm tofu
1 tbs tamari
1 tbs coconut oil
1 medium onion, sliced
2 cloves garlic, minced
½ cup sliced carrots
½ cup broccoli florets
½ cup cauliflower florets
½ cup bean sprouts
2 tbs creamy peanut butter
1 tbs rice vinegar
1 tbs tamari
1 tsp maple syrup
juice of half a lime
your favorite pizza crust
Instructions
Slice tofu into cubes. Use towel to press out excess water. Mix tofu on a plate with 1 tbs tamari and let marinate for 5 minutes.
In a large pan or wok, heat coconut oil at medium-high. Add onion and garlic and sauté for 5 minutes.
Turn heat down to medium and add tofu, carrots, broccoli and cauliflower. Saute for 10 minutes, stirring occasionally.
To prepare sauce, stir together peanut butter, vinegar, tamari, maple syrup and lime juice.
Spread about ¾ of sauce over pizza crust. Spread vegetable and tofu mixture over layer off sauce. Top with bean sprouts and drizzle remaining sauce on top.
Bake for 10-15 minutes, until desired crispness is reached.