On a super chilly day last week, I had a crazy craving for Cauliflower Mac n' Cheese. Since it was just so cold out and I'm totally over winter, I decided to see if I could throw something together without venturing out for ingredients. I didn't have the the main ingredient, cauliflower, but I did have a sweet potato so I crossed my fingers and gave it a try.
I'm thrilled to say that the Vegan, Gluten-Free Sweet Potato and Kale Mac n' Cheese experiment was beyond successful. Using roasted sweet potato as the base made for a very creamy, flavorful and colorful "cheese".  I also added kale for texture and color and decided to serve it straight out of the pot instead of baking it.
For the pasta I used the brown rice spirals that I had on hand instead of elbows or shells but any kind of pasta will work wonderfully.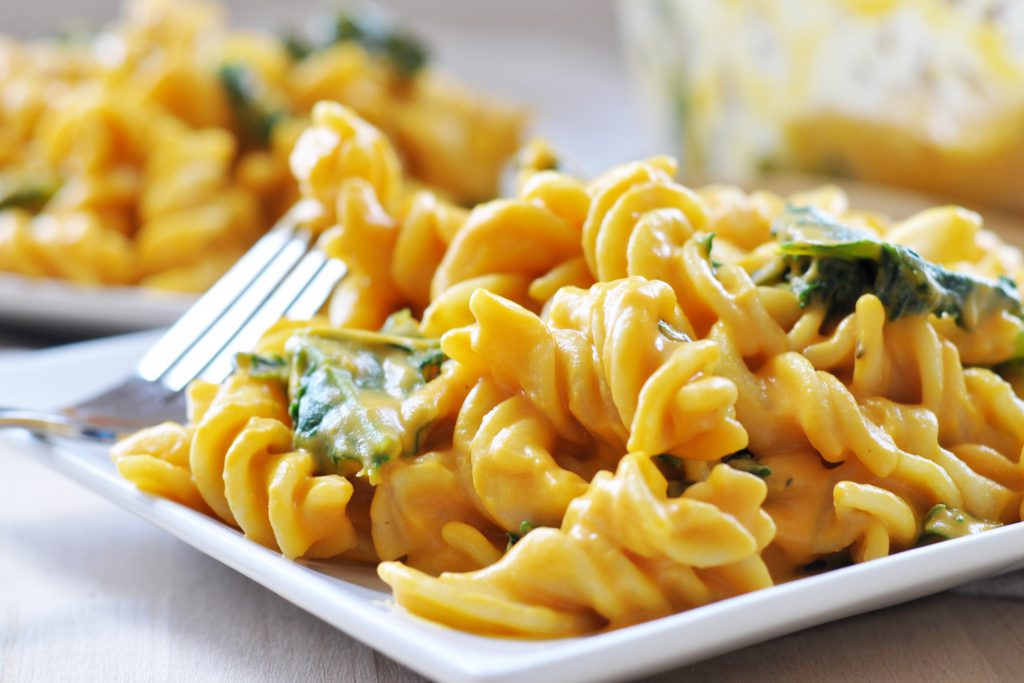 Sweet Potato and Kale Mac n' Cheese, Vegan + Gluten-Free
Cuisine:
vegan, gluten-free
Ingredients
1 large sweet potato
1 package pasta of your choice
1 cup non-dairy milk
2 cloves garlic
1 tbs dijon mustard
¼ cup nutritional yeast
2 tbs tamari
1 tbs olive oil
salt and pepper to taste
2 cups kale, shredded
Instructions
Preheat oven to 400°. Poke holes in sweet potato and wrap in foil. Bake until tender (45- 60 mins).
While the potato bakes, prepare pasta according to instructions on container.
Remove potato from oven and peel away skin when it's cool enough to handle.
Place in blender with all ingredients (except kale) and blend until smooth.
In a large pot, heat kale with a tablespoon of water until wilted. Stir in sauce and pasta and heat until warm.
Transfer to plates and enjoy right away!