Last week I posted a recipe for Raw Vegan Oreos and it was greeted with much excitement on social media. On Instagram I asked what other childhood favorite cookies people would like to see a healthy version of and I was blown away by all the suggestions!
One that stood out to me right away was Nutter Butter (you know I love anything peanut buttery) so I decided to get to work. My recipe for Raw Vegan, Gluten-Free Nutter Butters is super easy to make, totally good for you and super yummy. I added chocolate on top which you can feel free to omit if you're a Nutter Butter purist but we all know that chocolate is always a good addition.
Veganizing and healthifying cookies and candies has been super fun so keep the suggestions coming!!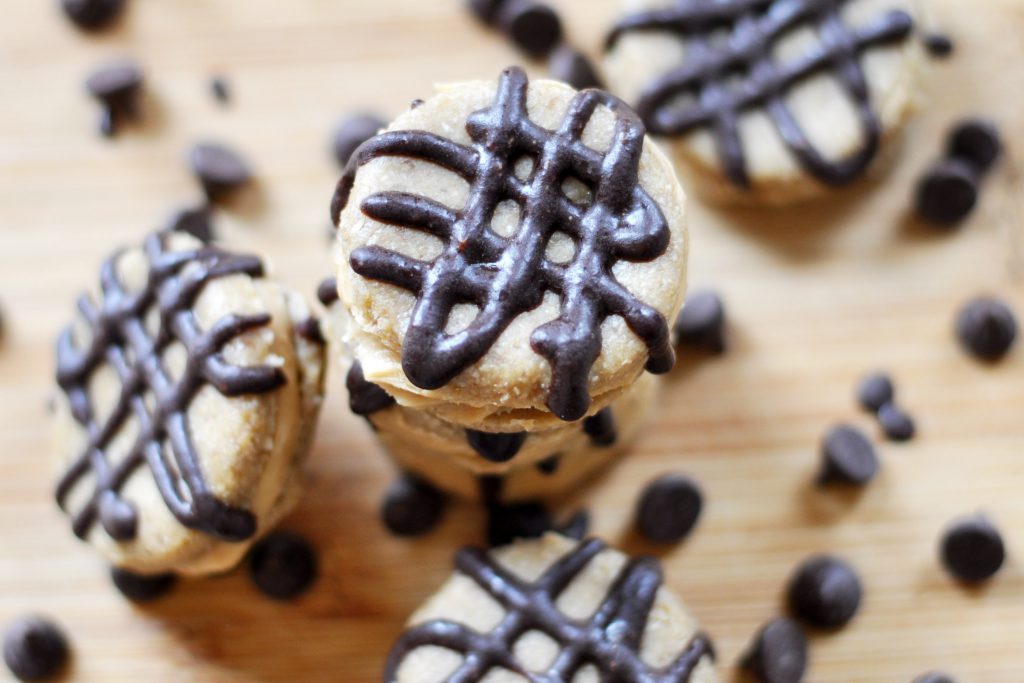 Raw Nutter Butters, Vegan, Gluten-Free
Cuisine:
vegan, gluten-free
Ingredients
1 cup oat flour
8 pitted dates, soaked at least 30 minutes
2 tbs coconut oil
2 tbs maple syrup
dash of salt
2 tbs peanut butter or raw almond butter
2 tbs coconut butter
2 tbs maple syrup
1 tsp vanilla extract
2 tbs coconut oil, melted
2 tbs cocoa or cacao powder
1 tsp maple syrup
Instructions
Prepare cookies by placing oat flour, dates, 2 tbs coconut oil, 2 tbs maple syrup and salt in blender or food processor. Blend until mostly smooth.
On a clean surface (I use a piece of parchment paper) roll mixture out until it's about ¼" thick. Use a circular cookie cutter to cut out cookies. Transfer cookies to a plate and place in freezer to set.
Prepare filling by blending peanut butter, coconut butter 2 tbs maple syrup and vanilla extract together.
Remove cookies from freezer. Spread filling over cookies to create sandwiches. Set them back in freezer while preparing chocolate glaze.
Mix together 2 tbs coconut oil, cocoa powder and 1 tsp maple syrup. Drizzle over cookies. Let harden in freezer for 15 minutes before enjoying. Store in refrigerator.