Nothing says party quite like a pizza, so for Cinco de Mayo this year I decided to stray from the traditional tacos, nachos, etc. in a search of something extra festive.
Today's Vegan Cinco de Mayo Fiesta Pizza is a serious amount of fun. My favorite thing about the recipe (beside it being super simple to make) is the combination of textures from the crispy crust to the melty cheese. The cilantro and avocado on top add just the perfect amount of freshness to contrast the ooey gooey (in the best way) beans and salsa. Basically…you gotta make this pizza!
I used a simple spelt crust but feel free to use any kind you like. For an easy gluten-free option try my Chickpea Crust.
The recipe makes enough for 4 small or 2 large portions. I totally recommend making my Kale Nachos to go along with pizza…and don't forget dessert! Or margaritas!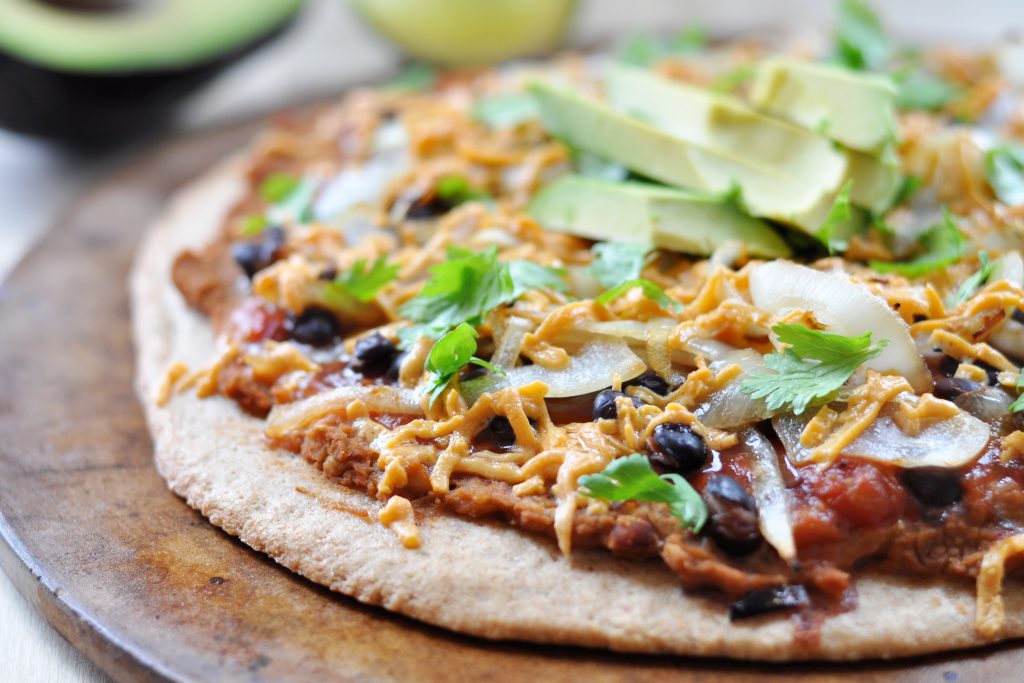 Vegan Cinco de Mayo Fiesta Pizza
Ingredients
1 small onion, sliced
1 tbs olive oil
your favorite pizza crust, pre-baked
1 cup refried beans
½ cup salsa
½ cup black beans
½ cup vegan cheese (I used Daiya cheddar)
2 tbs fresh cilantro
1 avocado, sliced
Instructions
Heat olive oil at medium-high in pan. Add onions and sauté until lightly browned (7-10 minutes).
Preheat oven to 400°.
Spread refried beans evenly over pizza crust. Layer on salsa, then black beans, onions and cheese.
Bake until cheese melts (about minutes). Remove from oven and top with cilantro and avocado.