It's official…it's raw dessert season!
A few weeks ago I counted down my Top 10 Raw Desserts and today I'm back with another that's a must-try.
Today's Vegan, Gluten-Free Raw Chocolate, Peanut Butter Cups are a guaranteed crowd pleaser. I love the contract in texture between the fudgey chocolate layer and the creamy cheesecake topping.
I used creamy peanut butter this time but I think next time I'll try crunchy to add a even more texture. Feel free to get creative and swap almond or cashew butter as well!
I also topped mine with coconut whipped cream and cacao nibs to make them even more decadent but trust me that these little babies are amazing all on their own!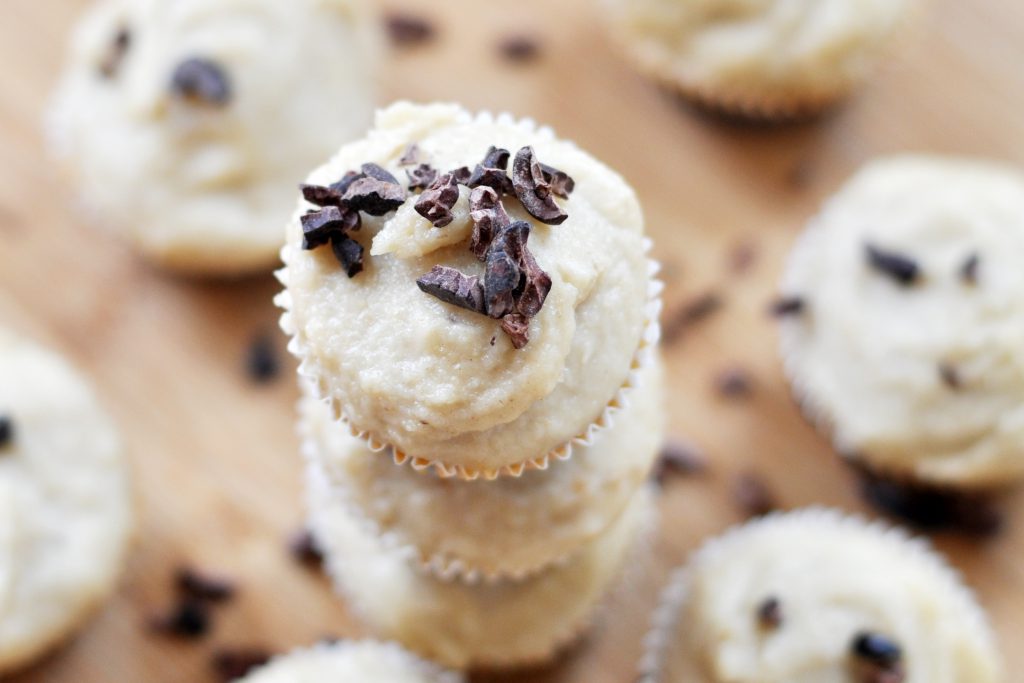 Raw Chocolate, Peanut Butter Cheesecake Cups, Vegan + Gluten-Free
Ingredients
½ cup oat flour
4 pitted dates (soaked in warm water 30 minutes)
1 tbs maple syrup
2 tbs cocoa powder
1 tbs coconut oil, softened
dash of salt
2 tbs peanut butter
2 tbs coconut butter, softened
1 cup cashews (soaked at least 4 hours)
juice of half a lemon
2 tbs coconut oil, softened
2 tbs maple syrup
1 tsp vanilla extract
dash of salt
Instructions
Line a mini muffin tin with baking cups.
Prepare chocolate layer by blending together oat flour, dates, 1 tbs maple syrup, cocoa powder, 1 tbs coconut oil and a dash of salt until mostly smooth. Set aside.
Prepare peanut butter layer by stirring together peanut butter and coconut butter. Set aside.
Prepare cheesecake layer by draining cashews and blending them with lemon juice, 2 tbs coconut oil, 2 tbs maple syrup, vanilla extract and salt until smooth.
Assemble cups by pressing a spoonful of chocolate mixture into the bottom of each cup. Follow with peanut butter mixture. Top with cheesecake mixture.
Place in freezer for 30 minutes to set. Enjoy right away or store in refrigerator.