Hi friends!
Notice anything different today? I'm beyond excited to share the brand new Colorful Kitchen with you!!
I started The Colorful Kitchen almost two years ago to share my love of plant-based cooking. My first post feels like a million years ago- in the time since, I became certified as a health coach, moved apartments, left my day job, got engaged and have had the opportunity to connect with so many amazing people in the health/food/blogging community.
Moving forward, I'm so excited to continue sharing recipes on this blog and to unveil some of the super top secret projects I've been working on (stay tuned!). Big thanks to Melyssa for making my rainbow website dreams come true and to Darcy for snapping photos of me in the kitchen!
Today I'd like to share a recipe that I've been saving for a special occasion. These Vegan, Gluten-Free Tempeh- Potato Croquettes with Creamy Dill Sauce feel super fancy even though they are quick and easy to put together. I'm a little bit obsessed with the dill sauce, it's perfect to add to just about anything.
I served the croquettes with kale salad but they would also be great over rice or served with roasted veggies.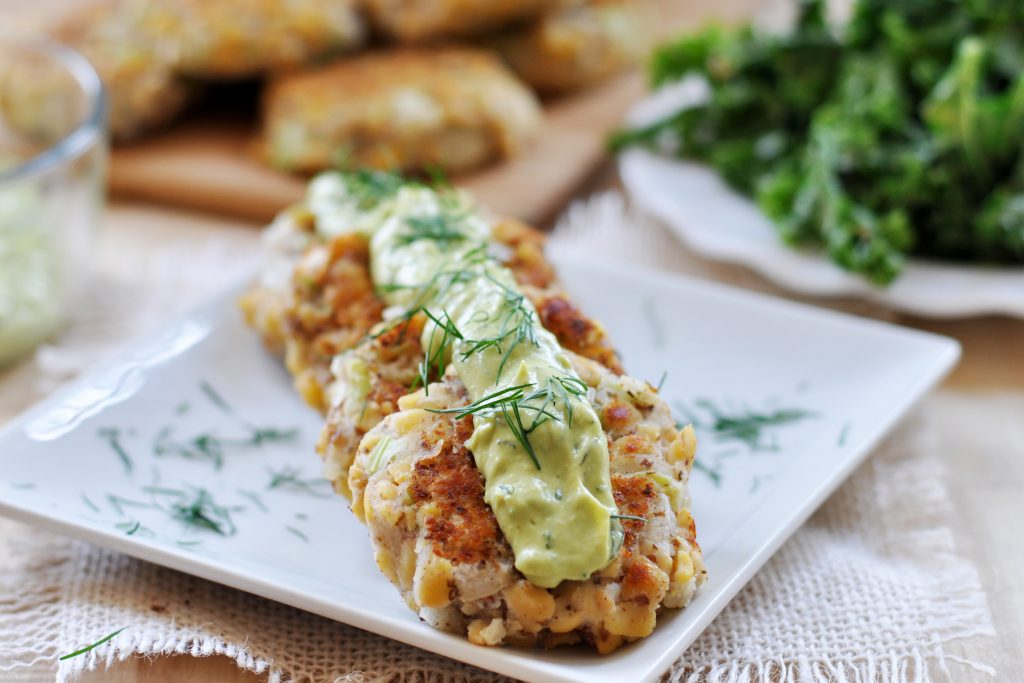 Tempeh-Potato Croquettes with Creamy Dill Sauce, Vegan + Gluten-Free
Recipe type:
appetizer, entree
Cuisine:
vegan, gluten-free
Ingredients
Sauce: 1 avocado, 3 tbs tahini, juice of 1 lemon, 1 clove garlic, 2 tbs fresh dill, salt and pepper to taste, water as needed
2 medium yukon potatoes, peeled and cubed
1 tbs vegan butter (can substitute olive oil)
1 package tempeh
1 tbs tamari
1 tbs ground flax seed
½ cup diced celery
¼ cup diced onion
1 clove garlic, minced
salt and pepper, to taste
optional- 1 tbs kelp flakes
oil or non-stick spray for frying (I used coconut)
Instructions
Combine all sauce ingredients in blender and blend until smooth. Refrigerate until needed.
Bring a small pot of water to a boil. Add potatoes and boil until tender (about 15 minutes).
Meanwhile, crumble tempeh into a small bowl. Add tamari and let marinate until needed.
Prepare flax "egg" by combining flax seed with 3 tbs warm water. Let sit for at least 10 minutes.
Drain potatoes and place in a medium bowl. Add vegan butter (or oil) and mash until mostly smooth.
Stir in tempeh, flax "egg", celery, onion garlic, salt, pepper and kelp flakes (if using) and mix thoroughly.
Heat oil in a pan at medium-high heat. Use your hands to form mixture into patties about 2-3" wide. Fry patties on each side until gold brown (about 5 min).
Serve with creamy dill sauce and top with fresh chopped dill.