Recently I've gone a little bananas for cinnamon rolls. There's something so magical about watching them puff up before they go in the oven PLUS they are a seriously tasty treat.
Last week I decided to make another seasonal version of my Carrot Cake Cinnamon Rolls so today's dish is more of a substitution than a recipe, but these babies are so good I didn't think you guys would mind. Today's Vegan Strawberry Spelt Cinnamon Rolls are just perfect for Sunday brunch or an afternoon snack. They are best served warm right out of the oven and covered in cream cheese frosting. I used the same frosting from the carrot cake rolls, which you can find the recipe for here.
In other news, it's exactly one week until enrollment in Color Your Kitchen opens! One of the most common things I hear from readers of this website is that they love eating healthy food but cooking at home is too time consuming or difficult. I designed Color Your Kitchen to make plant-based home cooking as easy (and tasty) as possible. It's basically the guide I wish I had 8 years ago when I started experimenting with plant-based food. Click here to get the details.
Now on to the rolls!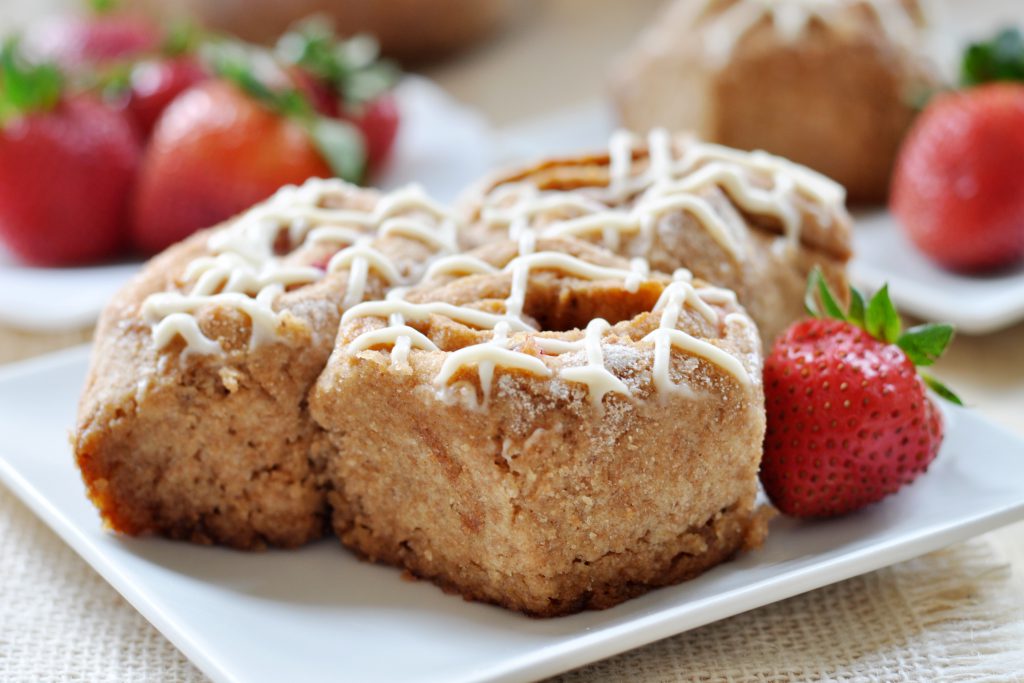 Vegan Strawberry Spelt Cinnamon Rolls with Cream Cheese Frosting
Ingredients
1 cup non-dairy milk (I used unsweetened almond)
1 package (2¼ tsp) of yeast
2 tsp coconut palm sugar
1 tbs ground flax seeds
3 tbs warm water
3 cups spelt flour + extra for sprinkling
2 tbs coconut palm sugar
1 tsp baking powder
⅛ tsp salt
¼ cup coconut oil, melted
1 tbs vanilla extract
filling- ½ cup melted vegan butter (I used Earth Balance), ½ cup coconut palm sugar, 2 tbs maple syrup, 1 tbs cinnamon, 1 cup diced strawberries
Instructions
Pour milk into a small bowl and add yeast and sugar. Let sit for 10 minutes, until bubbles form.
Prepare flax "egg" by stirring flax seeds together with 3 tbs warm water. Let sit for 10 minutes before using.
In a large bowl, whisk together flour, coconut palm sugar, baking powder and salt.
Add flax "egg", coconut oil and vanilla extract to bowl of milk and stir. Add contents to large bowl of flour and stir throughly.
Use your hands to knead dough for a minute or two. Form dough into ball, place back in bowl, cover with a towel and let rise for 1 hour.
Prepare filling by string together vegan butter, ½ cup coconut sugar, maple syrup, cinnamon and strawberries.
Grease a 9" x 12" (or equivalent size) baking dish. Sprinkle extra flour on a clean surface.
Punch dough down, then use a rolling pin to roll it out to rectangle ¼" - ½" thick.
Spread filling evenly over dough. Start on one end, gently rolling dough into log. Spread a little vegan butter over a knife and slice the roll into 1"-2" pieces.
Place pieces in baking dish. Cover with a towel, place in a warm spot and let rise for 1 hour.
Bake rolls at 375° for 22-25 minutes. Serve warm.