There's nothing worse than a boring salad.
I'm all about salads that are full of color, flavor and texture- and today's recipe is no exception!
This Vegan, Gluten-Free Strawberry, Avocado, Chard Salad with Tempeh Bacon is pretty much the salad of my dreams. I love the balance between the savory/salty tempeh bacon and pumpkin seeds with the sweetness of the strawberries. I feel like chard is often an underused salad green but it definitely ranks right up there with spinach and kale in my book!
Say hello to your new summer salad!
Ps- I'm so excited that enrollment opens for Color Your Kitchen in just a few days!!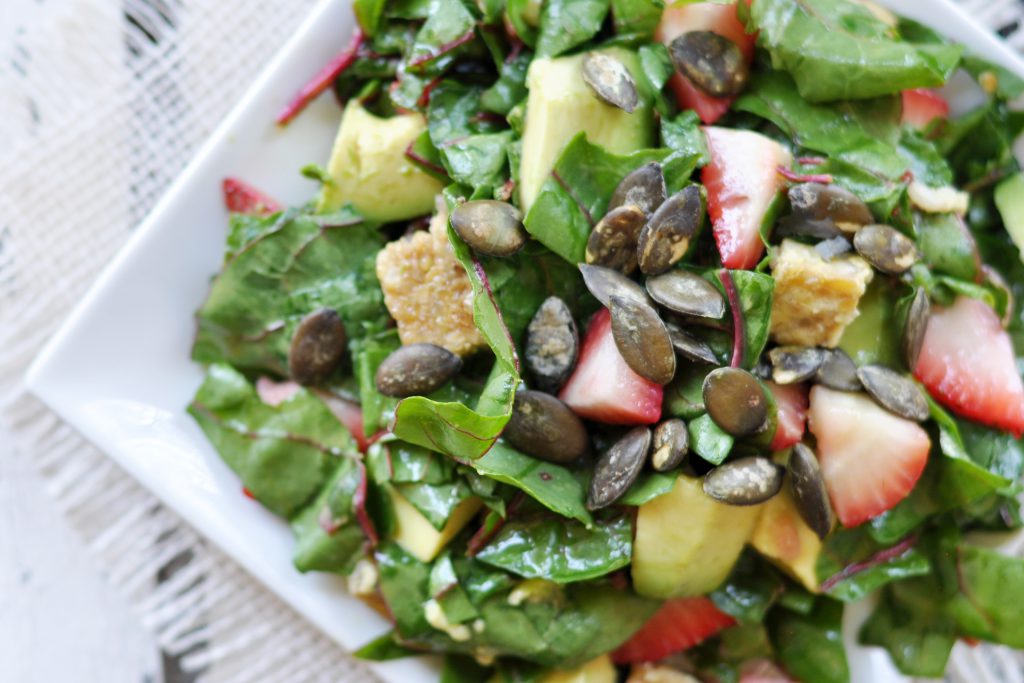 Strawberry, Avocado, Chard Salad with Tempeh Bacon, Vegan + Gluten-Free
Cuisine:
Vegan, Gluten-Free
Ingredients
1 tbs tamari
1 tbs maple syrup
1 tsp apple cider vinegar
1 top liquid smoke
1 package tempeh, sliced
1 tbs coconut oil
1 bunch chard, chopped
1 cup strawberries, chopped
1 avocado, diced
3 tbs olive oil
2 tbs balsamic vinegar
¼ cup pumpkin seeds
salt and pepper to taste
Instructions
In a small bowl, stir together tamari, maple syrup, apple cider vinegar and liquid smoke. Add tempeh slices and let marinate for 10 minutes.
Heat coconut oil at medium-heat in a pan. Add tempeh and fry until lightly brown on each side (7-10 minutes). Set aside.
In a large bowl, mix chard, strawberries, avocado, olive oil and balsamic vinegar together.
Transfer to plates and top with tempeh bacon, pumpkin seeds, salt and pepper.