I've officially been on a cinnamon roll kick for a while now. Recently I've shared recipes for strawberry and carrot cake rolls and today I'm super excited to share a savory variation.
I wasn't totally sure if this recipe for Vegan Spelt Pizza Rolls would work out…but I'm very happy to say that it more than exceeded my expectations!
I kept the fillings simple and just used onion, garlic, mushrooms and spinach but you could easily go crazy and add all sorts of veggies and/or faux meat. For the pizza sauce I used Eden Foods and went with Daiya Pepperjack for the cheese.
One thing to note- we ended up adding extra sauce on top when we ate the rolls and you may want to plan for that ingredient-wise.
Working on this recipe hasn't done much to end my roll kick…now I'm dreaming up tons of other savory roll recipes so stay tuned!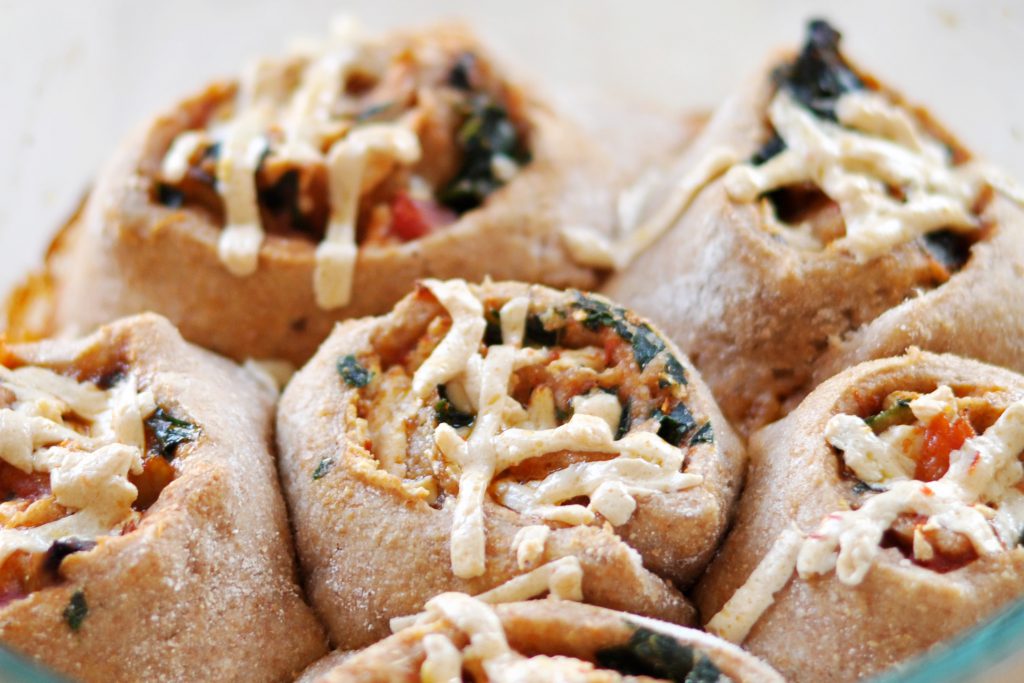 Vegan Spelt Pizza Rolls
Ingredients
1 tsp dry active yeast
½ cup water
1 tsp maple syrup
1.5 cups spelt flour
1 tbs olive oil
dash of salt
1 tbs olive oil
1 cup mushrooms, sliced
1 small onion, sliced
1 clove garlic, minced
1 cup chopped spinach
⅔ cup pizza sauce
½ cup vegan cheese+ extra for sprinkling
Instructions
Pour water into a small bowl and add yeast and maple syrup. Let sit for 10 minutes, until bubbles form.
Stir in flour, 1 tbs olive oil and salt. Knead for 2 minutes. Dough should feel slightly sticky, add more water if needed. Place in bowl and cover with towel. Let rise for 45 minutes.
While dough rises, heat 1 tbs olive oil in a pan at medium-high. Add mushrooms, onion and garlic and sauté for 5 minutes. Add spinach, sauté until wilted and set aside.
Sprinkle a clean surface with extra flour. After dough rises for 45 minutes, punch it down and use a rolling pin to roll it out to rectangle ¼" - ½" thick.
Spread sauce over dough, then layer onion/mushroom mixture and cheese. Start on one end, gently rolling dough into log. Spread a little olive oil over a knife and slice the roll into 1"-2" pieces. Place the pieces on a greased baking dish (I used 8" round). Place dish in a warm spot and let rise for 1 hour.
Bake rolls at 375° for 20 minutes. Sprinkle extra cheese on top and bake for 5 more minutes. Serve warm.