Over the weekend I picked up the most perfectly fresh, sweet summer blueberries. After using some of them in this rainbow salad I decided to I needed to finally make the Vegan Blueberry Lemon Loaf I've been dreaming up since I started spotting blueberries at the farmers markets this season.
I've always been a fan of banana bread, coffee cake and other bread-y treats (especially as afternoon snacks and for brunch). I love this recipe because it's just-sweet-enough, both hearty and soft on the inside and crispy on the outside (especially when you toast slices). I sprinkled a little coconut sugar on top before baking, which adds a delicious crispy caramelized texture.
I used my mini loaf pan and made a few small loaves (mostly because they're cute) instead of a large one. At this size I baked the loaves for 25 minutes, so if you use a stander 9″ x 5″ loaf plan you'll want to add 10-15 minutes of baking time.
I opted to use spelt flour for this recipe. Regular wheat or Gluten-Free Baking Flour should work as well. If you don't have fresh blueberries on hand, frozen should work as well!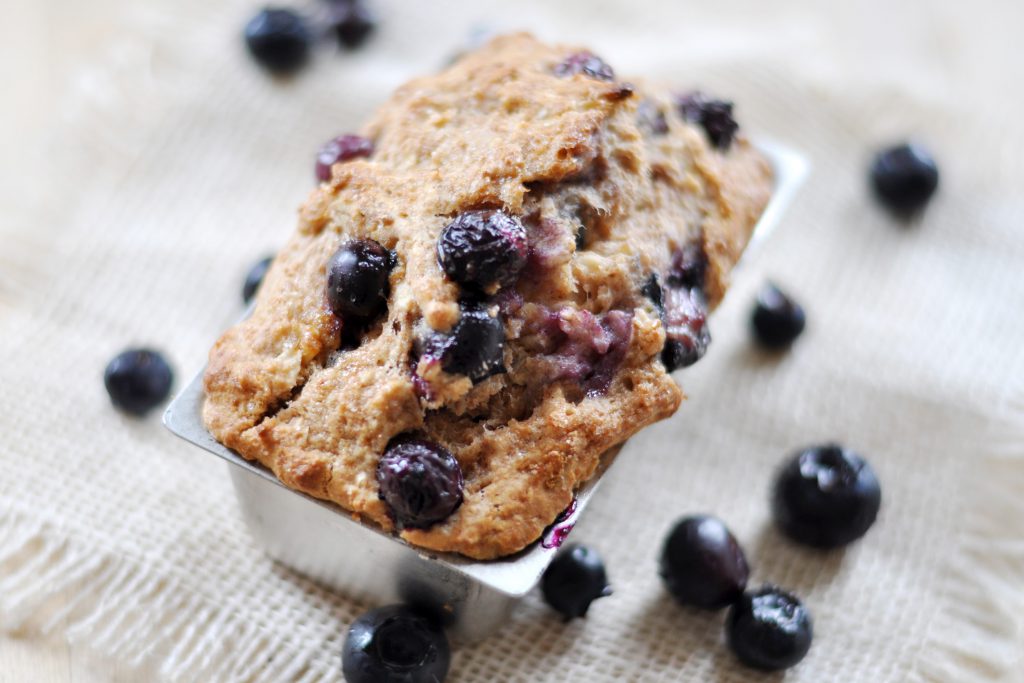 Vegan Blueberry Lemon Loaf
Ingredients
2 cups spelt flour
1 cup rolled oats
1 tbs baking powder
¼ tsp salt
2 tsp ground cinnamon
½ cup coconut oil, melted
½ cup maple syrup
1 cup non-dairy milk
juice of 1 lemon
1 tbs vanilla extract
1 tbs lemon zest
1 cup blueberries
2 tbs coconut sugar
Instructions
Preheat oven to 375°. Grease loaf pan.
In a large bowl, whisk together flour, oats, baking powder, salt and cinnamon.
In a small bowl, stir together coconut oil, maple syrup, milk, lemon juice, vanilla and lemon zest.
Add contents small bowl to large. Stir until thoroughly mixed. Fold in blueberries.
Transfer batter to loaf pan so it's about 90% full. Sprinkle coconut sugar on top.
Bake for 25-40 minutes (depending on size of pan) until loaf is puffy and golden brown.
Let cool before removing from pan.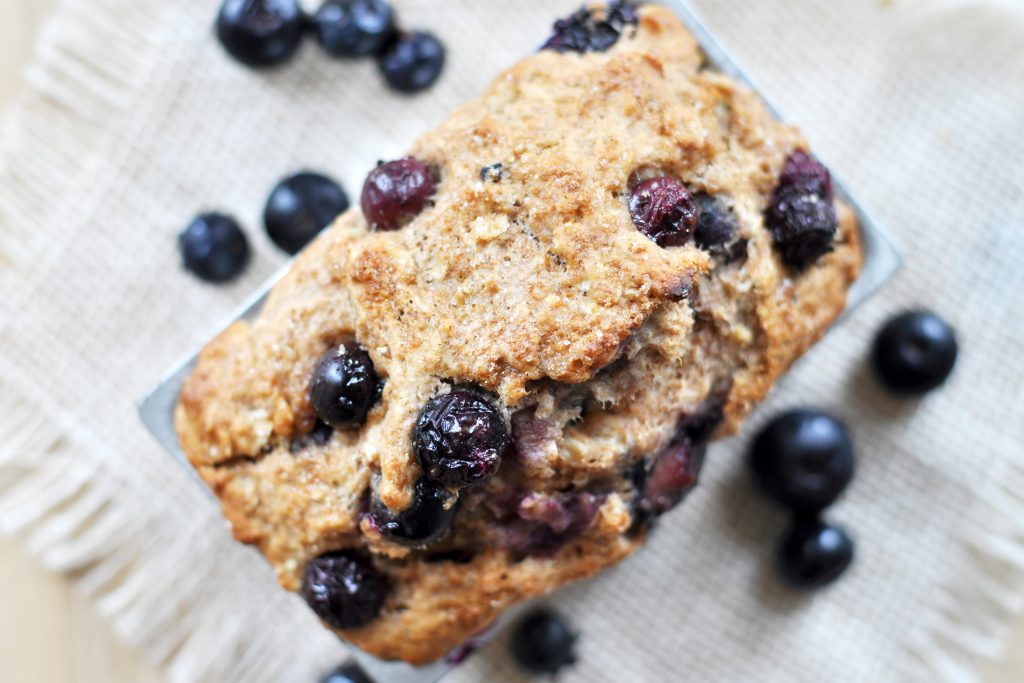 Speading coconut butter on top is an absolute must.