Today we're going to get a little fancy.
Well, actually more like fancy-looking but secretly super simple.
Today's Vegan, Gluten-Free Raw Cucumber Roll-Ups are rather swanky looking and perfect for impressing guests or showing off your skills at a potluck.
I filled the rolls with a cashew-based cheese spread which requires a little prep-ahead time but you could also use hummus or vegan cream cheese. The vegetables I used were somewhat chosen at random based on what was in at my local food coop but the sky's the limit with what veggies you can use!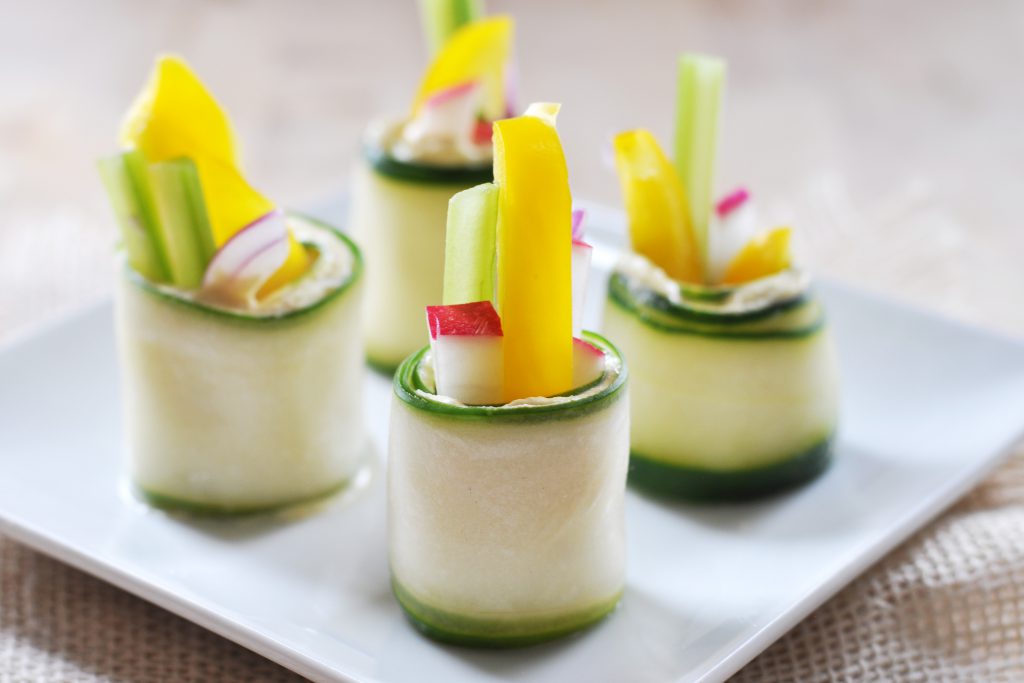 Raw Cucumber Roll-Ups, Vegan + Gluten-Free
Ingredients
1 cup raw cashews, soaked at least 4 hours
¼ cup nutritional yeast
2 tsp dijon mustard
1 tbs tamari
1 tbs olive oil
⅛ tsp salt
ground black pepper to taste
water, added as needed
2 cucumbers
1 bell pepper, julienned
1 celery stalk, julienned
2 radishes, julienned
1 small red onion, sliced
Instructions
Drain and rinse cashews.
Combine all ingredients in blender until smooth. Add just enough water to help things blend smoothly. Transfer cashew cheese to bowl and set aside.
Use a mandolin slicer or vegetable peeler to slice the cucumber into thin strips (about ⅛").
Lay each cucumber slice down and spread a thin layer of cashew cheese over it. Place a piece of pepper, cucumber, radish and onion in the corner. Gently roll cucumber around vegetables.
Repeat until everything is used. Enjoy fresh!