Summer may be my favorite season based solely on how many colorful finds there are at the farmers market. From berries to heirloom tomatoes to peaches, there's so much goodness!
Strawberries are one of my top summer finds and I've been on such a strawberry kick lately. I've been adding strawberries to just about everything lately (salad, cinnamon rolls) and today I'm very excited to share a twist on my one of my breakfast favorites, baked oatmeal!
Today's Vegan, Gluten-Free Easy Baked Strawberry Oatmeal is….well, super, super easy. And of course tasty! The beauty of baked oatmeal is that the only prep involved is mixing everything together and popping it in the oven but what comes out is a truly decadent tasting breakfast. The top gets all crispy while the inside stays mushy (I know that doesn't sound appealing but it's so good!).
I like to bake individual portions in 4 oz mason jars. You can also use a larger baking dish and slice pieces like I did here.
Peanut butter and shredded coconut are my go-to toppings but feel free to co crazy with maple syrup, nuts, seeds and fruit!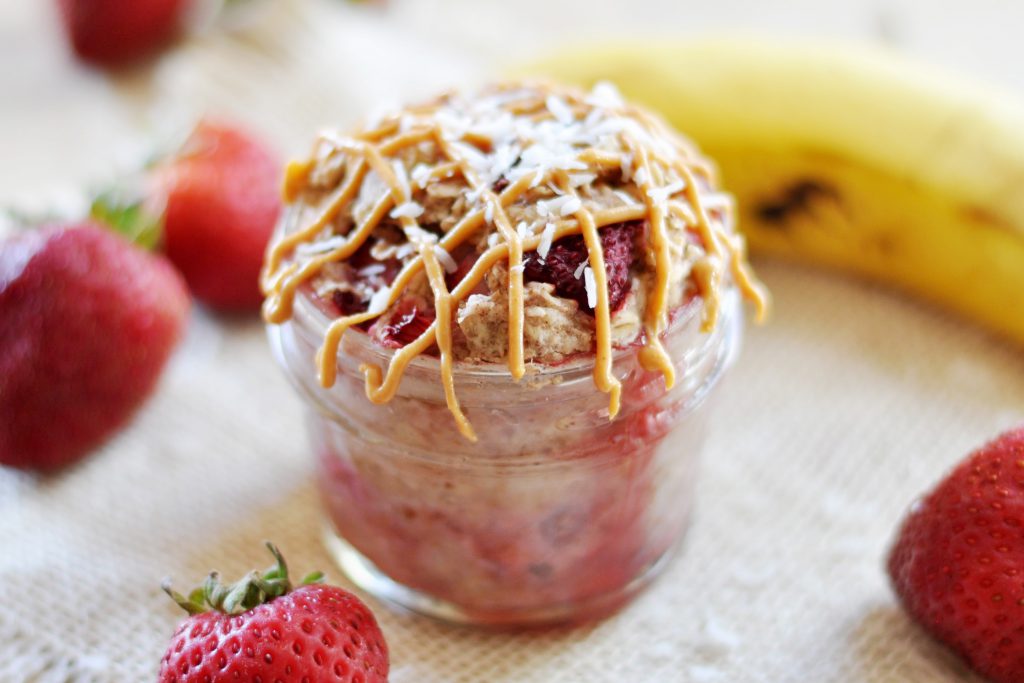 Easy Strawberry Baked Oatmeal, Vegan + Gluten-Free
Cuisine:
vegan, gluten-free
Ingredients
1 cup rolled oats
1 cup non-dairy milk (I use unsweetened almond)
2 tsp ground flax seed
2 tsp chia seeds
½ tsp vanilla extract
dash of salt
dash of cinnamon
½ cup strawberries, diced
optional toppings- peanut butter and shredded coconut
Instructions
Preheat oven to 350°
Mix all ingredients (except toppings) together in a bowl.
Pour into two separate 4 oz jars (or baking dish if doubling recipe).
Bake for 25 minutes (longer if using baking dish instead of jars) until edges are crisp and golden.
Remove from oven, top with peanut butter and coconut. Enjoy right away, straight out of jars!