People often ask me how I actually eat all of the desserts they see me sharing on the blog and on instagram. I'll admit that sometimes I find my kitchen filled with cheesecake, muffins and I'll have a batch of cookies in the oven and I'll think how will this ever all get eaten??
Luckily I have a behind-the-scenes recipe tester who is always up for dessert…my fiance, Ross!
For a few months now, Ross has been gently hinting that he would like to see an appearance of his favorite dessert, key lime pie. I already have a key lime pie recipe I love on the blog I haven't revisited it in the spirit of sharing new recipes (sorry, Ross!). After he recently inquired about key lime pie again on a particularly hot day I couldn't help but agree that it sounded super refreshing. I decided to put a slight twist on my original recipe and came up with these Vegan, Gluten-Free, No-Bake Mini Key Lime Pies!
My original recipe uses a cashew and avocado based filling and for this recipe I decided to swap the cashews for coconut cream. I found that it gave the pies a lighter, more melt-in-your mouth texture. I topped the mini pies with a scoop of DF Mavens vegan vanilla ice cream which was the perfect compliment to the slightly tart pies.
And yes, Ross was a very happy man!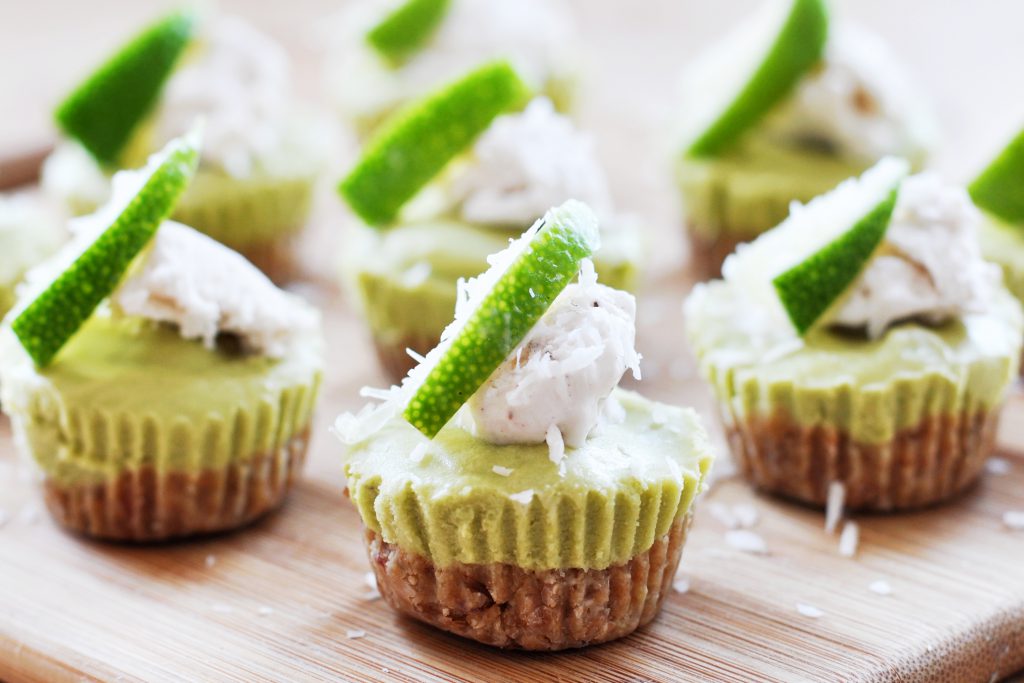 sdf

No-Bake Mini Key Lime Pies, Vegan + Gluten-Free
Cuisine:
vegan, gluten-free
Ingredients
¾ cup rolled oats
7 pitted dates, soaked in water 30 minutes
1-2 tbs coconut oil, melted
1 can full-fat coconut milk (chilled overnight)
1 ripe avocado
juice of 1½ limes
¼ cup maple syrup
2 tbs coconut oil
1 tsp vanilla extract
dash of salt
Instructions
Line a mini muffin tin with baking cups.
To prepare crust, pulse oats in blender until powder is formed. Add dates and 1 tbs coconut oil and blend until mostly smooth texture is achieved. Use your fingers to press about 1 tbs of mixture into the bottom of each baking cup.
To prepare filling, open the can of coconut milk. The cream should have separated from the liquid. Scoop the cream out into the blender and discard the liquid. Add all remaining ingredients to the blender and blend until smooth.
Fill each baking cup with mixture. Place mini muffin tin in freezer for 30 minutes to 1 hour to set.
Remove from freezer, enjoy right away or store in refrigerator.