My four favorite (non-dessert) ingredients are probably hummus, chickpeas, avocado and kale. I'm always happy to have any combination of the four in a meal and to have ALL four will definitely make my day.
Today's recipe utilizes my favorite foods in a perfectly deliciously way that's almost so obvious that I can't believe I haven't come up with it before now.
This Vegan Hummus, Avocado and Chickpea Pizza is the epitome of an "Ilene meal" (hehe). I kept mine simple and just topped it with vegan mozzarella but you easily go all out with caramelized onions, mushrooms and all sorts of veggies. I enjoyed mine as an entree but it could also be a really fun alternative to chips and hummus at your next party!
I made a simple spelt crust (I know I keep mentioning this, I promise I'll share the recipe as soon as it's perfect!) but if you really want to take your chickpea-love to the next level I recommend trying my chickpea crust.
For the hummus, I used roasted garlic hummus that I already had on hand. Feel free to get creative with your favorite homemade or store-bought flavors! Next time I think I'll try my Smoked Paprika Hummus. The possibilities are endless!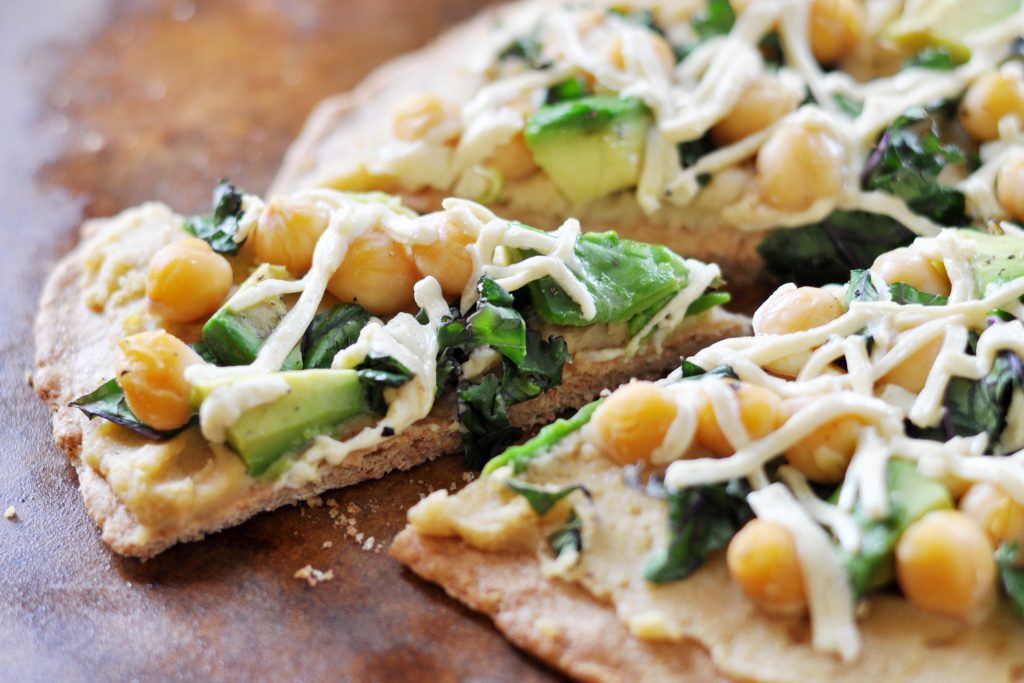 Vegan Hummus, Avocado and Chickpea Pizza
Ingredients
your favorite crust, pre-baked
1 cup shredded kale
2 tsp olive oil
½- 1 cup hummus (add as much as you like!)
1 avocado, sliced
1 cup cooked chickpeas
½ cup vegan cheese
salt and pepper to taste
Instructions
Preheat oven to 400°. Lay crust out on pizza stone or baking sheet.
Place kale in small bowl. Toss with olive oil. Set aside.
Spread hummus over crust. Top with chickpeas and avocado. Spread kale on top. Sprinkle cheese over everything. Add salt an pepper.
Bake until cheese melts (about 10 minutes). Serve right away.