Today I have two very important things to share.
1. I'm getting married in less than a week!
2. I made a super yummy blueberry pie!
Ok so let's start with #1. I can't believe we've been planning the wedding for the past 9 months and it's finally here! This will be my last post until I return from the honeymoon in two weeks so I wanted to leave you with an extra special recipe. We'll be honeymooning in Maine and when I think of Maine the first thing that comes to mind is…blueberries!
While finishing up the wedding plans last week, I decided to get a jump-start on getting into the honeymoon mindset. In honor of our upcoming stay in the land of blueberries today I'll be sharing Vegan Blueberry Pie with Spelt Crust.
Not to toot my own horn but this pie seriously takes the cake (hehe). The crust is crispy and flakey in the best way, and the filling is ooey, gooey delicious without being overly sweet. I topped the slices with coconut whipped cream and shredded coconut which really took things up to the next level.
Even though I won't be posting on the blog for the next couple of weeks, I'll be keeping you up to date on the pre-wedding, wedding and honeymoon food on my instagram!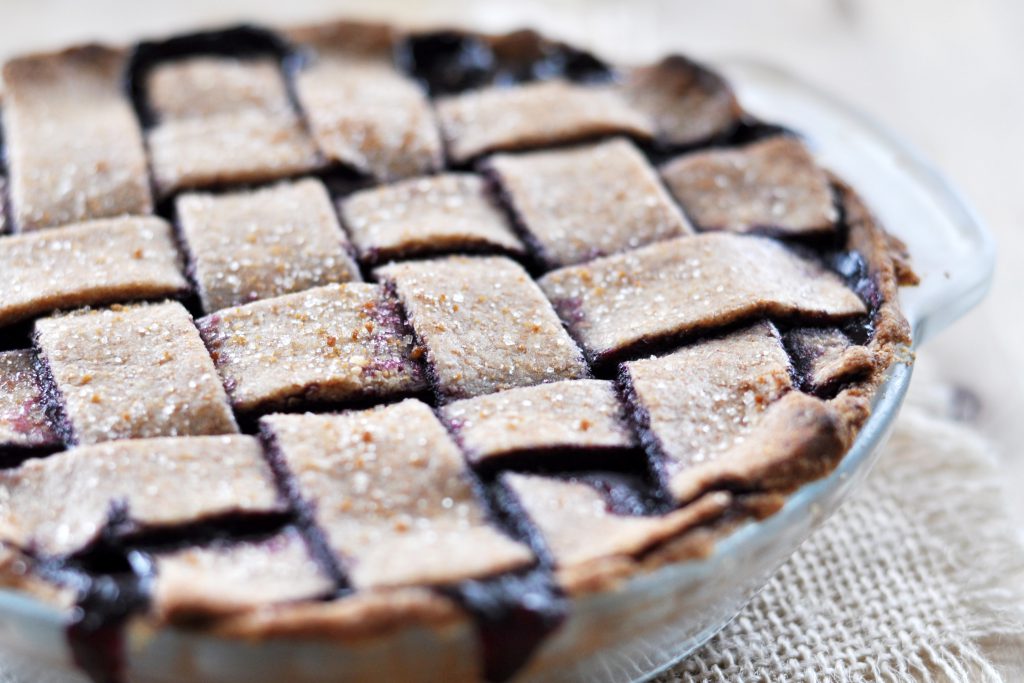 Vegan Blueberry Pie with Spelt Crust
Ingredients
⅔ cup vegan butter (I used Earth Balance)
2 cups spelt flour+ extra for sprinkling
2 tbs coconut sugar
¼ cup cold water
dash of salt
5 cups blueberries
¼ cup coconut sugar
¼ cup water
¼ cup cornstarch
juice of one lemon
dash of salt
extra coconut sugar for sprinkling
Instructions
Preheat oven to 400°.
To prepare crust, pulse butter, flour, 2 tbs coconut sugar, ¼ cup water and salt in food processor until thoroughly combined. Scoop out dough, roll it into a ball and chill in refrigerator for 20 minutes.
While dough chills, prepare the filling by combining blueberries, ¼ cup coconut sugar, ¼ cup water, cornstarch, lemon juice and salt in a bowl. Stir until mixed. Set aside.
Sprinkle flour on a clean surface. Cut ball of dough in half. Use a rolling pin to roll out half of the dough until it's about ⅓" thick. Gently transfer to pie dish and use your fingers to press into place, removing excess from edges.
Pour blueberry filling over crust.
Roll out the remaining dough and either place another layer of crust over top (poke holes in the center) or cut strips of dough and create a lattice pattern (as shown in the photos).
Sprinkle extra coconut sugar over top crust. Bake in oven for 35-40 minutes, until edges are golden. Remove from oven and let cool completely before slicing.