If you like getting fancy in the kitchen, today's recipe is for you.
I've been having so much fun this summer making sweet pies but last week I decided to switch things up and try my hand at a savory version. What I love about pies is that they are often as beautiful as they are delicious- have you seen some of the crazy crust designs out there?!
I wasn't totally sure that this experiment in savory-pie-making would turn out tasty but I'm happy to report that today's Vegan Spiral Vegetable Tart is both super yummy and fun to look at! It's the perfect dinner party recipe to transition into fall with.
To create the thin vegetable strips, I used a mandolin slicer but if you don't have one a vegetable peeler should do the trick. After I sliced all my strips, I cut them so they were roughly the same size and would fit in the dish nicely together. For the greens, I used Organic Girl "pepper greens" (check out my collaboration with them on instagram!) which added a nice kick, but any time of leafy green should add the right texture.
I hope you have as much fun with this recipe as I did. Make sure to snap a pic of yours and tag me on instagram or Facebook so I can see your lovely pies!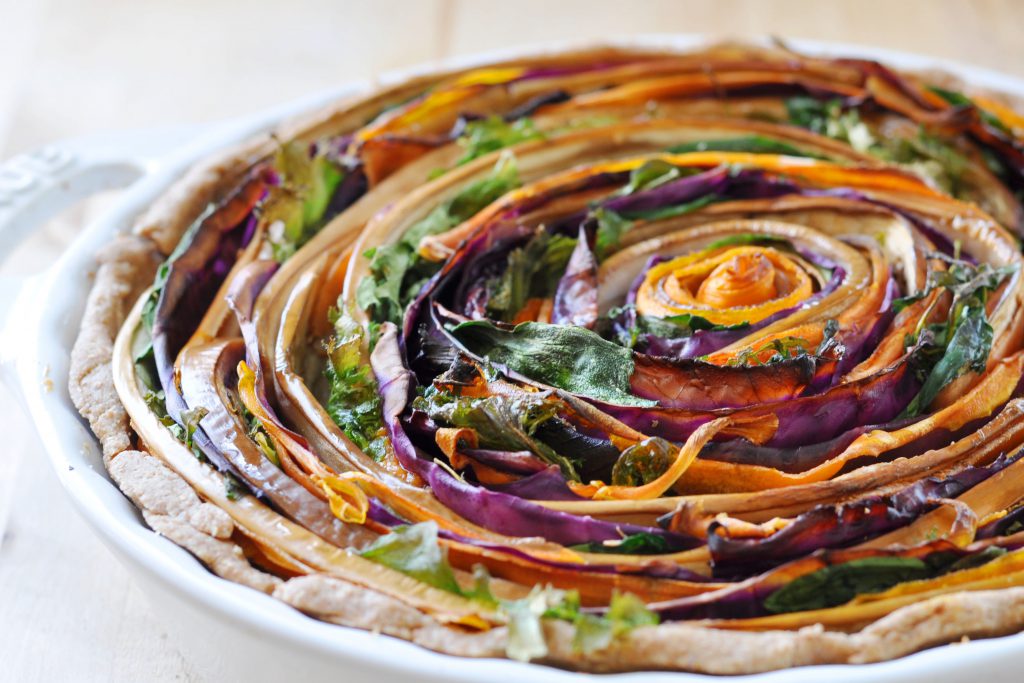 Vegan Spiral Vegetable Tart
Ingredients
1 cup spelt flour
⅓ cup vegan butter
2 tbs cold water
dash of salt
½ cup pumpkin puree
2 medium eggplants
4 medium carrots
cabbage laves (about half a small cabbage)
2 cups greens of your choice
2 tbs olive oil
salt and pepper
balsamic vinegar
Instructions
Preheat oven to 375°. Grease a pie dish.
To prepare crust, plus flour, butter, water and salt in food processor until thoroughly combined. Scoop out dough and use your fingers to press it evenly into the bottom and sides of pie dish.
Spread pumpkin puree evenly over crust.
Use a mandolin slicer (or vegetable peeler) to slice thin strips of eggplant and carrot. Slice pieces of cabbage leaves to match the size of the strips.
To begin the spiral, roll strips of carrots together and place in the center of the tart. Layer strips of eggplant, cabbage, carrots and greens around the center, until the entire pie is filled in. Drizzle olive oil over everything and sprinkle with salt and pepper.
Bake for 45 minutes. Serve warm, with balsamic vinegar drizzled on top.