Pancakes are such a Saturday thing, right? Weekdays I'm all about green smoothies or oatmeal and Sundays I love to go out for brunch…which leaves Saturday morning as prime pancake time!
Last Friday afternoon the weekend felt so close that I could almost taste the pancakes! I posted on Instagram asking for suggestions for what kind of pancakes I should whip up over the weekend and I was overwhelmed by so many great ideas. One idea in particular sounded especially delicious to me…carrot cake inspired pancakes!
I'm so excited to share the recipe for Vegan Carrot Cake Pancakes that I came up with! The ingredient list is very short and they are so easy to make- yet still pretty impressive for guests! I topped mine with maple syrup, coconut whip, shredded coconut and extra carrot shreds…perfection.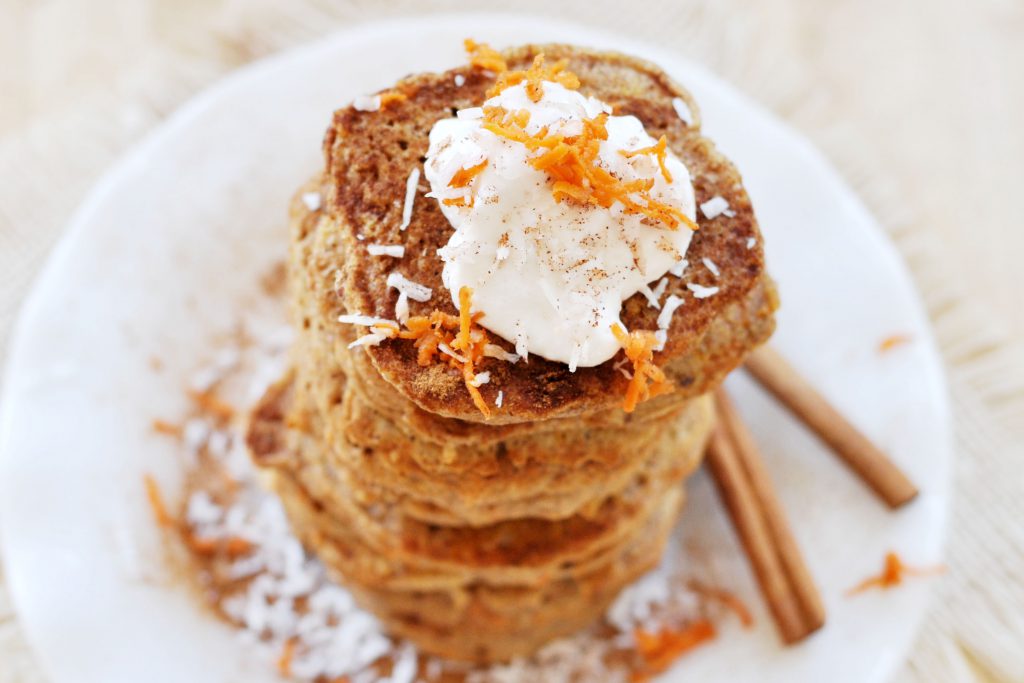 Vegan Carrot Cake Pancakes
Ingredients
1 tbs ground flax seed
3 tbs warm water
1 cup spelt flour
⅛ tsp salt
2 tsp baking powder
1 tbs coconut sugar
1 cup almond milk
½ tsp vanilla extract
1 tsp pumpkin pie spice
¾ cup grated carrot
vegan butter or coconut oil
Instructions
Prepare flax "egg" by stirring together flax seed and water in a small cup. Let sit for 10 minutes before using.
In a large bowl, whisk together flour, salt, baking powder and coconut sugar. Add in almond milk, vanilla, pumpkin pie spice, carrot and flax "egg" and stir until thoroughly combined.
In a large pan or middle on the stove, heat just enough butter or oil to cover pan at medium heat.
Pour about ¼ cup batter per pancake onto pan. Let cook for 3-5 minutes until batter bubbles then flip and cook on other side for 3-5 minutes. Repeat until all batter is used.