Pizza is one of those magical foods that you really can't go wrong with. Lately I've been having fun getting creative with different pizza recipes- hummus pizza, pad thai pizza and lots of other weird-but-good combos!
On a day last week when it was just starting to feel like fall, I decided to make roasted vegetables pizza! Today's Vegan Harvest Pizza features one of my favorite fall veggies, kabocha squash, and a whole bunch of other autumnal goodness.
I decided to switch things up and use this cashew cheese on top but feel free to go with a more melty vegan cheese like this. The recipe calls for kale, which I decided to lightly wilt before adding it to the pizza by sautéing it in a small pan for just a minute or two.
By the way- have you signed up for the Back-to-Basics 21 day meal plan yet? The program kicks off October 5th and you can reserve your spot here.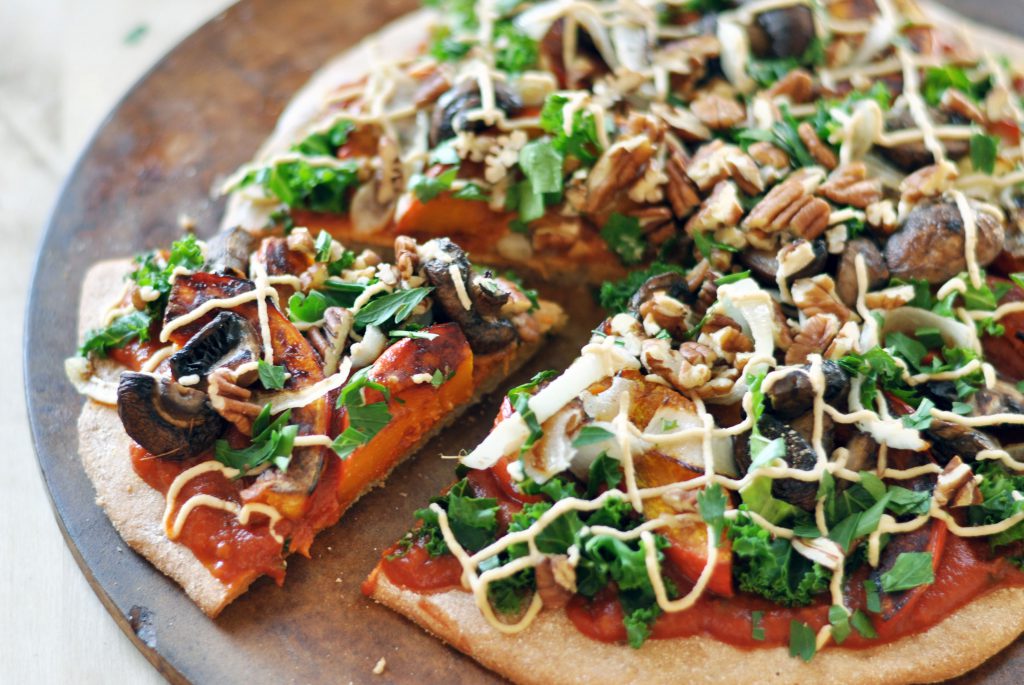 Vegan Harvest Pizza with Cashew Cheese
Ingredients
1-2 tbs olive oil
1 small kabocha squash, seeds scooped out and sliced
1 onion, sliced
your favorite pizza crust
2 cups mushrooms, halved
¾ cup pizza or marinara sauce
1 cup kale, shredded (you might want to saute for a minute or two)
¼ cup cashew cheese (see above) or your favorite vegan cheese
½ cup chopped walnuts
salt and pepper to taste
¼ cup chopped parsley
Instructions
Preheat oven to 400°. Toss squash, mushrooms and onions in olive oil. Spread out over baking sheet and bake for 45 minutes (flip halfway), until tender.
Spread sauce over crust. Top with squash, mushrooms, onions and kale. Drizzle cheese and walnuts on top. Sprinkle with salt and pepper.
Bake until completely warm (about 10 minutes). Remove from oven, sprinkle with parsely and serve right away.