It's chilly, windy and the leaves are starting to change…pumpkin pie season is officially here!!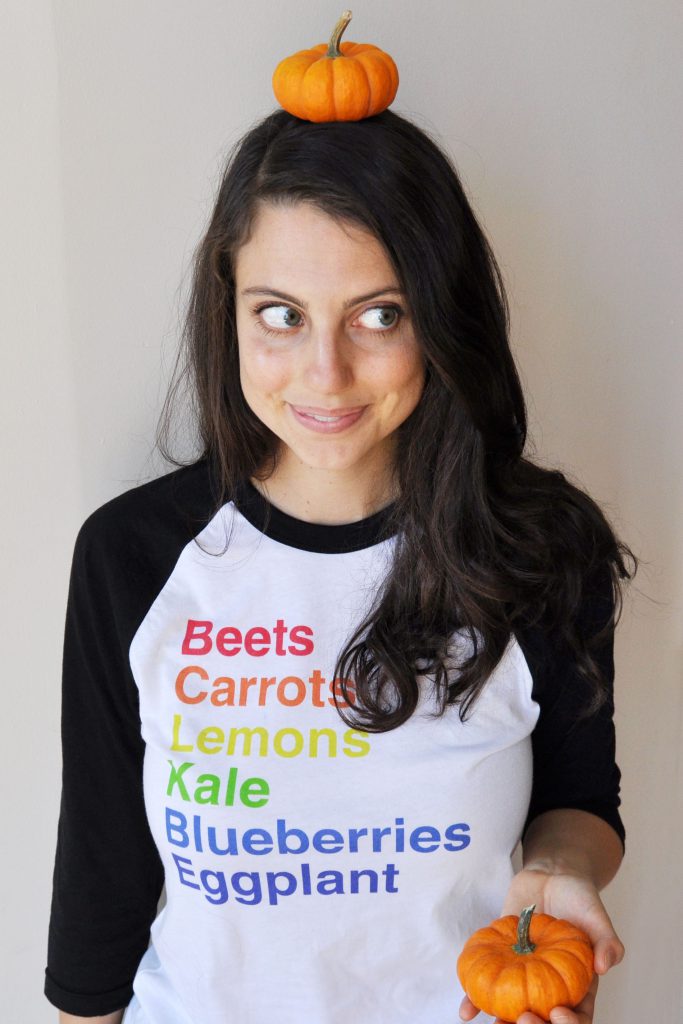 Last year I shared a few pumpkin pie variations and earlier this week I decided to retest the recipes and come up with a new and improved pie! Today's Vegan Pumpkin Pie with a Decorative Spelt Crust is a slightly more refined (and way fancier) version of last year's desserts. The main difference is that I doubled the amount of pumpkin puree and added a spelt* crust.
Ok, let's talk about this crust. I decided to go all out and use pie crust cutters to create the most autumnal pie ever. I'm a little obsessed with this tool so don't be surprised if leaf shapes start popping up in all my recipes! Of course, if cutting fall-themed shapes out of pie crust isn't your thing, you can always do a lattice crust or skip the top crust entirely.
This recipe will make one regular size pie. I decided to split the recipe and make one mini pie and 10 mini-muffin pies. The baking time will vary depending the size of your pie, but I found that the mini pie baked for 32 minutes and the mini-muffin pies baked for 25 minutes.
*For those not in the spelt flour loop- spelt contains lower amounts of gluten than wheat, but is NOT gluten-free. I find it much easier to digest than wheat and it's become my go-to for baking. For a gluten-free pie crust, try my oat and date crust from this recipe.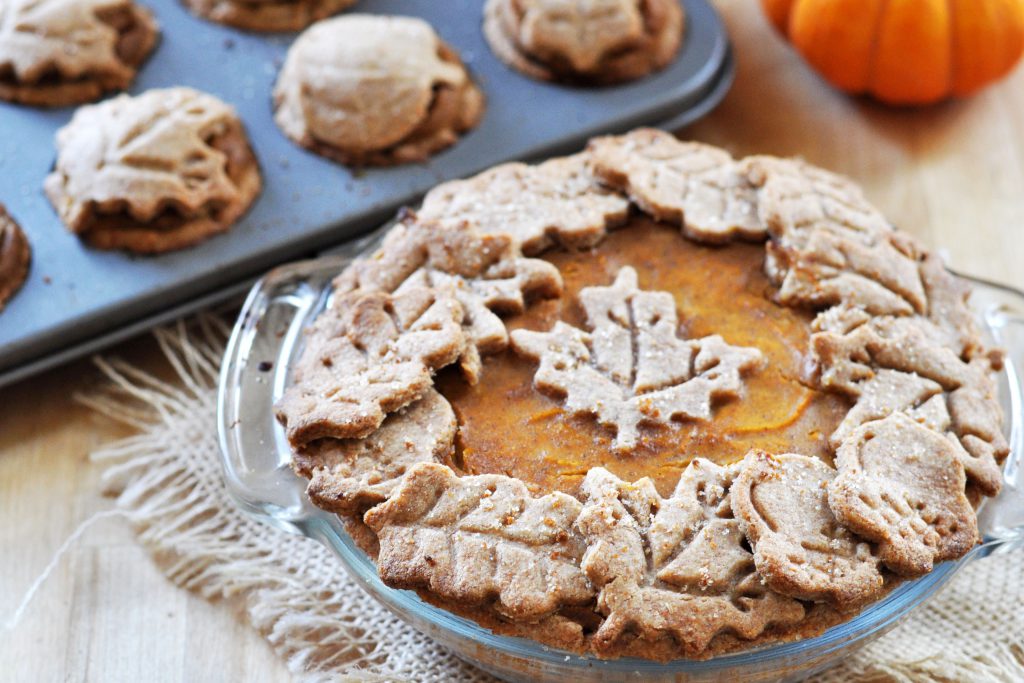 Vegan Pumpkin Pie with Decorative Spelt Crust
Ingredients
⅔ cup vegan butter (I used Earth Balance)
2 cups spelt flour+ extra for sprinkling
2 tbs coconut sugar
¼ cup cold water
dash of salt
1 14oz package silken tofu
3 cups pumpkin puree
½ cup maple syrup
1 tbs vanilla extract
3 tbs cornstarch
⅛ tsp salt
2 tsp pumpkin pie spice
dash of salt
1 tbs coconut sugar
Instructions
Preheat oven to 400°. Grease pie dish or mini muffin tin
To prepare crust, pulse butter, flour, 2 tbs coconut sugar, ¼ cup water and salt in food processor until thoroughly combined. Scoop out dough, roll it into a ball and chill in refrigerator for 20 minutes.
To prepare filling, drain tofu and combine it in blender with pumpkin puree, maple syrup, vanilla, cornstarch, pumpkin pie spice and salt until smooth. Set aside.
Sprinkle flour on a clean surface. Cut ball of dough in half. Use a rolling pin to roll out half of the dough until it's about ⅓" thick. Gently transfer to pie dish and use your fingers to press into place, removing excess from edges.
Repeat process to roll out remaining dough. Use pie crust cutters to cut out shapes.
Spread filling over pie crust. Top with cut-out crust shapes. Sprinkle coconut sugar on top.
Bake for 25-40 minutes (depending on size of pie), until edges are golden brown. Let cool completely before serving.