Isn't chili just the ultimate chilly night comfort food?
Last week my husband decided to fish our crockpot out of the waaaay back cabinet and wanted to make chili. I've always been a stovetop chili gal but I reluctantly decided to tweak my go-to recipe for the slow cooker.
You know how chili tends to taste even better when its reheated as leftovers? Using the crockpot gives it that perfect mushy but flavorful day-after taste. After enjoying this chili all week I might have to call myself a crockpot chili gal from now on- it's that good!
Now, chili wouldn't be as wonderful as it is without it's accompaniments! I always love to serve it over quinoa or brown rice. In the photos you'll notice we enjoyed ours cornbread- you'll have to wait till thanksgiving for that recipe (I'm planning something big!) but here's my blueberry quinoa cornbread recipe to hold you over.
Lastly, Cashew Sour Cream really takes this meal over the top! Store-bought vegan sour cream is always a delicious addition, but I prefer the recipe below..
To prepare Cashew Sour Cream, simply blend the following ingredients together until smooth:
1 cup raw cashews, soaked at least 4 h0urs
2 tsp apple cider vinegar
juice of 1/2- 1 lemon
1 tsp maple syrup
salt and pepper to taste
unsweetened almond milk, added as need to blend
Alright, time to get out your slow cooker!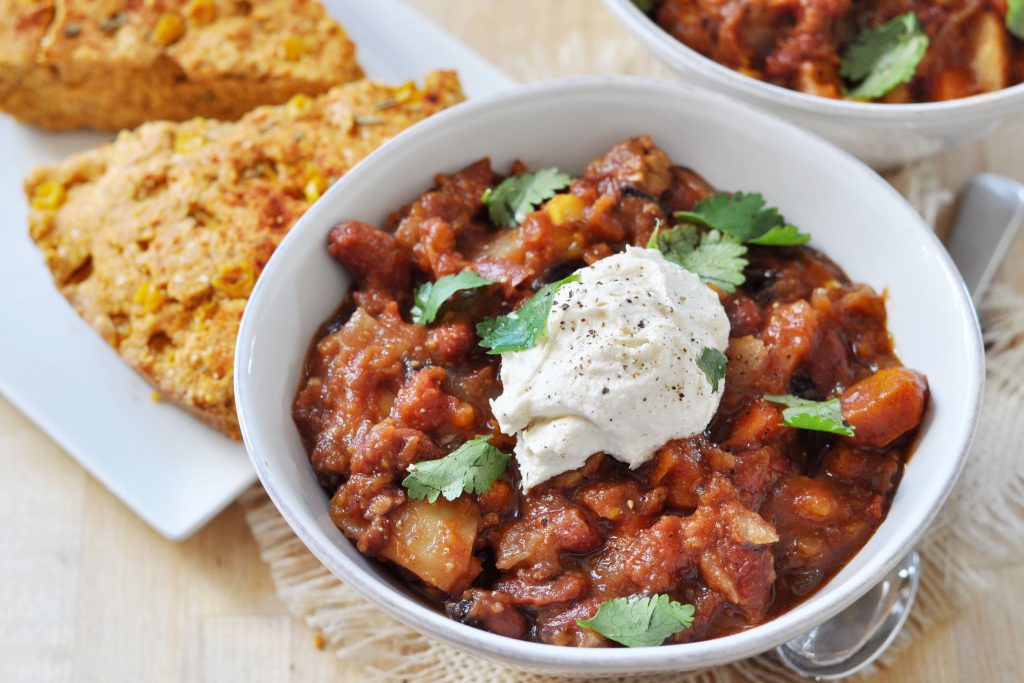 Vegan Crockpot Chili with Cashew Sour Cream
Ingredients
1 medium onion, diced
3 cloves garlic, minced
1 28 oz can crushed tomatoes
1 cup vegetable broth
1 cup carrots, chopped
1 cup celery, chopped
1 cup sweet potato, chopped
1.5 cups cooked kidney beans
1.5 cup cooked black beans
1 cup corn
1 cup tempeh, chopped
1 tbs tamari
1 tsp cayenne pepper
1 tsp chili powder
1 tsp ground cumin
½ tsp paprika
½ tsp nutmeg
Instructions
Place all ingredients in crock pot. Set heat to low and cook for 6-8 hours (stirring every few hours if possible), until all vegetables are very tender.
Serve with cashew sour cream (recipe above), cilantro and cornbread.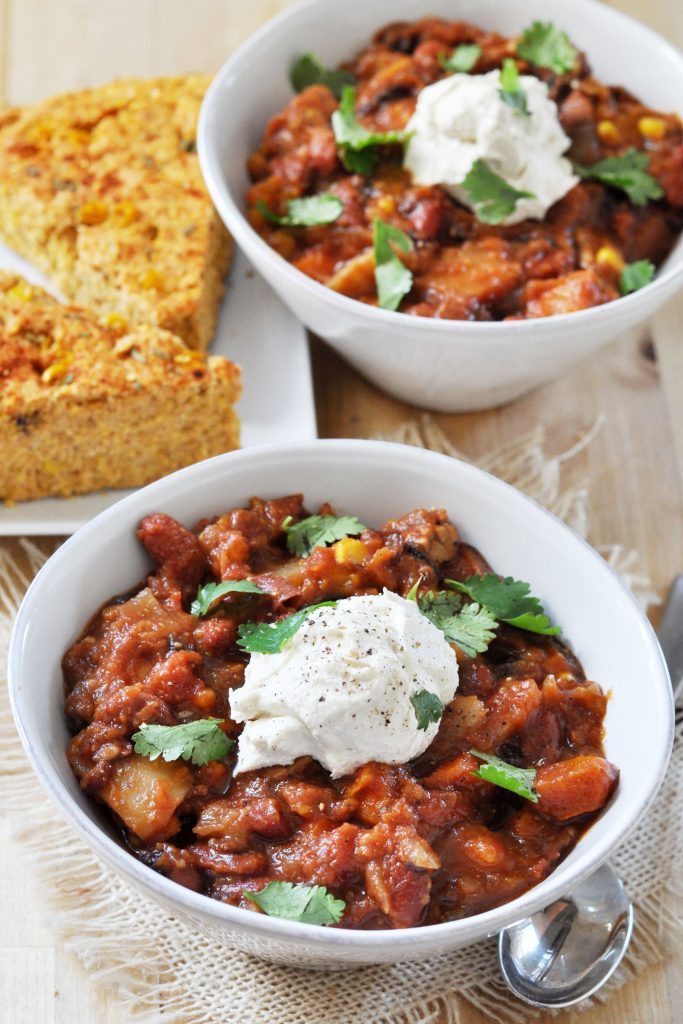 Ps- have you downloaded my free Vegan Halloween ebook yet? Click below to get it!