*Giveaway below!*
I have to admit that my breakfasts have been a little boring lately. Most weekdays I've been going for oatmeal with peanut butter- not a bad combination, just not the most exciting to have everyday.
I decided to really switch things up and come up with the ultimate fall breakfast. Today's Vegan Pumpkin & Apple Pie Parfait will definitely inspire you to get out of bed in the morning! It's like eating apple pie and pumpkin pie first thing in the morning- but without the sugar coma!
My favorite thing about this recipe is that you can prepare double or triple batches of the the individual layers ahead of time, store them in the fridge and have a fancy-pants breakfast (or afternoon snack) ready to go every day.
I used Dream Coconut Vanilla yogurt as the base, which was perfect because it's already delicious and pie-like on it's own! For the granola layer, feel free to use any kind you like or try my buckwheat granola. For a truly decadent finish, I topped it all off with date caramel sauce.
PLUS I've partnered with Dream to giveaway a variety pack of their vegan yogurt and coupons worth $120!
To enter to win a sampler pack of yogurt and coupons sent straight to your doorstep, simply leave a comment with your favorite way to enjoy vegan yogurt! The winner will be randomly  selected next Wednesday. The giveaway is now closed. Thanks to everyone who entered!
Ok, let's get to the parfait recipe!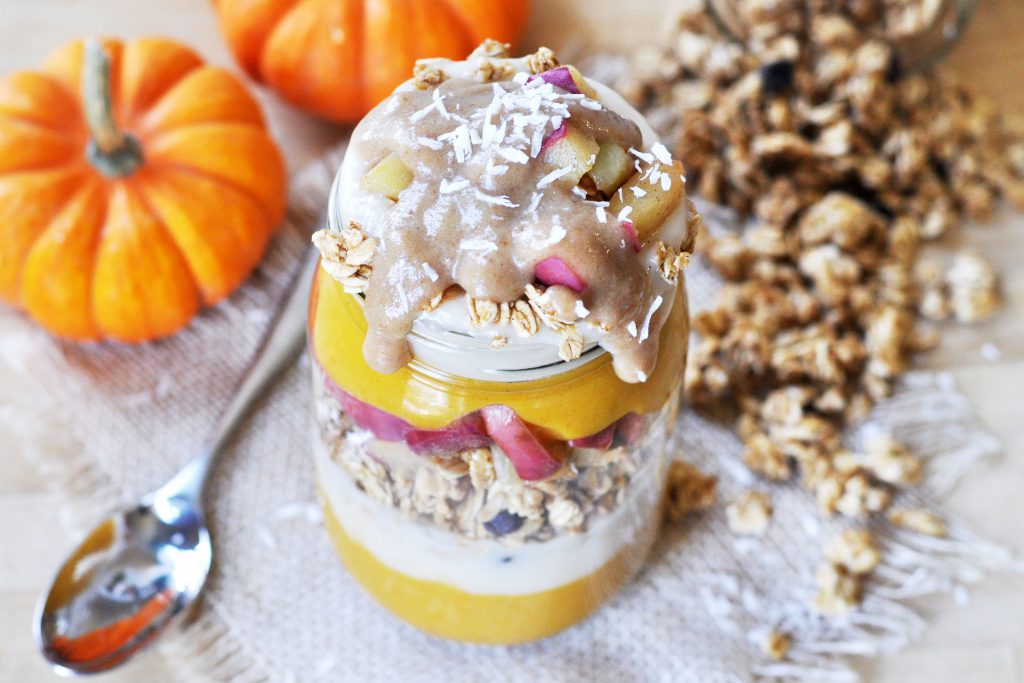 Vegan Pumpkin & Apple Pie Parfait
Cuisine:
vegan, gluten-free
Ingredients
1 tsp coconut oil
1 apple, diced
1 tsp maple syrup
dash of salt
dash of cinnamon
2 containers Dream Coconut Vanilla yogurt
½ cup pumpkin puree
1 tbs maple syrup
¼ tsp pumpkin pie spice
dash salt
½ cup your favorite granola
optional- date caramel (see above), shredded coconut
Instructions
To prepare apple layer, heat coconut oil at medium in a small pan on stovetop. Add apple, 1 tsp maple syrup, dash of salt and cinnamon. Cook for 10 minutes (until softened), stirring every couple of minutes. Set aside.
To prepare pumpkin layer, in a small bowl, stir 1 container of yogurt together with pumpkin puree, 1 tbs maple syrup, pumpkin pie spice and salt.
To assemble parfait, spoon half of pumpkin mixture into the bottom of a jar. Add half of the other container of vanilla yogurt. Next, add ¼ cup granola and half of the apples. Repeat sequence.
Top with date caramel and coconut (if using) and enjoy right away!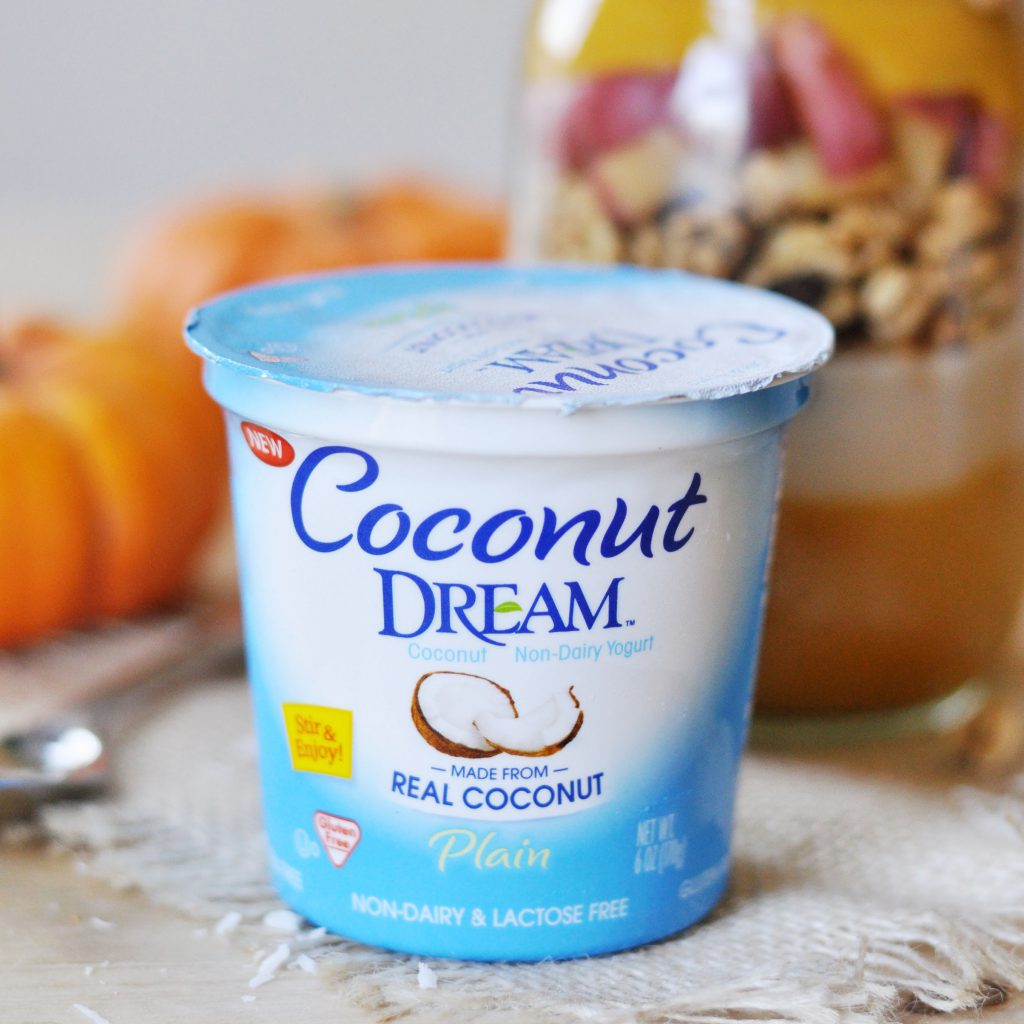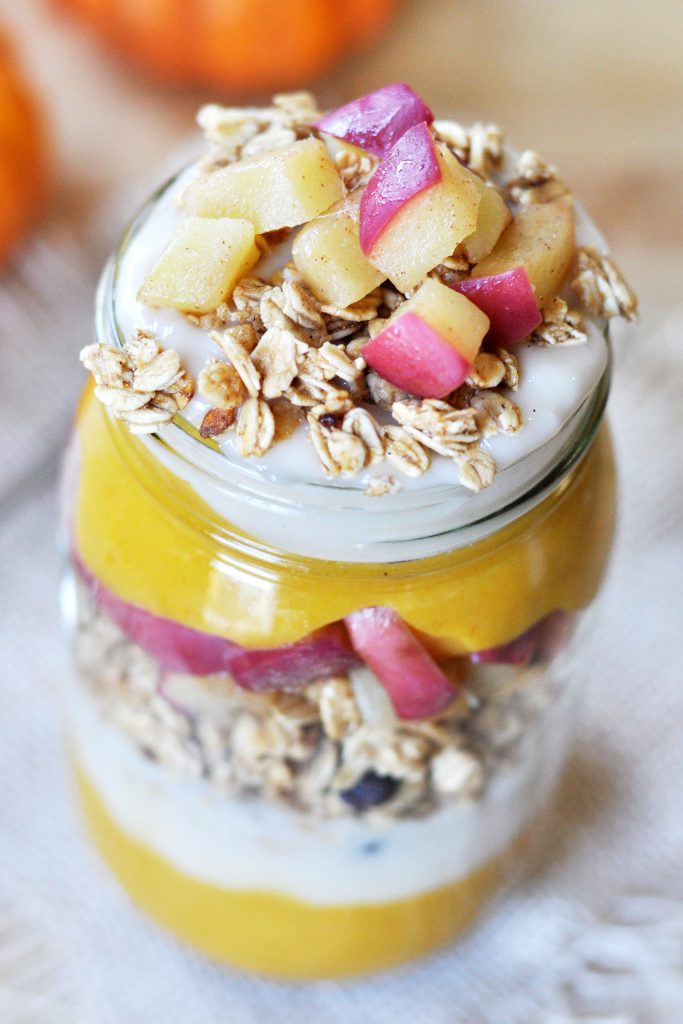 That date sauce drizzle…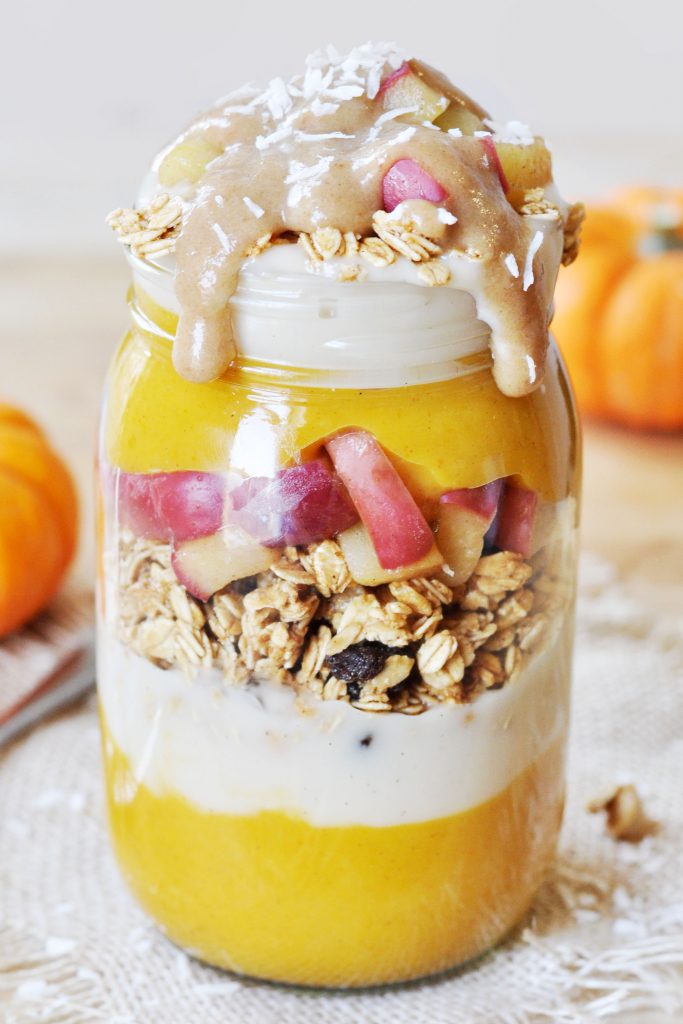 Compensation for this post was provided by Dream. All opinions expressed are my own.