Stuffing-Muffins are back!
One of the most highly viewed recipes from the blog in 2014 was my Vegan, Gluten-Free Stuffing-Muffins with Mashed Potatoes and Gravy.
For Thanksgiving this year, I decided come up with a sweet variation of last year's recipe. I'm super excited to share today's Vegan, Gluten-free Apple Cranberry Stuffing-Muffins with Mashed Sweet Potatoes! These little babies are fun to make, fun to look at and really fun to eat. I love the sweet and savory combination of flavors, which is slightly more complex than the original recipe. Of course, I'll be making both the original and new versions for Thanksgiving…which will you be making?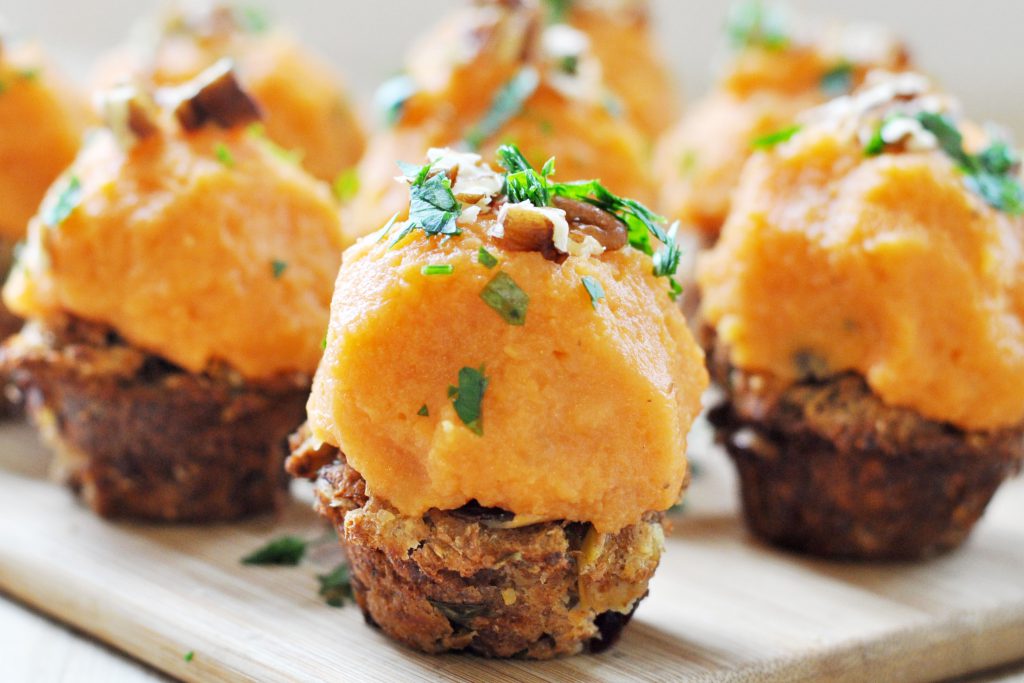 Vegan Gluten-Free Thanksgiving: Apple Cranberry Stuffing-Muffins with Mashed Sweet Potatoes
Recipe type:
Thanksgiving
Ingredients
4 cups cubed sweet potatoes
2 tbs vegan butter
splash of non-dairy milk
salt and pepper to taste
8 cups bread cubes (about 1 loaf)
3 tbs vegan butter
1 tbs ground flax seed
3 tbs warm water
1 medium onion, diced
4 cloves garlic, minced
1 cup apple, diced
⅓ cup dried cranberries
¼ cup fresh parsley, chopped
salt and pepper to taste
2½ -3 cups vegetable broth
optional toppings- chopped parsley and walnuts
Instructions
To prepare mashed sweet potatoes, bring a large pot of water to boil. Add sweet potato and simmer until tender (about 15 minutes). Strain potatoes and transfer to large bowl. Add butter, non-dairy milk (as needed), salt and pepper and mash with a potato masher. Set aside.
Preheat oven to 375°. Spread bread cubes out on baking sheet. Bake until toasted (about 10-15 minutes). Transfer to large bowl.
Prepare flax "egg" by stirring ground flax with 3 tbs water in a small bowl or cup. Let sit 10 minutes before using.
Heat vegan butter in pan on stove at medium heat. Add onion, garlic and apple and sauté until apples are soft (about 10 minutes). Add mixture to bowl with bread cubes.
Stir flax "egg" cranberries and parsley into bowl.
Slowly add vegetable broth, being careful not to make bread too soggy, and stir. I added 1 cup at a time and let it absorb for a minute before adding more.
Grease mini muffin tin. Spoon mixture into each spot, packing it down and filling it slightly above the top. Bake in oven for 22-26 minutes, until edges are browned.
Remove from oven and let sit until cool enough to handle. Add a scoop of mashed sweet potatoes on each muffin and top with parsley and walnuts.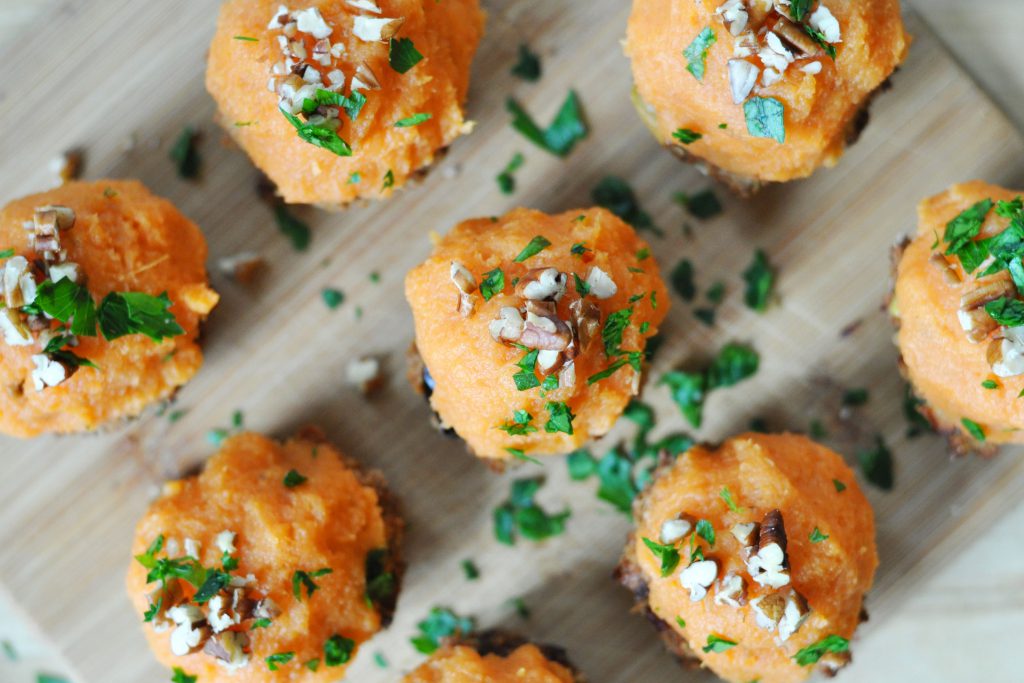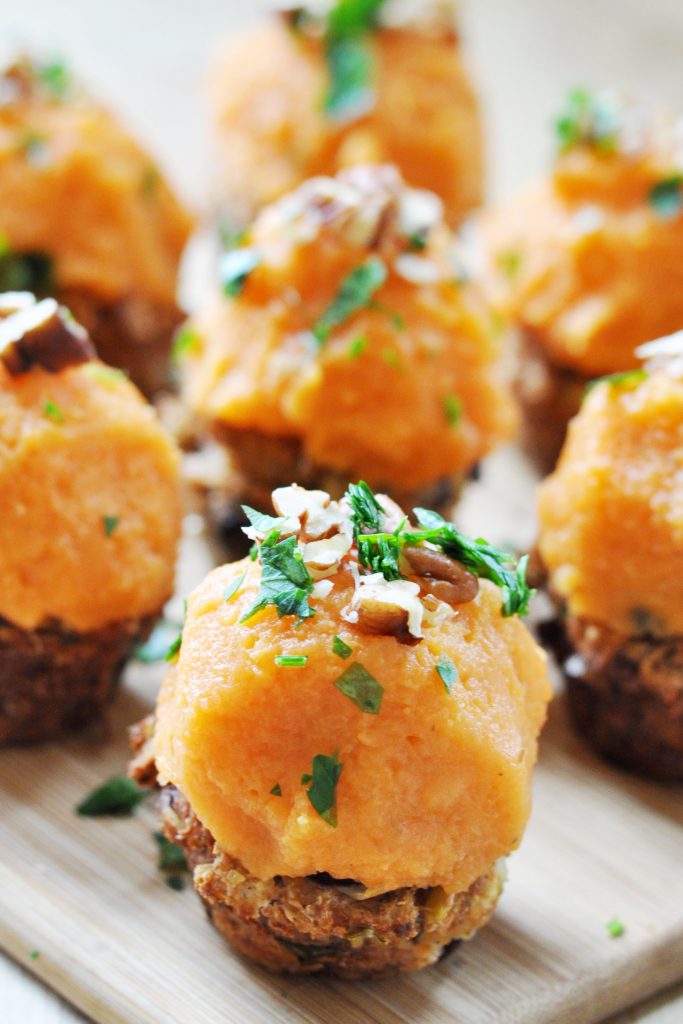 Did I mention that this recipe is included in The Colorful Kitchen guide to Vegan Thanksgiving!? Click on the photo below to get your free copy!