Today's recipe is really cute.
I'm a total sucker for mini versions of dishes (search "mini" in the search bar and you'll see!) PLUS I love when things are served/baked in mason jars (hello Pinterest!). Today's Thanksgiving Vegan Mini Pot Pie Jars fit both those bills…not to mention they are really delicious!
You can definitely bake one large pot pie instead and it will be just as tasty, but I love getting fancy on holidays so individual pies just felt right.
You'll notice that the recipe calls for frozen vegetables- something I rarely opt for over fresh. I wanted this recipe to taste like the chicken pot pie I remember from my childhood, so using frozen vegetables helped match that memory. Of course, you can definitely use fresh vegetables (in fact it will probably taste better!) but I have to say that the frozen mix definitely did the trick this time.
I decided to get fancy and make mini lattice crusts for the pot pies. If you've never made a lattice crust I recommend watching a video (like this one) because it's much easier to understand than reading directions. If fancy crusts aren't your thing, you can simply cover the top with a rolled out crust that has holes poked in it.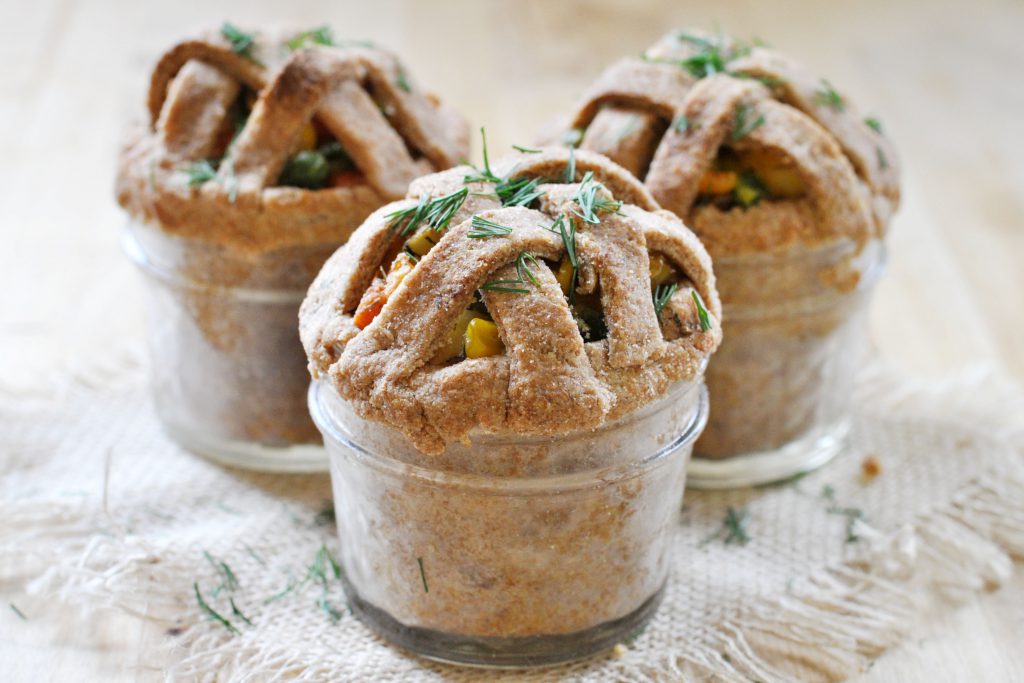 sdf

Thanksgiving Vegan Mini Pot Pie Jars
Recipe type:
thanksgiving
Ingredients
2 cups spelt flour + extra for sprinkling
⅔ cup vegan butter
¼ cup cold water
dash of salt
1 tbs olive oil
1 medium onion, diced
2 cloves garlic, minced
1 cup potato, diced
2 cups vegetable broth
3 cups mixed frozen vegetables (see note above)
2 tbs tamari
¼ cup cornstarch
2 tbs nutritional yeast
2 tbs fresh dill, chopped + extra for sprinkling.
salt and pepper to taste
Instructions
To prepare crust, pulse butter, flour, water and salt in food processor until thoroughly combined. Scoop out dough, roll it into a ball and chill in refrigerator for 20 minutes.
Preheat oven to 400°. Grease 4 oz glass jars.
Heat olive oil in large pan at medium heat. Add onion, garlic and potato and saute for 10 minutes, until potatoes are tender but not too soft.
Turn heat up to medium-high and add all remaining ingredients. Let simmer for 5 minutes, stirring occasionally. Turn heat off let sit while you prepare crust.
Sprinkle flour on a clean surface. Use a rolling pin to roll dough out until ⅓" thick. Press pieces of flattened dough into jars until completely covered. You'll need to use a few separate pieces for each jar.
Spoon vegetable mixture into jars until they are slightly over-filled.
Use remaining dough to create lattice patterns on top of the jars (or simply cover with a sold piece with holes poked in it).
Bake for 25 minutes, or until tops are golden. Sprinkle dill on top and serve warm.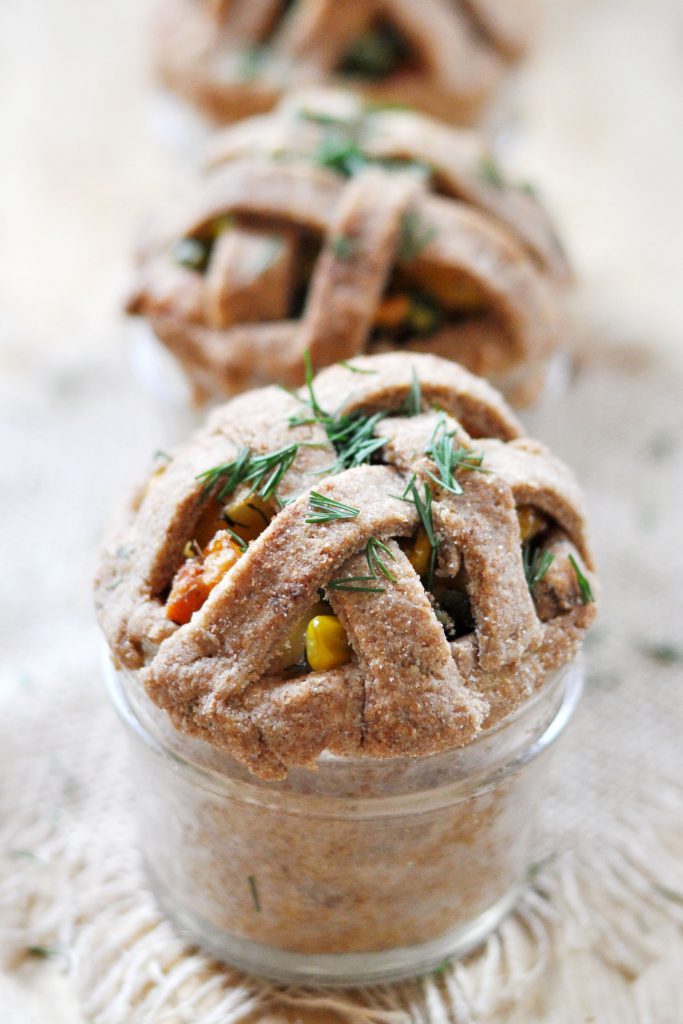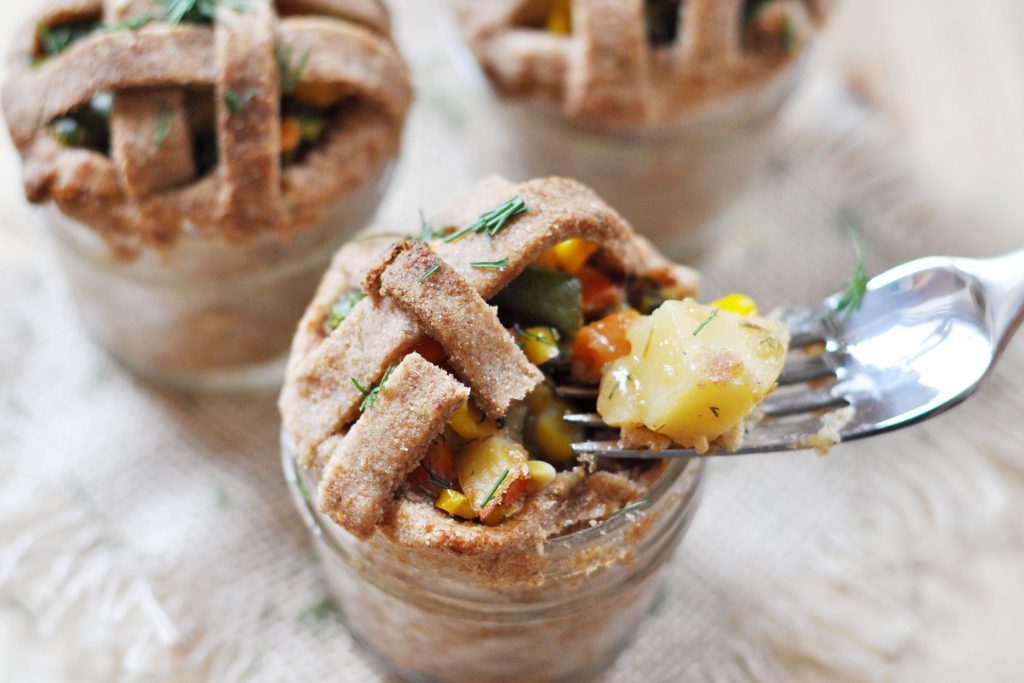 Have you downloaded the The Colorful Kitchen guide to Vegan Thanksgiving!? This recipe is in it, as well as everything else you need to create a feast! Click on the photo below to get your free copy!