Wow, Chanukah's coming early this year! It actually kind of snuck up on me and I don't have a new truly new recipe to share with you….but I do have an updated version of last years Chanukah Cookies!
Today's new and improved  Vegan Chanukah Star Spelt Cookies are a softer and more melt-in-your-mouth-ish version of last year's recipe. They use spelt flour, so they are not gluten-free, but spelt is a low-gluten grain which personally sits well with me (unlike wheat).
I've had the same Jewish star cookie cutter for years (which is what I used in this recipe) but next  year I'm definitely upgrading to this full set!
Ps- don't forget to check out my Holiday Gift Guide for gift ideas!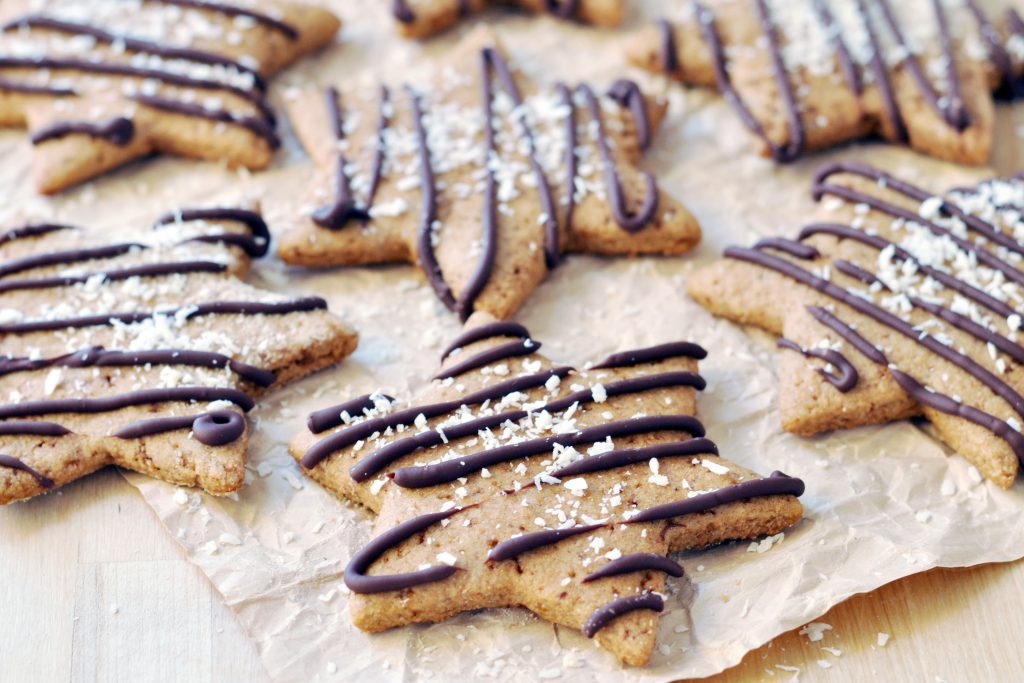 Vegan Chanukah Star Spelt Cookies
Recipe type:
dessert, Chanukah
Ingredients
Flax "egg"
1 tbs ground flax
3 tbs warm water
Dry
1½ cups spelt flour + extra for sprinkling
½ cup coconut sugar
1 tsp baking powder
¼ tsp baking soda
⅛ tsp salt
Wet
⅓ cup vegan butter (can sub coconut oil)
¼ cup non-dairy milk
1 tsp vanilla extract
Toppings
½ cup chocolate chips
¼ cup shredded coconut
Instructions
Preheat oven to 350°. Grease a baking sheet.
To prepare flax "egg", stir ground flax and water together in a small cup. Let sit for 10 minutes.
In a large bowl, whisk together all dry ingredients.
In a small bowl, stir all wet ingredients together until smooth.
Add contents of small bowl and flax "egg" to large bowl and mix until smooth.
Sprinkle a generous amount of flour on a clean surface. Use rolling pin to roll dough out until it's about ¼" thick. Use a cookie cutter to cut out cookies. Repeat until all dough is used and place cookies on baking sheet.
Bake for 9 minutes, until edges are slightly golden. Let cool completely.
In a small saucepan, melt chocolate chips at low heat. Drizzle chocolate over cookies and sprinkle shredded coconut on top. Place in refrigerator for 30 minutes to set chocolate.