Need something quick and easy to bring to a holiday party?  Say hello to today's Vegan Cranberry-Kale Popcorn Marshmallow Holiday Bark!
This is a really funny recipe because it started as a simple chocolate and popcorn bark but then I realized a had a bag of vegan marshmallows in my cabinet and a bag of dried cranberries and kale chips. How could I say no to an easy way to add red and green (without using food coloring) to this dessert? In the end the"bark" ended up turning out more like bars but I haven't gotten any complaints!
I recommend making a big batch of kale chips (because they're a delicious snack) and using the crumbles for the bark. Here's my easy kale chip recipe.
For all you sweet and salty dessert lovers- this one's for you!
ps- looking to lighten up on the sweets a bit after the holiday are over? Join me for 21 days of healthy, colorful eating and SO much more!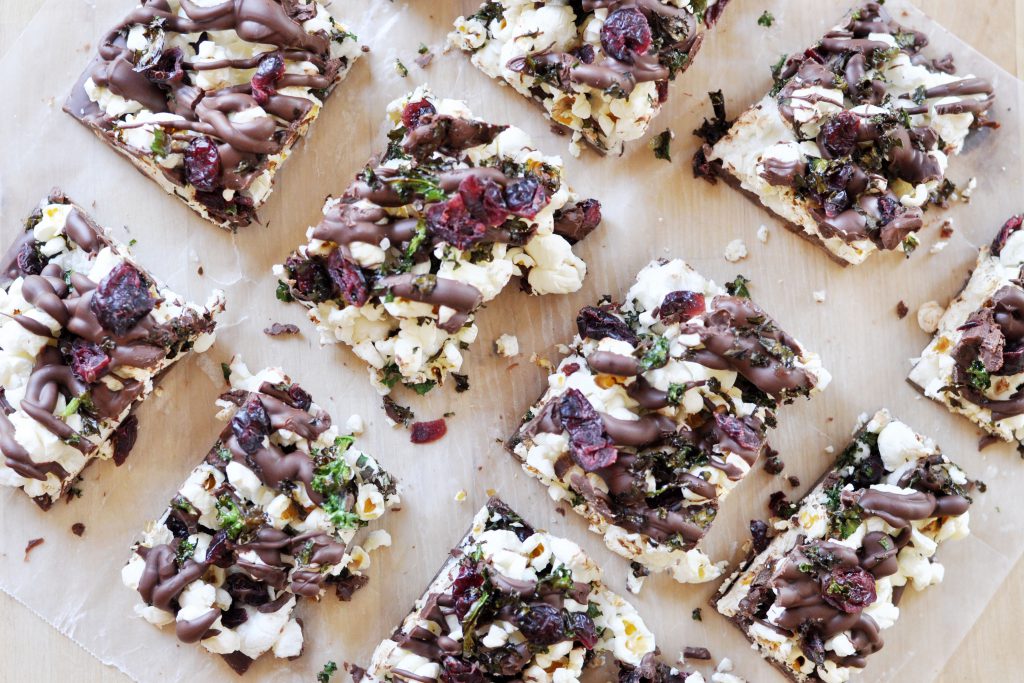 Vegan Cranberry-Kale Popcorn Marshmallow Holiday Bark
Ingredients
1¼ cup + ½ cup chocolate chips
1 cup mini vegan marshmallows (see link above)
1 cup popped popcorn
dash of salt
¼ cup kale chip crumbles (see link above), divided
2 tbs dried cranberries, divided
Instructions
Line a baking sheet with parchment paper.
In a small saucepan, melt 1¼ cup of chocolate chips. Pour melted chocolate over parchment paper. Use a spatula to smooth it out to a rectangle that's about ⅓" thick.
Place mini marshmallows and popcorn over chocolate and dash with salt.
Sprinkle half of kale chips and cranberries next.
Melt remaining ½ cup of chocolate. Drizzle over everything.
Sprinkle remaining kale chips and cranberries on top. Place in freezer or refrigerator to completely harden. Remove and slice or break into pieces. Store in refrigerator.