It's winter pizza time!
Today I'm excited to share a warming, filling and very colorful pizza recipe. This Vegan, Gluten-Free Roasted Root Vegetable Pizza will definitely hit the spot on chilly winter nights.
For the crust I tried Bob's Red Mill Gluten Free Pizza Crust. I substituted  flax "eggs" (2 tbs flax + 6 tbs water) for the eggs and it turned out great. I found it to be doughy and fluffy and even though I'm usually more of a crispy-crust gal, I think it's a tasty (and easy!) option for pizza night. There's also always my chickpea crust!
I went with sweet potato, beets and carrots for the root vegetables but you can feel free to really get creative here- you really can't go wrong! Next time I think I'll add parsnips and maybe even a little ginger?
Let me know what root veggies you use!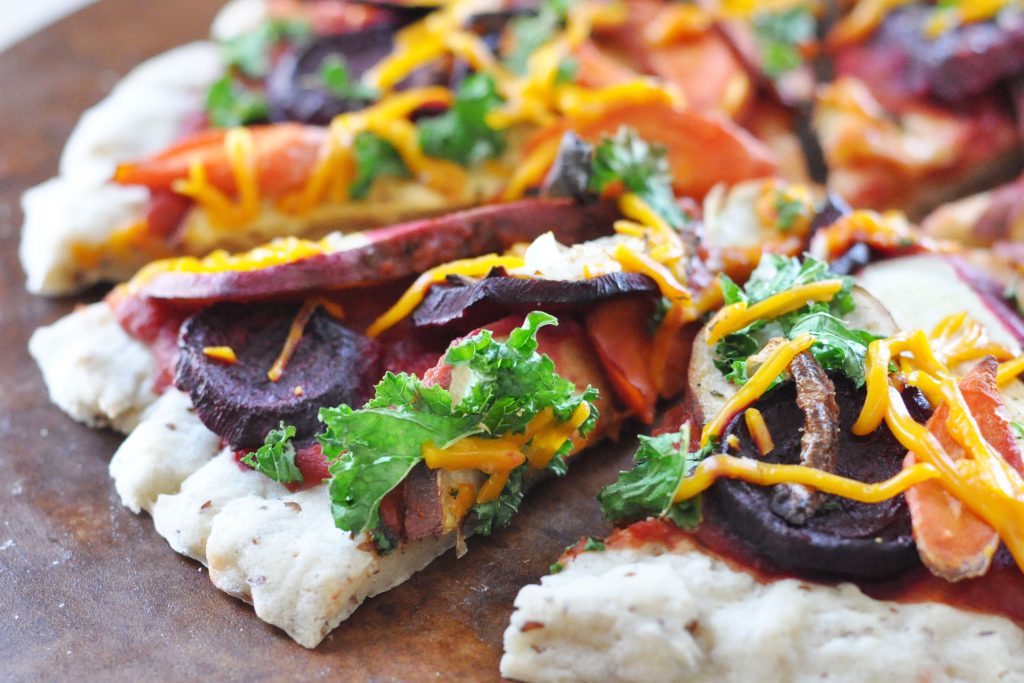 Roasted Root Vegetable Pizza, Vegan + Gluten-Free
Ingredients
1 tbs olive oil
1 small onion, thinly sliced
1 small sweet potato, thinly sliced
1 medium beet, thinly sliced
2 medium carrots, thinly sliced
your favorite pizza crust (see above)
¾ cup pizza sauce
½ cup shredded kale
½ cup vegan cheese
Instructions
Preheat oven to 400°.
Toss onion, sweet potato, beet and carrots with olive oil. Spread out over baking sheet. Bake for 30 minutes, flipping halfway.
Pre-bake pizza crust according to recipe instructions.
Turn oven temperature down to 350°. Spread pizza sauce over crust. Layer baked vegetables on top, then add kale. Sprinkle with vegan cheese.
Bake for 10 minutes, or until cheese is melted. Slice and serve warm.