Today's totally decadent Valentine's day treat seriously could not be easier to make. Rich, creamy and decadent, whether you make this dessert for your sweetie or your gal-pals, I promise they'll never guess it's made with only 3 ingredients!
This Vegan & Gluten-Free 3-Ingredient Chocolate Mousse is simply made of coconut cream, cocoa powder and maple syrup. The result is a light and delicious mousse!
The magic ingredient in this recipe is full fat coconut milk that's been chilled overnight. I like to keep a few cans in my refrigerator so I'm always ready if a dessert needs to be topped with whipped cream.
In the photos you'll notice that I added raspberries and made mini parfaits in shot glasses. I think this is a really cute party dessert idea (especially if you're celebrating Galentine's Day) but it also feels fancy enough for a romantic dinner for two.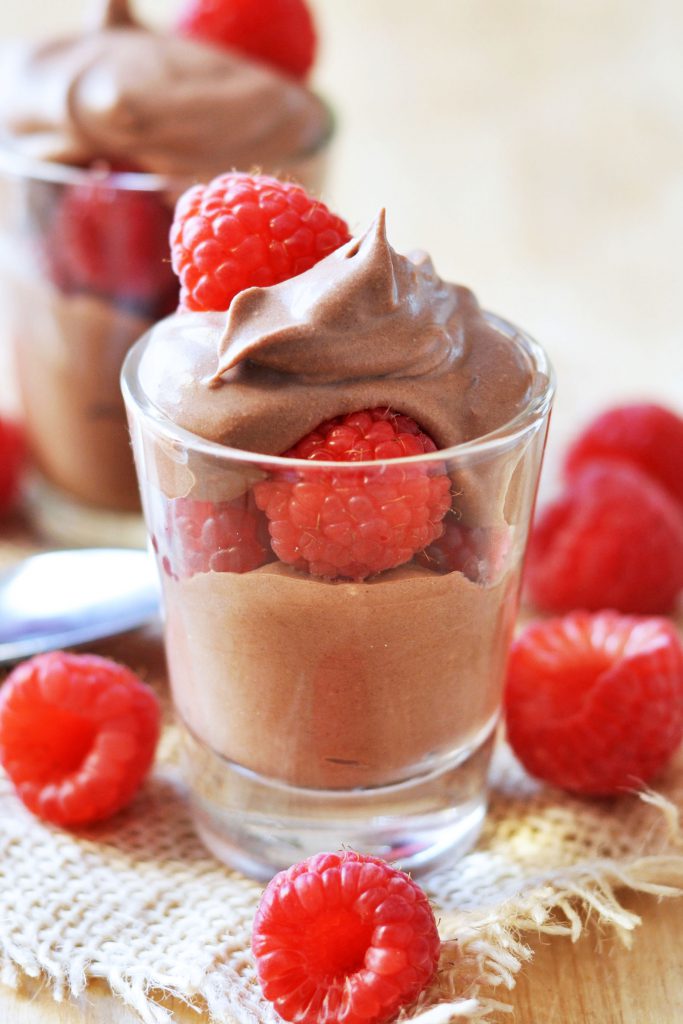 3-Ingredient Chocolate Mousse, Vegan & Gluten-Free
Ingredients
1 can full fat coconut milk, chilled in refrigerator overnight
2 tbs cocoa powder
2 tbs maple syrup
raspberries for garnish
Instructions
Chilling the can of coconut milk overnight (at least 8 hours) will cause the cream and liquid to separate. Remove can of coconut milk from refrigerator and open it. Scoop the cream into the blender and discard the liquid.
Blend the cream with cocoa powder and maple syrup until completely smooth. Store in refrigerator or serve right away with raspberries.