It's comfort food time…again!
This winter has been all about comfort food for me and today's recipe is another to cozy up with on a chilly night. This Vegan +Gluten-Free Easy Creamy Cauliflower Alfredo Sauce is super simple to make and highly versatile.
Traditional alfredo sauce is made of everything that used to give me a stomach ache (back in my dairy-eating days), cream, butter and cheese. I love this dairy-free version because it's rich and creamy but totally stomach ache free!
I kept my first alfredo dinner (I made enough sauce to last all week) pretty simple and used brown rice spirals (although fettuccine would have been a classic alfredo choice) and added a little steamed broccoli with parsley on top. Feel free to get really creative here and use whatever pasta/rice/quinoa and veggies you like- just about everything tastes good with this sauce on it!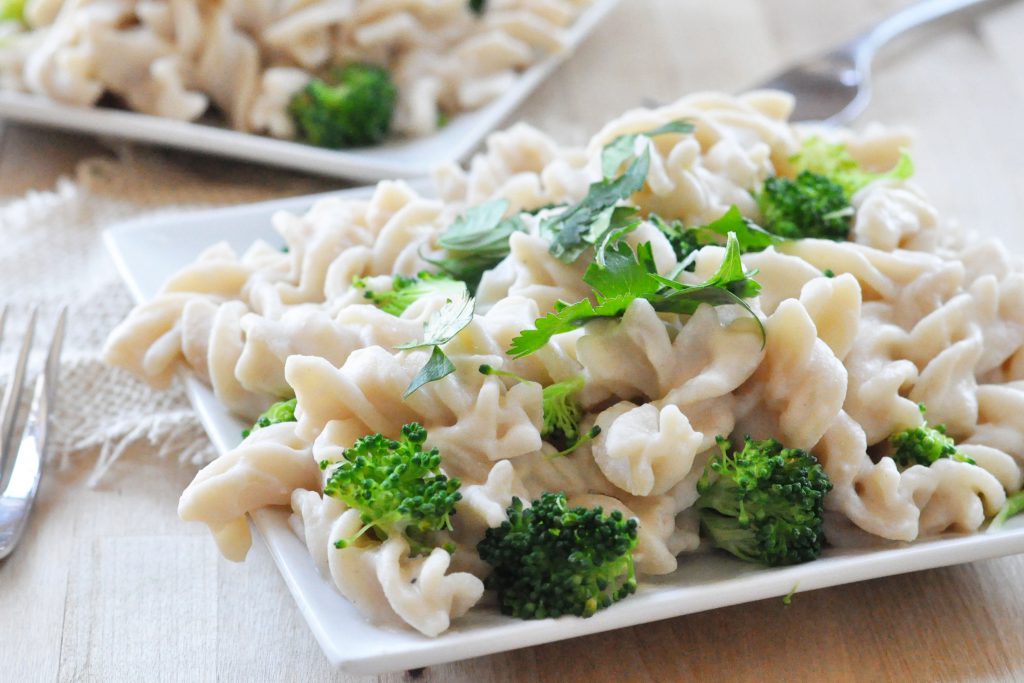 Easy Creamy Cauliflower Alfredo Sauce, Vegan + Gluten-Free
Ingredients
1 small head of cauliflower, broken into florets
1 cup non-dairy milk
2 tbs olive oil or vegan butter
3 cloves garlic
juice of 1 lemon
2 tbs tamari
salt and pepper, to taste
Instructions
Bring a medium pot of water to boil. Add cauliflower and boil until tender (7- 10 minutes).
Drain cauliflower and transfer to blender. Add all remaining ingredients and blend until smooth.
Use sauce right away or store in refrigerator for 3-4 days.