After all these months of chilly temperatures I'm starting to feel a little less than inspired by winter fare. I'm still in total comfort/hearty/warming dinner mode but let's just say that making chili doesn't feel as exciting as it did in November (anyone else??).
Luckily, today's recipe is an easy way to jazz up your winter dinner! I love this Vegan and Gluten-Free Creamy, Zesty Spinach Soup because it has a unique flavor and special kick to it that's different than my usual soup lineup. Plus it's unbelievably easy to make and if you start right now you can be enjoying a bowl of your own in less than 20 minutes!
The secret ingredient is Earthbound Farm Spicy Spinach Flavor Blend. In addition to spinach, it's filled with a variety of greens that add up to a zesty flavor with a little bit of kick. The greens don't make the soup fiery-spicy, but instead they add a savory, mustardy flavor that's goes really nicely with the lemon juice (plus it adds tons of nutrients!).
Since the soup is thick and creamy, I decided to add some texture with a few garnishes. I broiled a handful of the greens to make them crispy and reserved and a few chickpeas to sprinkle on top. I also drizzled a little olive oil and lemon juice over each bowl. A sprinkle of pine nuts and nutritional yeast would also be a great addition!
Creamy, Zesty Spinach Soup, Vegan + Gluten-Free
Cuisine:
vegan, gluten-free
Ingredients
for the soup
1 medium head of cauliflower, broken into florets
½ package of Earthbound Farm Spicy Spinach
2 cups vegetable broth
1.5 cups (or 1 can) of chickpeas
1 clove garlic
juice of half a lemon
1 tbs tamari
salt and pepper, to taste
optional garnishes
broiled greens (see above)
chickpeas
drizzle of olive oil and lemon juice
Instructions
Bring a large pot of water to boil. Add cauliflower and boil until tender (7-10 minutes)
Drain cauliflower and transfer to blender. Add all remaining ingredients and blend until smooth.
Transfer back to pot and heat to heat to desired warmth. Serve with garnishes and enjoy!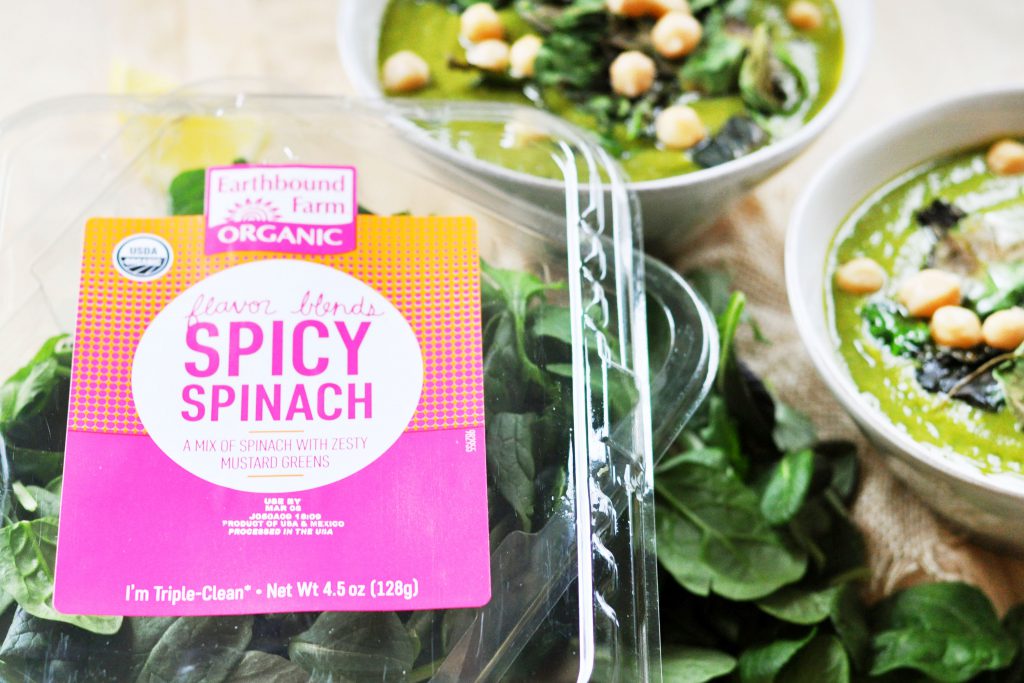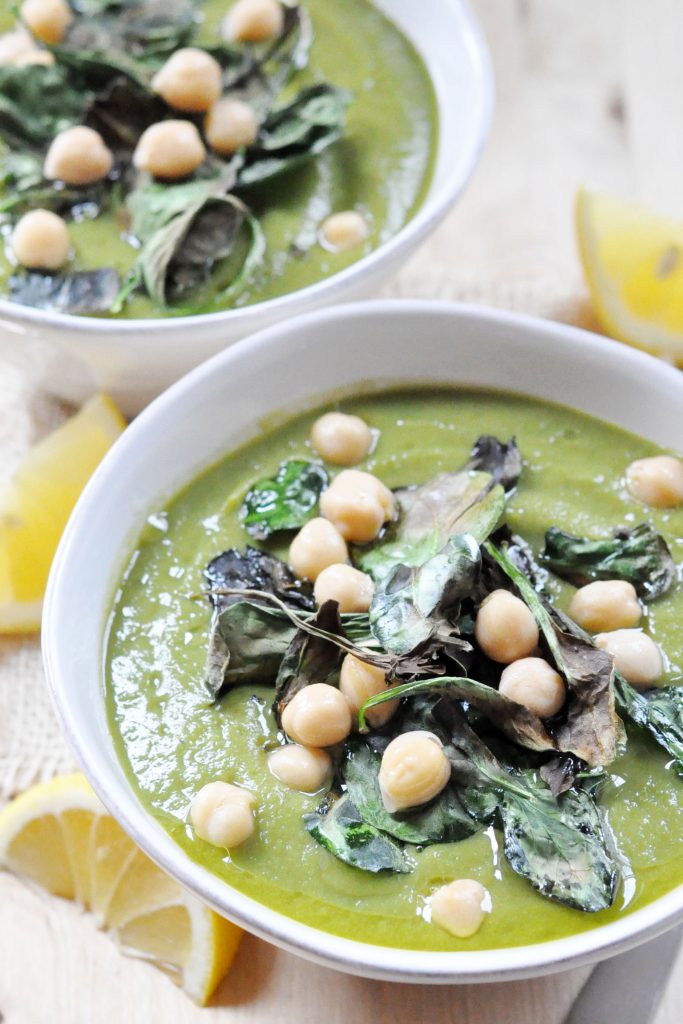 This post was sponsored by Earthbound Farms. All opinions expressed are my own.