One of my favorites recipes I shared last year was a Vegan Spiral Vegetable Tart. My motto in the kitchen (and on the blog) is "colorful, not complicated" but every once in a while I like to have fun with a dish that requires a little more time and prep work.
Today's Vegan Mini Spiral Cream Cheese Tarts are a handheld variation of the original spiral tart. I've been on a little bit of a vegan cream cheese kick these days so I decided to swap the pumpkin puree for something a little more savory. I used Daiya Chive and Onion vegan cream cheese and was super pleased with how savory and flavorful it turned out! Kite Hill Chive Cream Cheese would also be a great choice (I can seriously eat it by the spoonful).
For this mini version, I decided to use just carrots and zucchini since they are easier to roll up (the original recipe also uses eggplant, cabbage and greens). The process is a little tedious but I put on an episode of This American Life and totally got into the spiral zone.
Say hello to your new favorite party appetizer!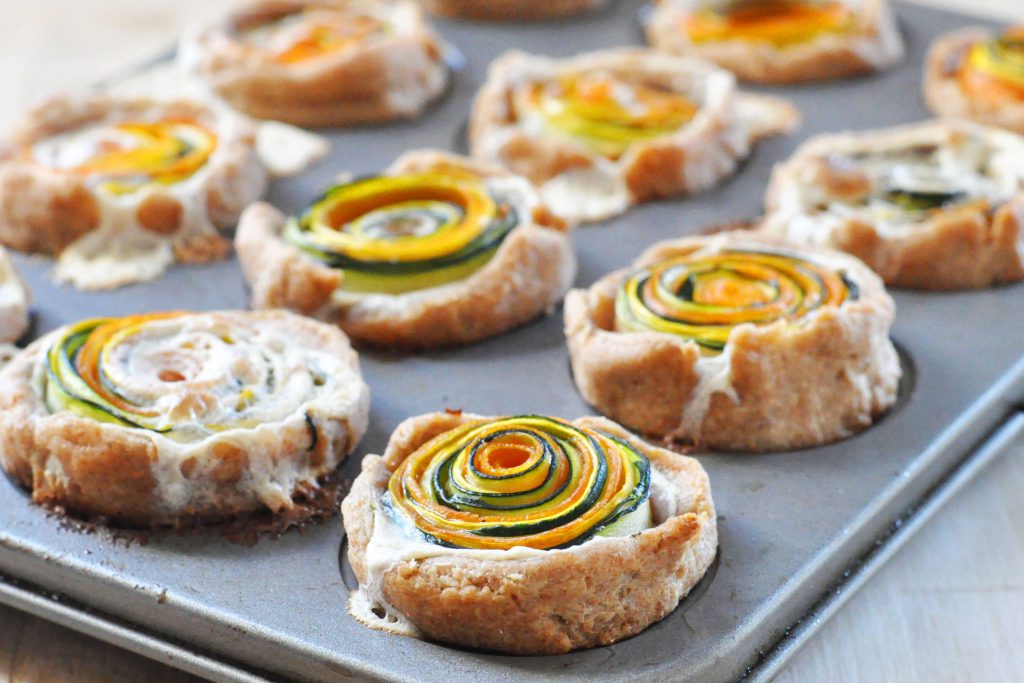 Vegan Mini Spiral Cream Cheese Tarts
Ingredients
1 cup spelt flour
⅓ cup vegan butter
2 tbs cold water
dash of salt
½ cup vegan cream cheese
4 medium carrots
1 yellow zucchini
1 green zucchini
2 tbs olive oil
salt and pepper
Instructions
Preheat oven to 375°. Grease a mini muffin dish.
To prepare crust, plus flour, butter, water and salt in food processor until thoroughly combined. Scoop out dough, roll into a ball, and roll out over a clean surface until it's about ⅓" thick.
Use a circular cookie cutter (a mason jar lid worked great for me) to cut circles out. One at a time, place the circles over each spot in the muffin dish and use your fingers to press dough down firmly.
Add a small scoop (about 2 tsp) of cream cheese to the bottom of each spot.
Use a vegetable peeler to slice thin strips of carrot and zucchini.
To begin the spirals, roll strips of carrots together, then layer strips of zucchini and more carrot around it. Place spiral in center of each of each spot and fold excess crust up, pinching the sides together.
Drizzle olive oil over everything and sprinkle with salt and pepper.
Bake for 30 minutes. Serve warm.