Before we get to today's recipe, I want to take a minute to share a little bit of personal news. If you follow me on Instagram or Facebook you may have already heard…I'm pregnant!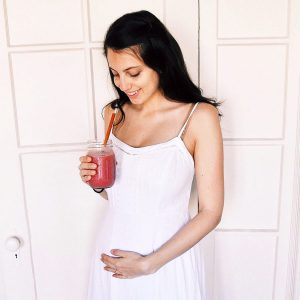 I'm a little over 4 months now and Ross and I are so, so excited! The first trimester was a little rough…you may have noticed I posted fewer recipes over the past couple of months because I could barely tolerate any colorful foods! It was all crackers, spelt toast and vegetable broth for a while (except for the vegan cheesecake cravings). It feels so, so good to crave fresh veggies, smoothies and real food again. Now that my appetite and energy are back, I'm more excited than ever to get cooking!
Which brings me to today's recipe, Vegan & Gluten-Free Lentil-Mushroom Burger. This burger is hearty, filling and perfectly savory (did I mention I've been craving really savory things lately?).  I chose to keep it on the lighter side by baking the patties and I was happy that they crisped up very nicely. First we enjoyed them with all the fixin's- avocado, tomato, red onion, spinach, ketchup and mustard. The next day I had one over a kale salad with tahini dressing and it was perfection!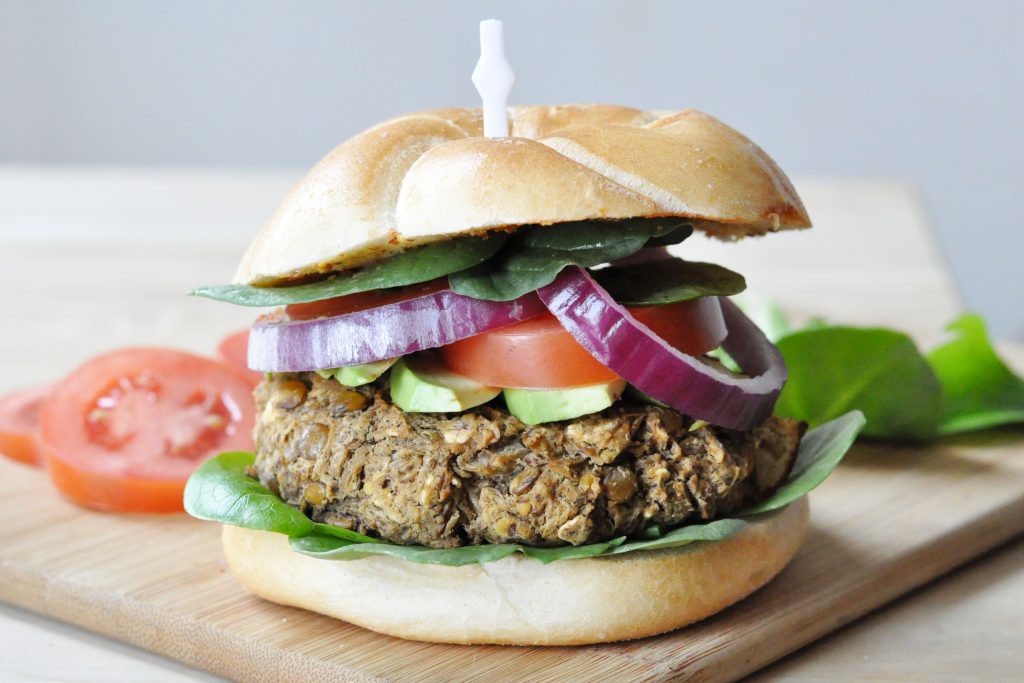 Lentil-Mushroom Burger, Vegan + Gluten-Free
Ingredients
1 cup dry green lentils
3 cups vegetable broth
1 tbs olive oil
1 medium onion, finely chopped
2 cloves garlic, minced
1 cup mushrooms, finely chopped
2 tbs ground flax seed
½ cup rolled oats
¼ cup flour of your choice (I used buckwheat)
1 tbs tamari
2 tsp vegan worcesterdhire
1 tsp liquid smoke
dash salt and pepper
Instructions
To prepare lentils, bring vegetable broth to boil. Add lentils and simmer for 35-40 minutes, until all water is absorbed.
In a small pan, heat olive oil at medium. Add onion and garlic and sauté for 5 minutes. Add mushrooms and saute until everything softens (7-10 minutes).
Preheat oven to 375°. Grease a baking sheet.
When lentils are cooked, transfer them to a large mixing bowl. Use a potato masher to mash them, leaving a little texture.
Stir in mushroom mixture and all remaining ingredients. Mix until thoroughly combined.
Wet hands and form patties, using about ¾ cup mixture for each. There should be enough to make 6 large or 8 medium burgers. Place on baking sheet.
Bake for 25 minutes then remove from oven and flip burgers. Return to oven and bake for another 10-15 minutes, until the outsides are crispy. Serve right away, refrigerate or freeze for later.