My biggest pregnancy craving so far has been anything/everything sour, tart, salty and citrusy. Strangely I haven't been craving chocolate or lots of sweets like I normally do…unless Ross is eating coconut ice cream right next to me and then I'm like, HAND IT OVER!
I came up with today's Vegan Sour Cream Berry Mini Tarts when I was in the mood for a quick dessert using all the flavors I've been craving. Let me tell you, it really hit the spot! I love these little tarts because they are savory with the perfect touch of sweetness, plus they are super cute and easy to make.
Even though they're perfection to my pregnant taste buds, the recipe is still somewhat a (delicious) work in progress. Since the filling isn't baked it's a little runny, which makes eating the tarts a bit messy. I'll be revisiting this recipe soon and coming up with a baked version but for now I hope you enjoy these as much as I do!
Ps- To all the mommas, what were your biggest pregnancy cravings? Let me know in the comments!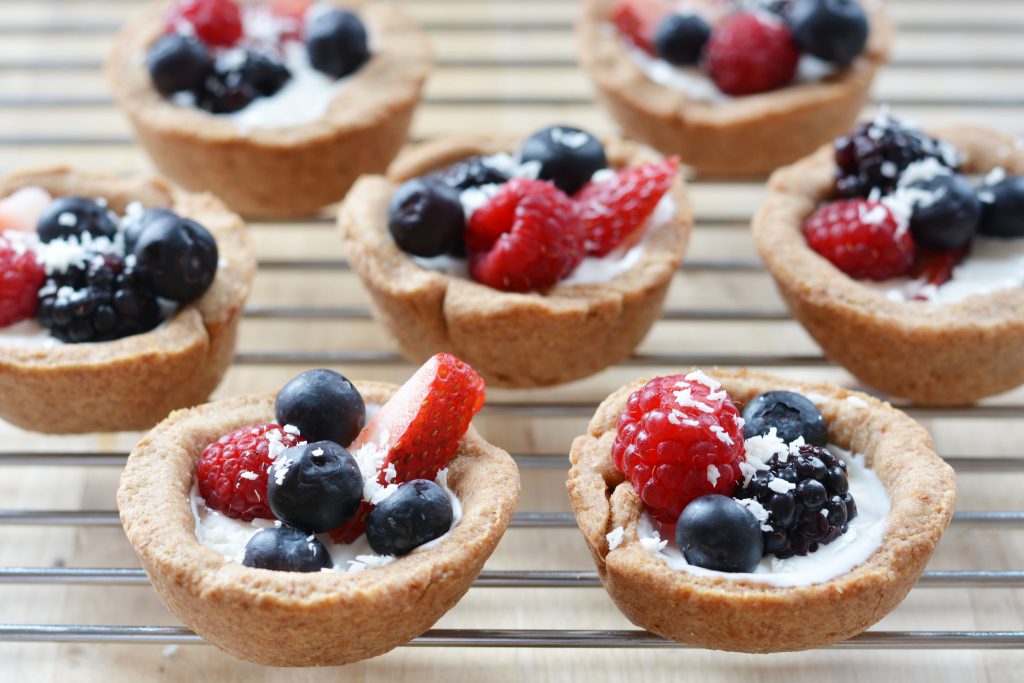 Sour Cream Berry Mini Tarts
Ingredients
for the crust
⅔ cups coconut oil or vegan butter + extra for greasing
2 cups spelt flour
2 tablespoons coconut sugar
dash salt
¼ cup cold water
for the filling
1 cup vegan sour cream
2 tablespoons lemon juice
1 teaspoon vanilla extract
2 teaspoons maple syrup
toppings
1 cup mixed berries
2 tbs shredded coconut
Instructions
Preheat oven to 375°. Grease a muffin tin.
To prepare crust, pulse all crust ingredients food processor until thoroughly combined. Scoop out dough, roll into a ball, and roll out over a clean surface until it's about ⅓" thick.
Use a 3.5" circular cookie cutter (a wide mouth jar lid was the perfect size) to cut circles out of dough. Place circles in muffin spots and use your fingers to gently press any gaps together.
Bake for 15-17 minutes, until edges are firm. Let cool completely.
To prepare filling, stir together sour cream, lemon juice, vanilla extract and maple syrup. Add a spoonful to each mini crust. Top with berries and coconut.